Artists shine at Starlight's annual fine art exhibit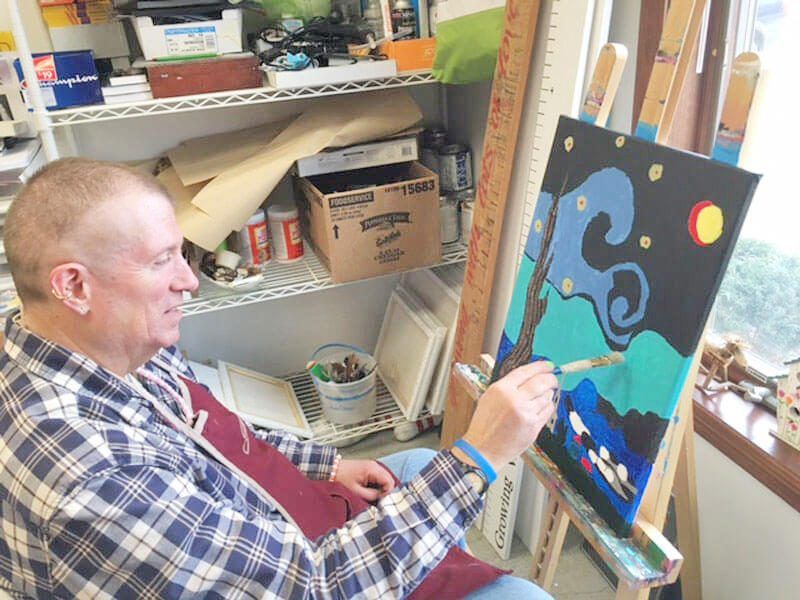 Starlight's annual art exhibit at the Tuscarawas County Center for the Arts serves as a fundraiser for the local nonprofit while highlighting the talent of artists with intellectual and developmental disabilities.
This year's event is scheduled for Saturday, March 9 from 1-3 p.m. in the main gallery of the arts center in New Philadelphia with up to 30 artists participating.
"We are so fortunate to have the arts center and Jeannine," said Cassie Elvin, Starlight director.
Jeannine Kennedy, the director of the Tuscarawas County Center for the Arts, has curated the show for as long as the arts center has been in existence.
"Jeannine makes our show look so great and so professional," Elvin said. "From the lighting to the way she presents the work made by our artists, the event is always a great way to get out of our cocoons in March to spend an afternoon enjoying art and getting to know some of the artists who participate."
Elvin said the annual show attracts seasoned artists served by Starlight and also brings out individuals who are participating for the first time.
"Our program is about choice," Elvin said. "There are some people who want to make art every day while others only make art occasionally."
Elvin said each artist works in their own way. "For some it is about a color or an emotion or perhaps something they saw," she said. "Our program allows the artists to express themselves creatively."
Working in a variety of mediums, artists who show in the exhibit create original work through Starlight's creative arts program, which provides necessary supplies and instruction to anyone who wants to participate.
In general artists receive 70 percent of the purchase price for their art sold during the show. The remaining 30 percent goes back into Starlight's creative arts program to fund supplies.
A percent of the sale of each artists' work this year also will be used to assist that artist to pay their participation fee in the Sensory Friendly Annual Bowl for Kids' Sake, a Big Brothers Big Sisters event set for March 22 at Boulevard Lanes in Dover.
"We wanted to find a way to partner with another local organization to help them," Elvin said. "We figured as two nonprofits, there had to be a way we could help each other."
Participants are asked to contribute $40 to the bowling event. "When an artist interested in participating sells a piece of work, they can use some of that money to help pay that fee," Elvin said.
In an effort to reach potential buyers who might not be able to make it to the center on the day of the show, Starlight will facilitate a live auction on Facebook at 1:30 and 2 p.m. where prospective collectors can bid on the art of their choosing.
Starlight maintains a retail shop at 236 E. High Ave. in New Philadelphia. Starlight Art on High celebrates the artistic efforts of artists and crafters with a selection of painting, sculpture, stepping stones and even scented soap all available for purchase.
The marketplace also gives individuals served by Starlight the opportunity to develop and learn customer service, sales experience and inventory skills. Paid training positions are available at the marketplace as well.
Call 330-339-2020 for additional information about Starlight, the art show or how to get involved.
Starlight is a 501(c)(3) agency operating in Tuscarawas County and providing services to persons with disabilities. Starlight has been in business more than 50 years, operating as Starlight Workshop and Starlight Enterprises Inc.
Tuscarawas County Center for the Arts is located at 461 Robinson Drive SE in New Philadelphia.