Jordi Rowe presents 'Blueing of the Light: The Gloaming'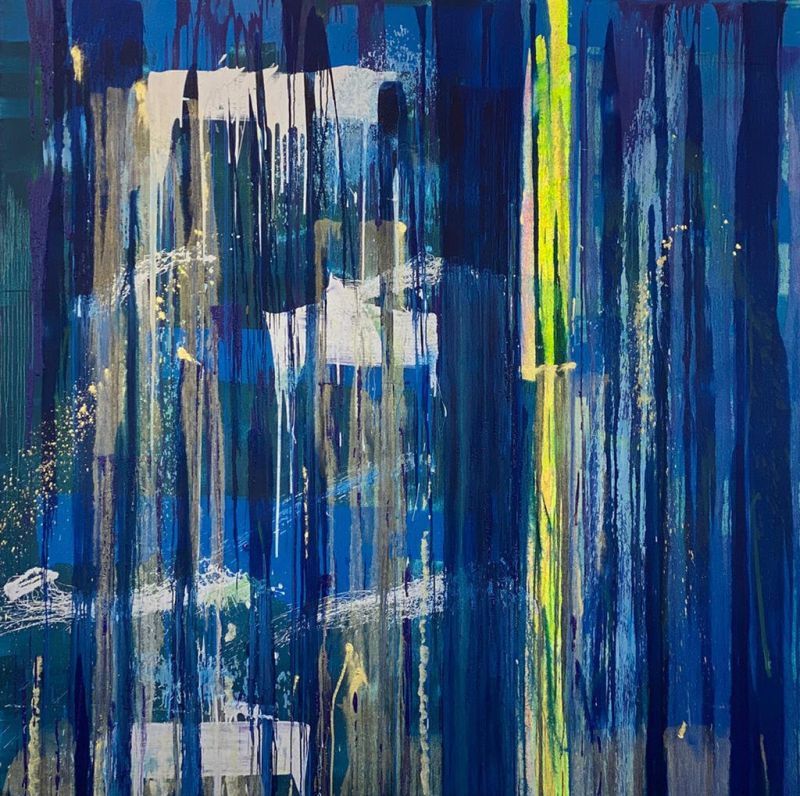 "Imagine walking into a space dominated by tactile and juicy paintings, surrounding the viewer in an immersive paint and process experience," Jordi Rowe said of her Studio M exhibition, "Blueing of the Light: The Gloaming," at the Massillon Museum. A dozen of her paintings will fill MassMu's contemporary art space Feb. 4-26.
"The Gloaming" — acting as a singular work — spans 270 inches horizontally. A linear floating installation will breach a corner, capturing the moment before the dying of the light, known as the gloaming. Some additional mixed media paintings will complement "The Gloaming."
Rowe is a painter, pathologist and mother who alternates among creating artwork, practicing medicine and parenting. She is a student at the Cleveland Institute of Art.
Her artwork primarily focuses on nature, sky and water. She often integrates elements of growing up in the Canadian Rockies and Big Sky Country.
As the research intern at Praxis Fiber Workshop in Cleveland, Rowe implements a youth program to make the fiber arts accessible to a new generation. She is the recipient of the Women's Art Club of Cleveland Scholarship and the CIA Gund Family Scholarship.
In 2022 she had two solo exhibitions, one at Waterloo Arts Gallery and the other at the Norman and Ann Roulet Student and Alumni Gallery at the Cleveland Institute of Art. Her artwork was most recently included in the CAN Triennial 2022 in Cleveland.
The museum will host a free public reception for the artist on Saturday, Feb. 11 from 1-3 p.m.
A MassMusings podcast interview with the artist will be posted at www.MassillonMuseum.org on Tuesday, Feb. 21 at noon.
Massillon Museum members have the opportunity to apply to exhibit their artwork in the Studio M Gallery on the second floor of the museum. New members are welcome at any time. Exhibitions are celebrated by an artist's reception, and the artists are featured guests on the museum's podcast, MassMusings. The Rowe exhibition is one of two student shows held each year.
Exhibitions can be seen during regular MassMu hours Tuesday through Saturday from 9:30 a.m. to 5 p.m. and Sunday from 2-5 p.m.
MassMu is located at 121 Lincoln Way E. in downtown Massillon. A visit is always free. Free parking is available on adjacent streets and in nearby city lots.
Call 330-833-4061 or visit www.massillonmuseum.org.