A she shed, a he shed & everything in between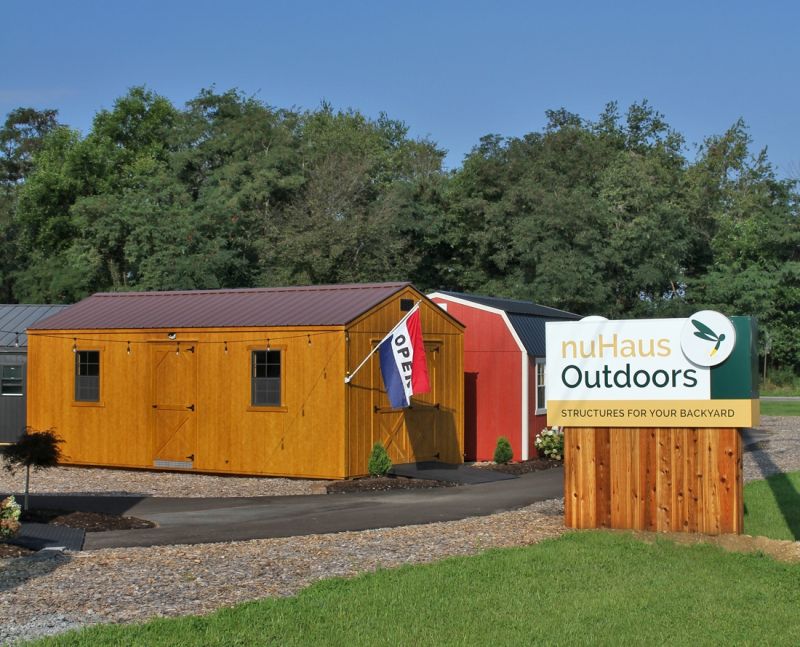 Innovation and quality have been passions of Affordable Barn Co. since the company began manufacturing out-buildings nine years ago, said Ivan Keim, sales and marketing manager for nuHaus Outdoors — Affordable Barn's new retail brand. Not only are nuHaus buildings manufactured to be sturdier than many other sheds and barns on the market, but also they are designed with many valuable, unique extras, Keim said.
On Friday and Saturday, Sept. 10 and 11, you will have a chance to see those solid and convenient features for yourself — while enjoying complimentary burgers, ice cream and other treats — during nuHaus' Grand Opening Days celebration at its brand-new Shed Sales Center in Apple Creek.
The new sales center features 15 sheds — all built by Affordable Barn's team of skilled craftsmen — in a peaceful park-like setting.
"Visitors at the sales center will recognize the same passion we put into manufacturing top-quality sheds now put into creating a pleasurable buying experience for our customers," Keim said. "Our passion for quality is evident from the time we purchase our materials to the time a building is delivered and set up in a customer's backyard."
Kevin Nisly, nuHaus brand manager, said the new sales center is meticulously landscaped, with walking paths connecting the model sheds.
"You can kind of meander along the paths in a relaxed, no-pressure atmosphere," he said. "Our salespeople are there to answer questions, walk them through and offer suggestions based off the customer's needs."
NuHaus Outdoors offers a range of buildings from small backyard tool sheds to workshops, boat and vehicle enclosures, and garages, Keim said.
"We have buildings that are insulated with electricity and interior paneling so people can use them for a backyard office, a cottage or a hunting cabin," he said. "We offer customization within our specs, and we have a lot of options to choose from."
Structural integrity, Keim said, is one of the first things sales center visitors might notice upon entering a nuHaus shed.
"Strength is essential," he said. "That's why we use 2-by-6 floor joists spaced 16 inches apart. There is no bounce or sag when you walk on the floor. We also space studs and rafters 16 inches on center, which is the standard for residential buildings. We offer an upgrade to metal roofing at no additional charge."
The company also offers a radiant heat barrier — a foil backer that is laminated to the inside of its vinyl siding — to keep the sheds cooler in the summer.
"If you're in full sun and you walk into sheds with and without the heat barrier, you can feel the difference."
Seamless rubber floor coverings, door magnets and motion-activated solar lights are among the other unique options offered by nuHaus.
"Door magnets are a simple but handy option," Nisly said. "It can be aggravating to have your doors blowing open and slamming shut in the wind. The magnets hold them open."
The seamless rubber floor, Keim said, is an option nuHaus developed.
"Wood floors can accumulate dirt and grass clippings," he said. "The rubber covering is easy to clean and protects the wood floor beneath."
Options like those will be offered for as little as no cost to visitors who purchase a shed during the two-day sale.
"We will offer up to $1,000 off for options like those and others, such as extra windows," Keim said.
A drawing for a one-night Amish Country stay in a tiny home also will be held during the Grand Opening event.
"Tiny homes reimagine small spaces, and they're designed for couples," Nisly said. "They make for an ideal romantic getaway, and being located just a half mile from Berlin, they are right in the heart of Amish Country."
The nuHaus Outdoors Sales Center Grand Opening celebration will be held Friday, Sept. 10 from 9 a.m. to 5 p.m. and Saturday, Sept. 11 from 9 a.m. to 3 p.m. at 7280 Kidron Road at the intersection of Kidron Road and Route 250 in Apple Creek. You can learn more by visiting nuHausOutdoors.com or Facebook: nuHausOutdoors. This story has been underwritten by the Affordable Barn Co.