Barbecue that gives back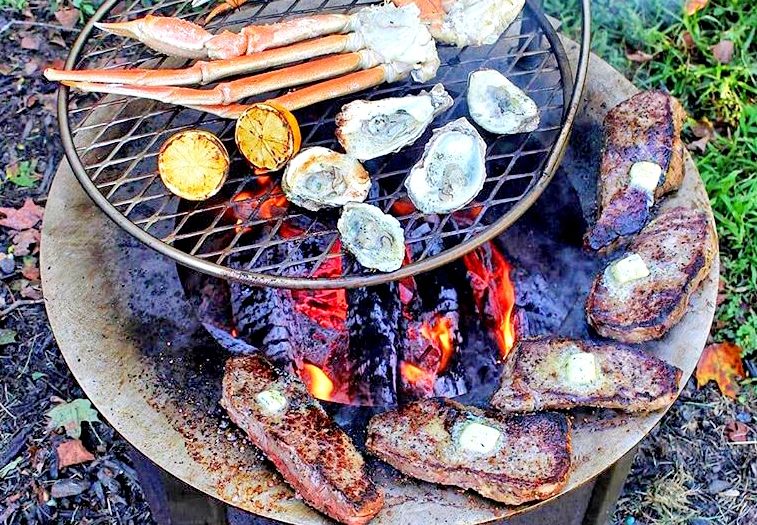 It's safe to say that Coalway, the store that specializes in keeping grillers satisfied and chillers warm and comfy, has also mastered the art of giving.
Since 1997, Coalway has been an area leader in providing fireplaces and stoves with a custom flair to area homeowners. The store's hearth designs, created from the ground up in the fireplace design center, are a perfect complement to any home. Outside, its Breeo firepits do double duty as both a cooking surface and place to keep warm. Coalway is also home to the original Big Green Egg, widely recognized as a unique and functional way to cook, smoke and bake entire meals outdoors.
So when co-owners David Miller and Aaron Swartzentruber were looking for a way to give back, they took the tried and true tools in Coalway's arsenal and decided to maximize their impact.
"We're known for our annual barbecue to highlight the products we sell, and introduce new lines and accessories," Miller said. "This year we decided to move the happenings to the Mt. Hope Auction Grounds and turn it into a charity event."
The proceeds from the two-day cooking extravaganza, planned for Friday, May 21 and Saturday, May 22, will be donated to Ohio's Hospice LifeCare.
"We wanted to do something special for an area charity and chose Ohio's Hospice LifeCare to be the beneficiary of the weekend's proceeds because they serve the greatest number of people, no matter what religion or walk of life they come from," Miller said.
Here's how the event will run:
Friday, May 21, 2021
4-9 p.m.
For the first time ever, a Chuckwagon Open Fire Cookoff will be held, featuring Breeo firepits. "We're going to have more than two dozen chefs showcasing their skills on these fantastic firepits," Swartzentruber said. "Open-flame cooking has really become popular and people are going to love what our chefs create for them."
Swartzentruber said guests can expect to sample a variety of foods with the possibilities ranging from steaks, to veggies, or even seafood, cooked on an open flame. The winning chef from the steak cookoff wins $1,000.
This tasting event, like the rest to be held throughout the two-day barbecue showcase, is free of charge. What Coalway is asking guests to do is make a donation instead of buying a ticket. Not sure what to contribute? Miller said most of the meals are valued at $20-$30 or more if you're feeling moved.
A BBQ Buffet Benefit will take place from 4 p.m. until the food runs out on Friday, and again on Saturday, from 10 a.m. until the same happens.
Social media superstar @the_grill_revealer Kirkland Collins will do a live cooking demonstration.
Saturday, May 22, 2021
8:30 a.m.-3 p.m.
The theme for The Holmes County Eggfest and BBQ Showcase will be cooking on the Big Green Egg, and you can expect up to 30 chefs to participate. "Guests can sample delicious fare prepared in a Big Green Egg, get cooking tips, and enjoy the community atmosphere," Miller said.
As is the case with Friday's event, guests are asked to make a donation to participate in sampling, with proceeds going to Ohio's Hospice LifeCare. This is also the second day for the BBQ Buffet Benefit.
Throughout the day, demos will take place on stage, with social media star Maciek Zurawski, @grillin_with_dad, showcasing his talents.
Both days, guests can purchase tickets for the benefit raffle, with prizes like a Big Green Egg, leaf blower, bike cart, trimmer and more. You can also purchase smokers and grills onsite, grab your own Big Green Egg or Breeo firepit, or browse a generous selection of eggcessories and more. The Coalway 2021 Benefit BBQ Event will take place at the Mt. Hope Auction grounds, 8076 SR 241, in Millersburg. You can also visit either store location, at 11881 Dover Road in Apple Creek (330-857-3096) or 4492 SR 557 in Charm (330-893-1005). Hours are Monday, Wednesday, Thursday and Friday, 8:00 a.m.-5:00 p.m.; Tuesday, 9:00 a.m.-5:00 p.m.; Saturday, 8:00 a.m.-1:00 p.m.; closed Sunday. This story has been underwritten by Coalway.