CVS Pharmacy continues the care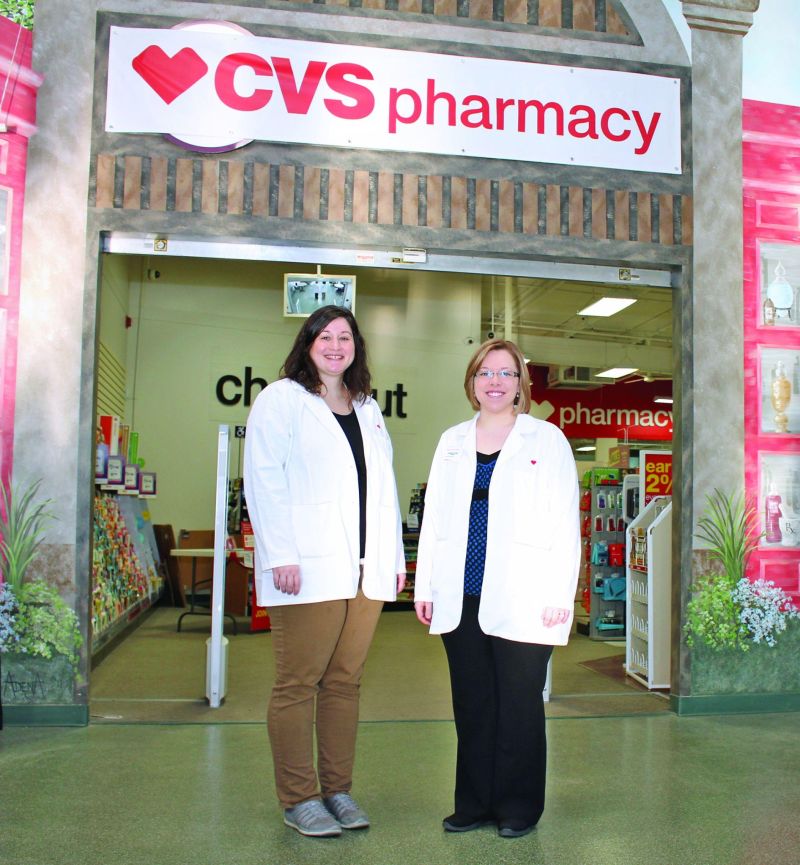 The sign out front no longer says "Ritzman," but the knowledgeable pharmacists at CVS Pharmacy promise to continue the drug store's long-time tradition of friendly neighborhood service.
"We want people to know that our commitment to attentive service with a hometown feel will not change," said Debra Mullet, PharmD, RPH, a Berlin native who has worked at the pharmacy since she earned her license in 2007. "Every customer who walks in the door will continue to experience the same care they have come to expect, but now we will have a greater product selection and other expanded benefits that CVS Pharmacy is able to offer."
Following CVS Pharmacy's acquisition of Ritzman, the name change officially took effect on Monday, March 4.
Joanna Troyer, PharmD, RPH, managing pharmacist and Berlin native, said the transformation to CVS Pharmacy will help the community navigate the increasingly complicated health-care environment.
"The world of health care today is full of changes and challenges that unfortunately can cause interruptions to consistent patient care," Troyer said. "My hope is that this transition to CVS Pharmacy will provide a structure better able to adapt to these challenges and pave the way for a stable presence to serve the community's prescription needs."
Troyer said CVS Pharmacy will continue convenient services like the prescription delivery program initiated by Ritzman at a discounted rate.
"We will also continue to offer automatic refills, a medication synchronization program and text notifications that were popular with Ritzman customers," she said. "CVS Pharmacy also has a prescription savings tool we use to compare a variety of discount cards that allows us to offer the most competitive prices for the majority of prescriptions we dispense."
Both Troyer and Mullet have strong roots in Berlin's close-knit community.
"Relationships and trust are important because we are so involved with our customers' health and wellness," Mullet said. "Having grown up in Berlin, Joanna and I understand the community, which has very unique values and a different perspective on health care than many other towns. Because we understand that, we're able to better help people to navigate the health-care system."
Troyer, the daughter of Wayne and Miriam Hershberger, lives in the Sugarcreek area with her husband, James, the owner of Wayne JT Trucking. She attended Hiland High School and received her Doctor of Pharmacy degree from Ohio Northern University in 2008. An interest in math, biology and chemistry led her into a career in pharmacy.
"The fact that a tiny tablet can alter the body in such a way to cure or prevent a disease is fascinating to me," she said. "The science led me to the field of pharmacy, but the people keep me coming back. I love getting to know my patients and their families and what is important to them so I can try to meet their needs even before they ask."
Troyer worked at the old Mast Pharmacy, starting in 2003 as a cashier, delivery driver, technician and finally a pharmacist before Ritzman acquired the store in 2008.
"I spent a lot of my time with both companies, floating between their locations in Holmes County and the surrounding areas before eventually landing at the Millersburg store as the managing pharmacist in 2015," she said.
Like Troyer, Mullet said an interest in science and chemistry sparked her career in pharmacy.
"I wanted to find a way to use those interests to help people," Mullet said.
The daughter of Tom and Sharon Mullet, she attended Hiland High School and received her Doctor of Pharmacy degree from the Ohio State University. She now lives in Berlin with her husband, Chris, who works for Hiland School and is the school's baseball coach. They have three children.
"One of the advantages of becoming a CVS Pharmacy store is that we can now offer a larger selection of products in every health category," Mullet said. "That is a huge plus to the community because there aren't a lot of local options to find some things."
You can experience the new CVS Pharmacy for yourself at 4900 Oak St. in Berlin. You can call for more information at 330-893-3179.