Farm-to-table fresh from the Boltz family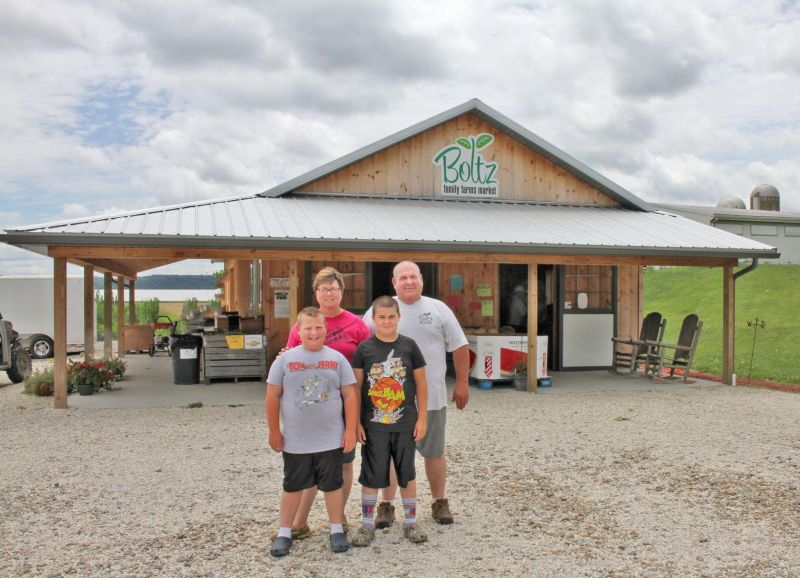 It doesn't get any fresher than this. In the spirit of offering a genuine farm-to-table experience, last year Boltz Family Farms Market launched, offering honest eats from local purveyors. This year, as a result of devoted customer demand, Jim Boltz and his wife, Carol, expanded their wildly popular farm-based market to include the fresh Angus beef and Berkshire pork that comes directly from the 300-acre family farm.
"We've been selling our pasture-raised Angus for more than 30 years, but we only offered it in large-size cuts," Jim Boltz said. "Now we have fresh steak, hamburger, hot dogs, roast and any other beef cut you can think of right in our market. You can buy as much or little as you like."
Boltz explained his Angus cows spend 12 months grazing on grass, with the next three on hay and corn. "It's a method we've perfected over the years and it produces the best marbling and tenderness," he said. "You can cut our ribeyes with a fork."
Berkshire pigs, also raised on the Boltz Family Farm, produce the seven different types of brats sold at the market, sausage patties, bacon and more.
Boltz Family Farms Market features chicken from the local EDS Ranch, and bottled milk and nine flavors of ice cream from Buckeye Country Creamery. Virtually all of the produce, minus the southern-grown peaches and watermelon, comes from local farms and growers. "Everything we sell comes from within 15 miles of the farm," Boltz said.
Recognizing the need for a fresh alternative to other farm markets and box grocery stores, Boltz said his customer base has expanded by leaps and bounds. "There was a real need for this kind of thing here," he said. "Business has doubled since we opened. People like knowing they're eating real food from a local farm."
The experience is worth the visit, too, as customers enjoy the jaunt off South Broadway to get to the farm's quaint location, where they can see corn being picked or hay baled. "If you come once, we know you'll be back," Boltz said.
Look for farm-fresh eggs, local honey and syrup along with the fresh meats and produce.
Boltz Family Farms Market is located at 522 Hummel Valley Road in New Philadelphia, off South Broadway. Hours are Monday through Friday, 10 a.m.-6 p.m. and Saturday 9 a.m.-4 p.m. The phone number is 330-339-1762 and you can find them on Facebook under Boltz Family Farms Market.