Getting the job done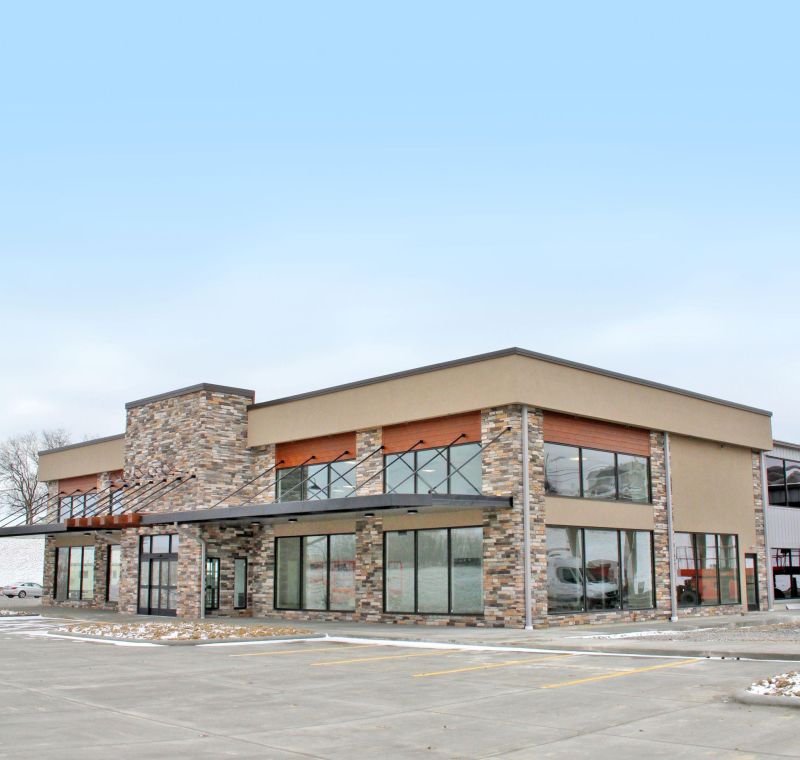 Do-it-yourselfers take great pride in successfully completing a repair or construction project, observed Jason Beachy, general manager of Holmes Rental Station.
"Having the right tools and equipment makes all the difference in getting the job done right," Beachy said.
That's why when you spot a do-it-yourself construction project in progress in the Holmes and Tuscarawas County area, there's a good chance it is being powered by Holmes Rental. For more than 21 years, the Beachy family has provided homeowners, farmers and professional contractors with necessary tools — from hand-held power tools to heavy mobile equipment — to tackle just about any type of construction or repair job.
Next month, the company will open a brand-new location in Sugarcreek. The large 22,000 square-foot facility will replace the current 5,500 square-foot building, which is about three miles west on Route 39.
"We've been planning this expansion for about four years," revealed Beachy, the son of Henry, the company's co-founder. "We're landlocked where we are now and we needed a lot of room to expand our product line and inventory. This is the last major project that my father wanted to accomplish before he retires in a couple years."
With Jason Beachy and his brother Nate preparing to take over the management of Holmes Rental Station upon Henry's retirement, Beachy said customers can be assured the company's reputation for attentive, helpful customer service will continue.
"The customer experience we provide is the main reason we've grown so quickly over the years," Beachy said.
In 1997, Henry Beachy was tending to his family farm when a friend from church asked him to partner in the equipment rental business. Beachy agreed, and six years later he became the soul owner of Holmes Rental. Since the company was established, additional locations have opened in Millersburg and Mount Vernon.
"The original location was in a trailer, next to where we are now in Sugarcreek," Beachy recalled. "This building was constructed in 2002."
The company started by renting equipment mainly to the construction industry.
"We had power tools like drills and concrete saws, and expanded into skid loaders, excavators and fork lifts," Beachy said. "That's the part of the business that has really been growing the fastest."
Holmes Rental now rents, sells and services a wide variety of equipment.
The sales department began when the company became an authorized Cub Cadet dealer in 2008.
"Sales were so good that we later became an authorized dealer for Toro, Yanmar and Echo equipment," Beachy said. "Then we became an authorized dealer for JLG boom lifts, extendable forklifts and scissors lifts."
The company started a service department to keep its rental equipment in top shape, and later expanded to service customers' equipment. Service is offered at all three Holmes Rental locations.
"We service most brands, and we specialize in servicing boom lifts, scissors lifts and extendable forklifts," Beachy said.
Holmes Rental also has a mobile service truck to repair on-site equipment.
"We have always made it a point to make things as convenient as possible for our customers," Beachy said. "Our equipment delivery service is one example. Contractors appreciate being able to make a single phone call and the equipment they need shows up at the job site."
For DIY customers, Holmes Rental provides comprehensive instructions on how to properly use rented equipment.
"People call us and explain the job they want to accomplish," he said. "We then give our recommendations about what would be the best equipment and tools to get it done."
The new Sugarcreek location, Beachy said, will provide ample space for additional products and expanded sales and rental inventory.
"It's an example of how my father has always reinvested in the business to provide a better experience for our customers," Beachy said.
The new Holmes Rental, which is scheduled to open on Monday, Feb. 4, is located at 1298 SR 39 NW, in Sugarcreek. You can call the store at 330-852-2600, or visit HolmesRentalAndSales.com for full product and equipment listings. The Millersburg location is at 1492 South Washington Street, 330-674-5533.