Getting the word out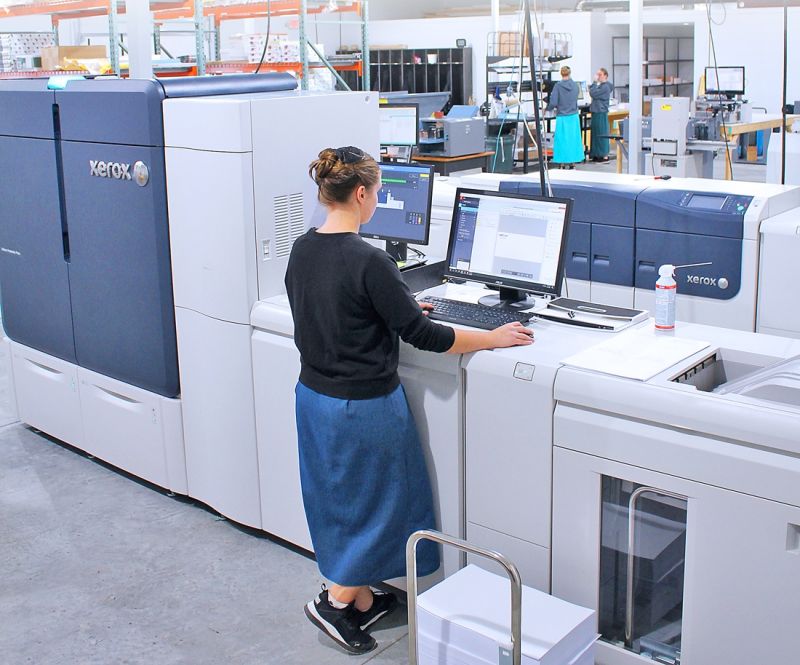 Wyman Hershberger, who handles promotional products for InkScape Print and Promos, is excited as he looks about his new office outside Berlin. The shop moved earlier this month about a mile down U.S. 62 to its brand-new, larger facility on County Road 77 in Bunker Hill.
"We're a very fast-growing business," Hershberger said. "I believe our success is due to our excellent customer service and our competitive pricing. We have a lot of repeat customers, and they tell us that's why they like to do business with us. That's why we're one of the number one suppliers of promotional products in the area."
InkScape has served the local community with quality full-color printing and promotional products since 2012, when owner Mark Mast established the forerunner to the business in his basement.
"Our mission is to provide quality print and promotional products at a fair price," Mast said.
Hershberger said being able to provide promotional products and printed materials under one roof makes InkScape a convenient one-stop shop.
The move to Bunker Hill is the company's second relocation. In October 2016, Mast moved the operation from his home property to an easier-to-find facility on U.S. 62. InkScape also has a second office in Middlefield to serve its growing customer base in Geauga County, he said.
The company began as Hidden Acres Graphics. It began as a part-time enterprise that Mast ran while working full time in construction. He also operated another business that he said required a substantial amount of printed materials. Those materials initially were done by an outside print shop until Mast decided to do the work himself.
"Then other people started asking us to help them out," he said. "We finally ended up having a full-fledged print shop."
A year after starting Hidden Acres, Mast moved the print shop from his basement to a building on his property.
Today, InkScape offers color and black and white printing, full finishing capabilities, graphic design, photography, direct mailing, interior and exterior signs and banners, canvas printing, and more
than 300,000 promotional products that include coffee mugs, pens, calendars, t-shirts, hats, keytags, folding chairs etc. If a product is on the market Inkscape can get it.
All promotional items can be personalized with a company or organization's name and/or logo.
Printing services at InkScape include a wide variety of business and personal materials, like flyers, brochures, invoices, notepads, catalogs, business cards, envelopes and mailing labels.
The move to Bunker Hill entailed hauling the presses and all the finishing equipment to the new location. The digital presses allow for InkScape's 10 employees to complete orders quickly.
"Most of what we print is business to business, and our customers appreciate the fact that we get their orders out quickly," Mast said. "When we have print-ready files submitted by customers, we try to get the orders out in a couple of days. We do a lot of work for local businesses, but we also ship all over the country."
InkScape also has a full design team on staff to handle design needs for catalogs, brochures, and other sales and marketing materials. Mast said the company's design-to-mailbox capabilities allow it to create a logo, shoot head shots of the principals and their products, design business cards, print brochures and introductory letters, produce labels, and send bulk mailings. Being a local business owner, Mast said he understands the logistical and financial challenges that other small businesses encounter.
"When a customer comes to InkScape, our goal is to find out what they are trying to accomplish and help them do that in a way that makes sense for their business," he said. "It may not always be the most expensive thing that works best for the customer. We understand that many businesses have a limited budget, and we are willing to help them come up with a product that fits that budget."
You can learn more about InkScape Print and Promo by visiting InkScapePrint.com or by calling 330-893-0160. You can visit the shop at 5991 County Road 77 in Bunker Hill. Hours are Monday through Friday from 7 a.m. to 4:30 p.m. This story has been underwritten by InkScape.