Happy to make your burgers the fresh, tasty way.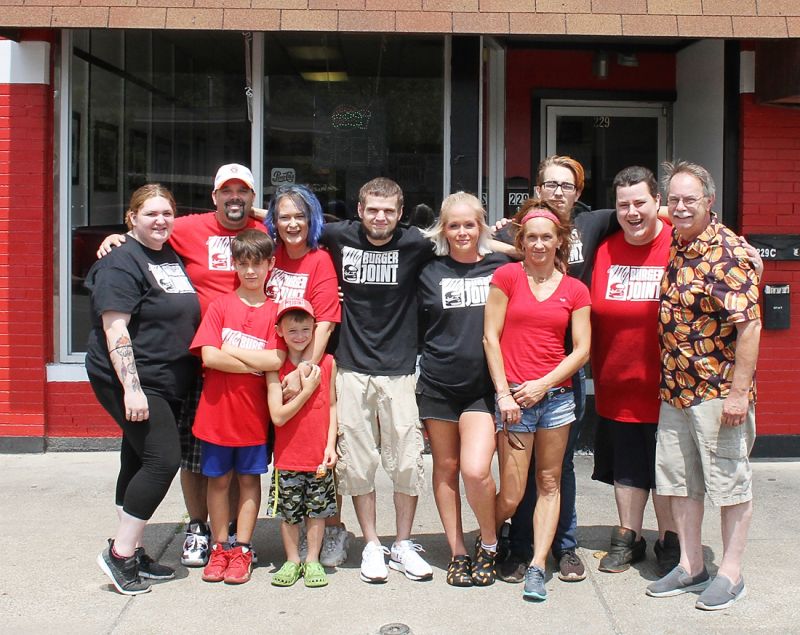 A new Uhrichsville eatery that was planned as a comfort food diner has turned out to be a must-try gourmet burger joint that already has drawn visitors from as far away as Maine, Texas and even Germany during its first year of operation.
My Burger Joint opened its doors during an unlikely time — July 2020 — right in the middle of the pandemic that resulted in the closure of many other Ohio businesses.
"The decision to open a hamburger place was a spur-of-the-moment thing," co-owner John Fisher said. "We had planned to open a mom-and-pop restaurant that served comfort food. But we kept hearing from the community that they really needed a good burger joint, so we flipped everything over and opened a burger joint."
The move proved to be popular from day one.
"Our plan was to work the place with just our families," Fisher said. "But we were so busy from the beginning that after a few days we had to shut down, buy additional equipment and hire a crew. It took us by surprise."
My Burger Joint features fresh ingredients, including beef that has never been frozen, Fisher said. You can order from the joint's menu of specialty burgers, or you can customize your own.
"One of the things that makes us unique is that Ben (Ritchey, co-owner) and I decided to get creative with our burgers," Fisher said. "So we have your basic cheeseburger and bacon burger, but then we came up with specialties like the Hawaiian Burger, which comes with pineapple and a special Hawaiian sauce. It's become a local favorite. We just try to mix and match ingredients, sort of like doing artwork — we try a different stroke to see if it blends well with another stroke."
The latest addition to the burger menu is My Mango Habanero, with fresh-cut grilled habanero peppers and melted cheddar, topped with mango-habanero sauce. To add even more heat, you might complement the burger with an order of snake bites — battered, deep-fried jalapenos.
Ritchey's 9-year-old son, Jaiden, developed the Pizza Burger, which is consistently among the shop's top-three best sellers, Ritchey said. The Pizza Burger is served open faced on garlic toasted buns topped with a burger, pepperoni, pizza sauce and mozzarella cheese.
All of the burgers are served with coleslaw and fresh cut curly fries — just like you get at the county fair, Ritchey said. For a buck extra, you can exchange the fries for a battered vegetable — like onion rings, mushrooms or fresh fried green beans. You also can substitute baked beans for the coleslaw — both are Fisher's mom's special recipes. A plump, juicy, grilled chicken breast can be substituted for any burger.
If you enjoy breakfast any time of the day, you may want to try the Brunch Burger, with hash browns piled on an egg, cheese and your choice of bacon or ham.
Many true connoisseurs may prefer to build their own burger, Ritchey said.
"With all of our sauces and toppings, you can come up with unlimited combinations," he said. "You also can build your own salad."
Free delivery during a time when many hungry customers hesitated to go out helped to popularize My Burger Joint, Ritchey said.
"Most places were charging for delivery," he said. "We decided to offer it at no charge for various minimums, and I think people really appreciate it."
Delivery is free to such locations as Uhrichsville, Dennison, Midvale, Barnhill, Newport and Tuscarawas.
Since opening, Fisher said, support from the community has been remarkable.
"We also have had a lot of travelers come in — many of them because their neighbors told them about us," he said. "We have a board for travelers to sign, and it is already filled up with autographs from a lot of states, as well as Germany."
You can view the menu and place your order for pickup or delivery at MyBurgerJoint922.com. My Burger Joint, located at 229 E. Third St. in Uhrichsville, is open Monday through Friday from 11:00 a.m. to 9 p.m. You can call the joint at 740-229-7188 and keep up with the latest news on Facebook @MyBurgerJointLLC.