Healthy, fast & fresh squeezed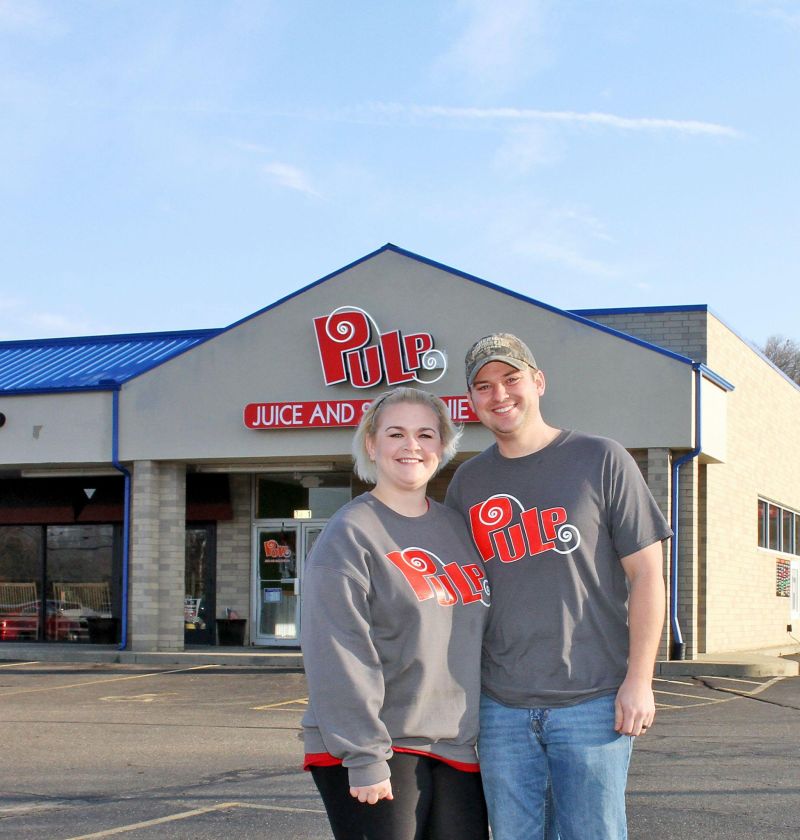 Hunter Duerig likes to start his day with a shot … of ginger and lemon, that is. As the owners of the new Pulp Juice & Smoothie Bar in Dover, he and his wife, Kodie, have made over-indulging in all things natural a part of their everyday routine.
"We used to drive to the Pulp in North Canton for smoothies," Hunter Duerig said. "We loved everything on the menu and decided one day to open a location here in our hometown."
Now, instead of making the trek to North Canton, the couple spends hours each day not only creating their own customized blends of fresh, all-natural juices and smoothies, but also they do the same for a growing list of devotees.
"Since opening in September, our location has really taken off," Duerig said. "People love the unique concept and the health benefits derived from things like our ginger shots, made with fresh-squeezed lemon and ginger root, which boost the immune system and fight infection, or our wheatgrass shots, with one shot equaling 2 1/2 pounds of green, leafy vegetables."
The "shots" can be found on the generous Pulp menu, which boasts over 30 different smoothies and juice blends along with a creative assortment of wraps and salad. Duerig said many of his customers like to visit Pulp in the wee hours of the morning before heading off to work, which is why the store opens weekdays at 7 a.m.
"All of our smoothies and juice blends are unique in that they're made with the freshest natural ingredients, with no sugar added," he said. "We use only real fresh fruit for our smoothies and fresh-squeeze all of our juices on the spot."
Even the yogurt and sherbet used in the smoothies are the freshest and best available.
And while it's a challenge to narrow the list of Pulp smoothies faves to just a few mentions here, the Cranberry Fix, with cranberry juice, blueberries, strawberries, bananas, raspberry sherbet and yogurt, is a vitamin-packed must. For a burst of energy, try the Pulp Fusion, with regular or sugar-free Red Bull, strawberries, bananas and orange sherbet. You can get your green on with the Kale Ka-Pow, which includes pineapple juice, kale, mangos, strawberries and Pulp's own greens blend.
If dairy is your nemesis, Pulp feels your pain. There are three different soy or almond milk smoothies to choose from. And, of course, all smoothies and juice blends are customizable, so you can have it your way every time you visit.
Enhancers really kick Pulp's smoothies up a notch, and you can add one free to your order. Choose from things like the vitamin blend, fat burner, stress eliminator and fiber blend.
Fresh-squeezed juices, Pulp's signature lemonade, and wraps, bowls and salads round out the healthy menu. Duerig said locals love Pulp's wraps for a lighter lunchtime alternative, and people on their way home from work are thrilled to be able to grab a quick bite packed with fresh goodness. You can dine in or grab and go via the drive-thru.
For breakfast, Duerig suggested the PB & G wrap, made with peanut butter, sliced bananas, honey, crunchy granola and low-fat vanilla yogurt rolled into a whole-wheat flour tortilla. For lunch, try the Spicy Turkey Wrap, with thin-sliced smoked turkey breast, shredded cheddar cheese, tomato, romaine lettuce and spicy sauce. The go-to for dinner has to be the White Albacore Tuna Wrap, with white albacore tuna, fat-free mayo, shredded carrots, sliced celery, chopped romaine and cucumber.
Juice blends can be completely customized, as can any of the items on Pulp's ample menu. Duerig said he hopes his brand of fast food will become the norm in the months and years to come. "People really are tired of the fries and burgers model," he said. "They're looking for healthy options that are as delicious as they are affordable, and that's what we give them. If you haven't tried Pulp yet, I'd like to invite you to stop in and taste the difference."
Pulp Juice & Smoothie Bar is located at 3001 N. Wooster Ave. in Dover. Hours are Monday through Friday from 7 a.m. to 9 p.m. and Saturday and Sunday from 9 a.m. to 9 p.m. The phone number is 330-440-7199, and you can find a complete menu online at PulpJuiceAndSmoothie.com.


Buy One, Get One – Free. Purchase any size Pulp smoothie and get a second smoothie of equal value – free until Jan. 31! Simply mention this story when you place your order.