Lock 7 Hair Studio to hold Wigs for Kids benefit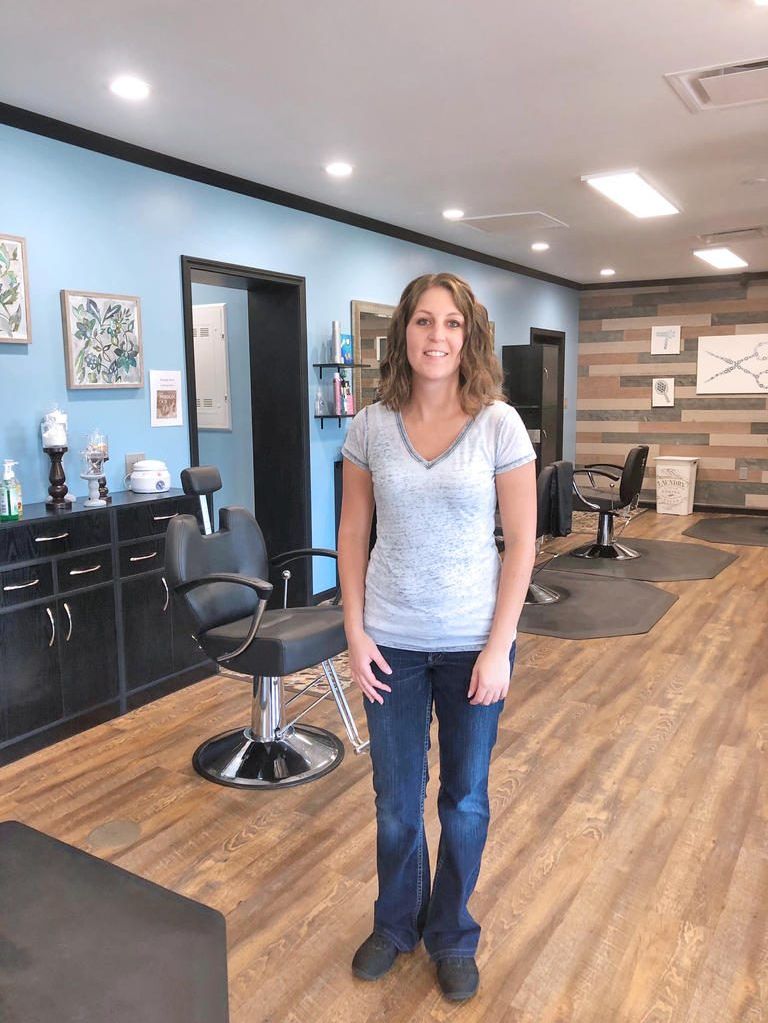 Lock 7 Hair Studio in Bolivar will hold its second annual Wigs for Kids fundraiser Sept. 8-12. Heather Jones, the salon's owner, said she chose September because it is Childhood Cancer Awareness Month, an international event to raise support, funding and awareness of childhood cancers and the impact it has on sufferers and their families.
"It costs $1,800 to make one wig, so we've set our goal at $1,800 to sponsor one child," Jones said. "We are donating of all haircuts to Wigs for Kids, so you can do something as simple as get a haircut and know you're making a difference in a child's life."
Lock 7 is the only participating Wigs for Kids salon in the area. In fact, the closest salons that donate to Wigs for Kids are in Akron to the north and Columbus to the south.
Jenny Chan of Massillon found Lock 7 through the Wigs for Kids website, which has a "find-a-salon" feature. She has been donating her hair for more than a decade. She donated 14 inches of hair this year.
"It takes a year or two of growth for me to get it where I want it for donation," said Chan, who said she noticed Lock 7 was using the correct techniques and was grateful. "I first donated my hair when I was in college and just kept doing it. You have to know how to do it to maximize the amount of hair that is usable."
Jones said the hair needs to be separated into at least four sections before cutting it. "Then it needs to be banded every 2 inches to make sure the hair stays together and doesn't get tangled," she said. "The hair also needs to be dry so it doesn't collect mold in transit and wrapped tightly in tissue paper to keep if from tangling in the mail. Then it all goes into a plastic zipper bag, rolled up tight, before mailing."
Jones said she has trained all of her stylists to use the proper cutting method, so no matter who is cutting your hair, they will be doing it correctly.
"I like Wigs for Kids because they don't charge the children for the wigs, and they are Ohio-based," Jones said of the Westlake-based nonprofit.
For more than 30 years, Wigs for Kids has been providing wigs and support at no cost to families and children who have lost their hair due to chemotherapy, radiation therapy, alopecia, trichotillomania, burns and other medical issues.
A Labor Day week-long affair
"I want to continue having this event the week of Labor Day to make it easy for people to remember when it is," Jones said.
It will be an event too, as Jones also has scheduled food trucks during the week. Boone Creek Pizza will be onsite on Thursday, Sept. 10 from 4-8 p.m. The company is donating $5 per pizza to the Wigs for Kids benefit.
Messdad's Concessions will participate on Saturday, serving breakfast and lunch from 9 a.m. to 5 p.m.
"I'm still working on lining up food trucks," Jones said. "I'd like to have one here every day."
Other ways to support the effort
For those who wish to participate but don't want to cut their hair or don't have enough for a donation, Lock 7 is selling raffle tickets at $1 each or six for $5. The winner of the raffle will receive a basket of items donated by local merchants. You do not need to be a customer to purchase tickets, and all proceeds will go to the Wigs for Kids charity.
"We always keep a donation jar out in front so people can donate money as well," Jones said. "The only rules are that your hair cannot be chemically treated, and you must be able to cut off at least 12 inches."
Monetary donations also can be made online at www.wigsforkids.org.
Jones said she and her staff are available to take hair donations all year for those who can't make it during the September event.
The cost of a haircut when donating the locks is just $7. Salon hours are 9 a.m. to 7 p.m. Monday through Friday, except for Labor Day. Saturday hours are 9 a.m. to 5 p.m. Lock 7 Hair Studio is located at 10880 state Route 212. For more information call 330-556-0283 or visit the salon on Facebook.