Ohio Hardwood show has changed over past decade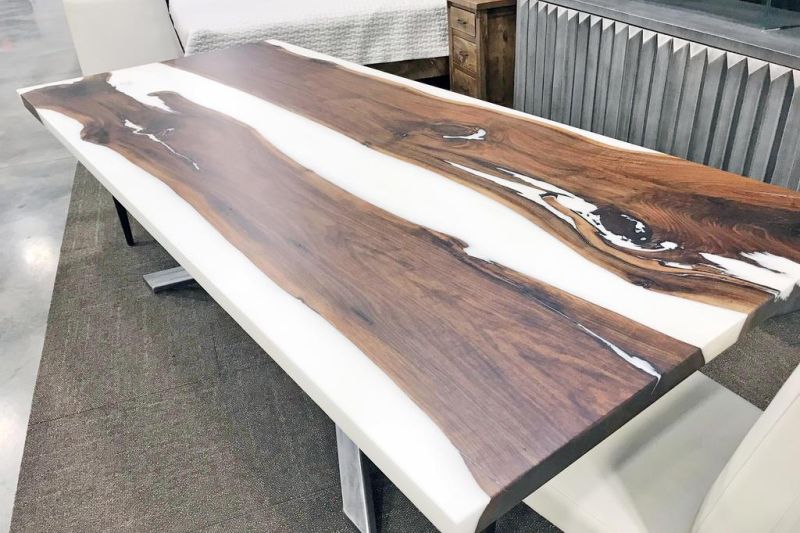 Eleven years ago the inaugural Ohio Hardwood Furniture Market was camped out at the old Walnut Creek Flea Market with vendors boasting 10-by-10-foot booths in cramped spaces. The name of the game back then was Amish handcrafted, custom-made oak pieces. The show was oak as far as the eye could see.
Flash forward more than a decade and the show is now held once in the fall and again in the spring, taking place at two locations including the expo center at Harvest Ridge, where it has exploded into two buildings, and at the Mt. Hope Event Center.
Many changes have taken place with the products on display, and today few vendors showcase oak. In addition retailers come from all over the United States and Canada to find what they hope is the next big thing in the world of furniture.
While the Hardwood Furniture Guild dreamed big when they first began the show 11 years ago, what they have now dwarfs that show by comparison.
The show took place for the third fall season Sept. 11-12 while the spring show has promoted 11 shows.
"It has changed so much over the years," said Shasta Mast, executive director at the Holmes County Chamber of Commerce.
Mast worked with the members of the Hardwood Furniture Guild to create the show, and it has been a boon for area wholesalers ever since.
"The furniture now is so much more stunning, and they continue to be so much more innovative with what they are producing in furniture. Even their displays and booths are so forward-thinking. They have come so far from when this first began," Mast said.
Furniture builders have had to be creative with what they offer because the competition from within the borders of Holmes and Wayne counties and surrounding areas continues to up the ante in terms of quality and design.
That, coupled with the pressure to compete with big box furniture stores that make less expensive furniture but for a cheaper price, has made for a competitive field in the furniture market.
"The quality of what we are making here is so incredible," Mast said. "One of the areas we have to compete against are the knock-off furniture, and one of our biggest goals is to get people to realize they aren't coming out ahead when they buy furniture that ends up in a landfill in five years. In the end quality furniture that we are seeing here at the show is a much better investment that can be passed on from generation to generation."
Mast said a decade ago the retailers attending the show were basically mom and pop shops that were more on the hobby side of the market. Today she said they have representatives from large companies flying in on private jets from all over the United States.
With the woodworking industry being such a huge part of the fabric of Amish Country, Mast said this show continues to be an event that is instrumental in allowing local furniture builders to make connections and grow their businesses.
"The woodworking industry has made a monumental economic impact on our area, and this show has been a part of us growing our brand in Amish Country," Mast said.
Mast said the members of the Hardwood Furniture Guild are the driving force behind the show's success. She said their willingness to work together and become a part of the erection of the Harvest Ridge expo center has been exemplary.
"They understand the value of promoting Amish-built hardwood as a destination," Mast said of the guild members. "If we can get these folks to come into our community and see a guy who makes great dining tables and then discover someone else locally who makes great bedroom suites or office and entertainment, it helps everybody. They were ever forward-thinking when they decided to work together in a cooperative marketing effort."
Myron Miller, owner of Miller Bedrooms, has been involved in the furniture business since it leaped into the forefront of Amish Country's business world years ago. He said the Ohio Hardwood Furniture Market is incredibly important to the many area woodworking businesses.
"I feel like this is very important because we get 200-300 dealers visiting your store and making connections at one time," Miller said. "What kind of time commitment would I have to make to do that on my own? How many years would that take me?"
What comes from the show is a connection with retailers who visit and come to find wholesalers who can make their business better and more profitable.
The retail representatives make connections with dealers and build relationships that can be valuable now and down the road.
Miller said nobody at the show expects to grow relationships with all of the retail representatives coming to the show, but each wholesaler is seeking a small portion of those who visit the show.
Miller said if he can make eight to 10 connections with retailers, that is a huge win, and he said every wholesaler at the show is looking for a piece of the pie.
"We all want the same slice of the pie, but as long as it's peanut butter cream pie, we'll take a little portion," Miller said. "But this show is the cream. It's a terrific opportunity."
Miller said while the show is a place to find new dealers, it also is a good way for wholesalers to connect with existing retailers with whom they already have a working relationship. He also said it is fun to connect with other wholesalers in the area.
"This is quality time to talk to people, and that means everything to every single one of us here," Miller said. "This weekend may be competition, but it is also community, and building relationships with our dealers continues to be a critical part of our success."
Eddie Troyer of Briarwood said although he and Miller are in the competing businesses of making bedroom furniture, as members of the Hardwood Furniture Guild, they understand the value of working as one.
"The only way forward to grow an industry is working together," Troyer said. "You can't push against each other. It just works better when we all work together to promote the quality of our products here."
Junior Keim of Holmes Panel was at the show but didn't have a booth. Instead he was simply visiting to connect with the many wholesalers in the area who utilize his Farmerstown business.
"For me it is about showing my support to these businesses who we work with every day," Keim said.
In a world that usually promotes a me-first attitude, the Hardwood Furniture Guild members have realized building relationships and getting retailers to understand the value in Amish-made furniture continues to be the best way to grow their market in a way that helps everyone.