One-day Walnut Creek Vintage Fair June 12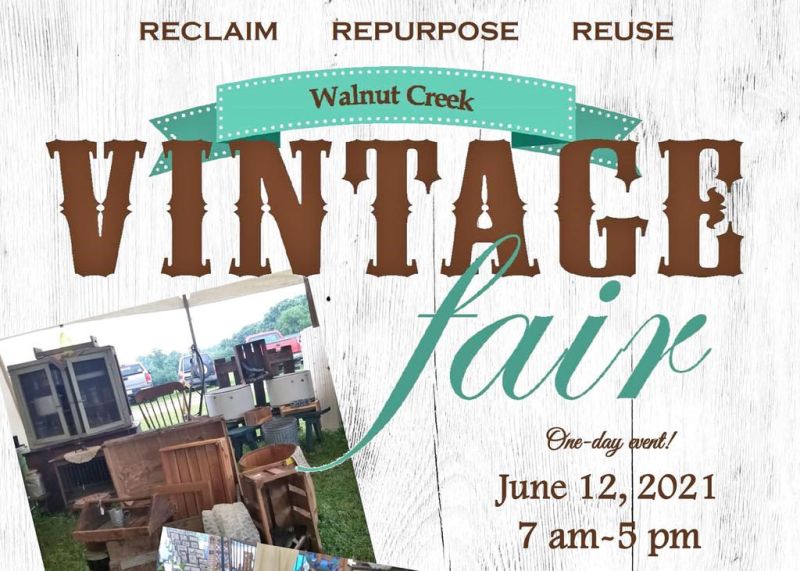 One person's trash may be another's treasure, and there promises to be many 'treasures' at the annual Walnut Creek Vintage Fair.
This year's Vintage Fair will be a one-day event on Saturday, June 12, from 7 a.m.-5 p.m. in the field next to Mast Sales and Service, located at 3585 OH 39 in Walnut Creek.
Fans of garage sales and TV shows like "American Pickers," "Antiques Roadshow," "Storage Wars" or "Pawn Stars," will find that the Vintage Fair is the ideal event at which to spend the entire day looking for their next project or their next "find."
This maker's fair features repurposed and reused items, refurbished furniture, rustic signage, antique and "junk" items, candles and much more. Shop for one-of-a-kind repurposed, upcycled and hand-made furniture, home goods and décor.
And, since nobody wants to shop on an empty stomach, there will be plenty of food trucks on site and open throughout the day, including: Chrysalis Coffee (specialty coffee drinks); Rafter C Chuckwagon (griddle wraps, loaded fries, BBQ ribs, ice cream); Perry Miller (kettle corn, freshly squeezed lemonade); Amish County Donuts (donuts, coffee); Troyer's BBQ (pulled pork, southern pulled pork stack, chicken strips, deep fried mac and cheese, cheezy potatoes, baked beans); Mac's Concessions (Hawaiian shaved ice, slushies, cotton candy, lemonade, iced tea); The Parfait Company (yogurt, fruit and granola parfaits); and Byler's BBQ (pulled pork haystack, pulled pork loaded fries, BBQ rib dinners, BBQ chicken dinners, chicken breast sandwiches, cheeseburgers).
For more information on this event and others happening in Walnut Creek, go to CometoWalnutCreekOhio.com.