Orrville Chamber hosts Bullets and BBQ to promote gun safety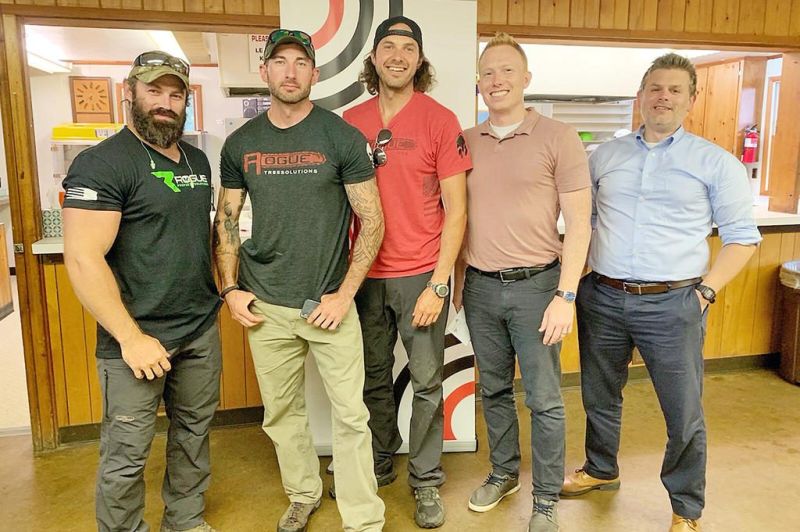 The Orrville Area Chamber hosted their first Bullets & BBQ Outing at the Silver Dollar Sportsmen's Club on Thursday, July 11.
The outing kicked off with lunch provided by Old Carolina Barbecue. Participants were given a demonstration and safety briefing by the Silver Dollar Sportsmen's Club Board Members sponsored by the Orrville Area Safety Council and Afassco.
"Always treat your firearm as if it is loaded, keep the barrel facing towards the ground, chamber open, and finger off the trigger," said Rob Ault, vice president Silver Dollar Sportsmen's Club. "The most important part about any event here is safety, making sure everyone is comfortable with the equipment and of course having a good time as well."
Teams competed on three ranges with 25 rounds at each. Trap shoot, Pyramid shoot and a pistol target range were sponsored by Hatch. They were scored on individual accuracy and then combined those scores for an overall total.
Third place was awarded to the Orrvilon Sharpshooters with a score of 141. Second place went to the Mash-up Team with 180 points, composed of employees from OSU Wooster, Farmers National Bank, PFI Displays and Afassco. First place honors, with an overall score of 230 points went to a combined team from Rogue Tree Solutions and Critchfield, Critchfield & Johnson.
"We were excited to be able to bring this new event to our members," said Stacey Ubelhart, events and operations coordinator, "We engaged a different demographic of our membership and everyone had fun despite the uncontrollable weather. Overall it was a great event and we look forward to doing another one next year."
Anyone interested in learning more about the Silver Dollar Sportsmen's Club can join them on Sunday, July 21 for an open trap day. Learn more about the club and the programs offered, the sport of trap and work on skills.