PJs and lots of deals at annual Berlin shopping event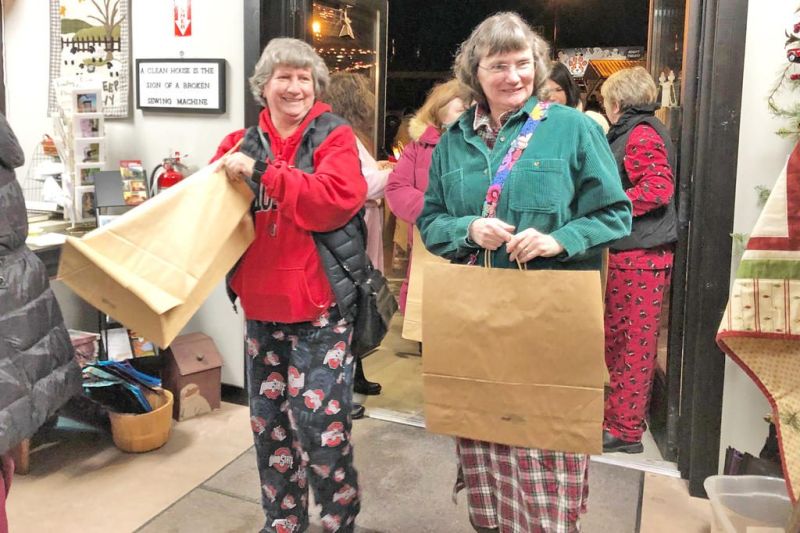 Imagine how nice it would be to roll out of bed, grab your purse and keys, and just get in the car to go shopping with friends, no worries over picking out the perfect outfit to wear or fixing hair and makeup flawlessly before going out.
That's exactly what Karen Lamp of the former Country Craft Cupboard, now known as Plaid Sheep Company, was thinking when she first came up with the idea of offering a PJ Party Shopping event for her customers 23 years ago. This year's annual event is set to take place Friday night, Jan. 10 and the morning of Saturday, Jan. 11.
"I started the event 23 years ago as an inventory reduction sale," Lamp said. "[Country Craft Cupboard] did it solo for about eight years, then had ladies on the streets at 8 a.m. wanting to keep shopping in their PJs. By that time other merchants had asked if they could join in, so it has become a town party. We always opened at 6 a.m. on the last Saturday of January to lead it off. Last year I moved the event to Friday evening to give shoppers more time to shop downtown Saturday morning. And this year we moved the sale to the second weekend of January and expect to keep it there."
Shoppers are encouraged to wear their favorite pajamas and nighties, come out with their girlfriends, and browse the various businesses that will be open Friday and Saturday. Plaid Sheep Company will open from 7-10 p.m. on Friday and offer guests 40 percent discounts, and on Saturday visitors will receive 20 percent off their purchases from 7-9 a.m.
"The discounts given are the main attraction for this event but watch for next year as we plan on adding some new twists and fun," Lamp said. "We have had ladies coming for all 23 years we have been doing this event. Naturally there will be lines to wait in at 40 percent off, but we have seen shoppers make friends as they wait in line. One lady even invited someone she met to come and stay at her house the next year. It has become a reunion at times because it's the one time shoppers are sure to see old friends and make new ones."
The event continues to grow each year for many reasons. Lamp said location has a large part in the success of the PJ Party Shopping event. And the fact that it's more acceptable to walk around in your night clothes in a small town, rather than in a bigger city or at a mall or a big box store, also may have something to do with it.
"We live in one of the largest Amish settlements in the world and are always in the top-two tourist attractions in Ohio," Lamp said. "Along with this we live in a beautiful area with rolling hills, kind and gentle people whose lifestyles reflect our values. I think this is what draws people to the area: to experience this way of life and maybe be drawn back to all of our roots here in America. Shopping locally helps to keep our area strong so we can continue to help folks see there is beauty in simplicity."
For anyone wanting to make a girls weekend out of the event, Lamp said Berlin Grande Hotel and Comfort Suites is offering discounts to shoppers interested in staying the night. Visitors having fun finding deals on Friday night can always get a room and come back the next morning. But Lamp wants to remind everyone who plans to participate in the two-day event that there is just one rule: In order to receive the discounts, you must be wearing pajamas.
"This event has always been special to me because of the fun I see the shoppers having," Lamp said. "Anyone looking for a bargain should put on your night clothes and come out and join the fun."