Sold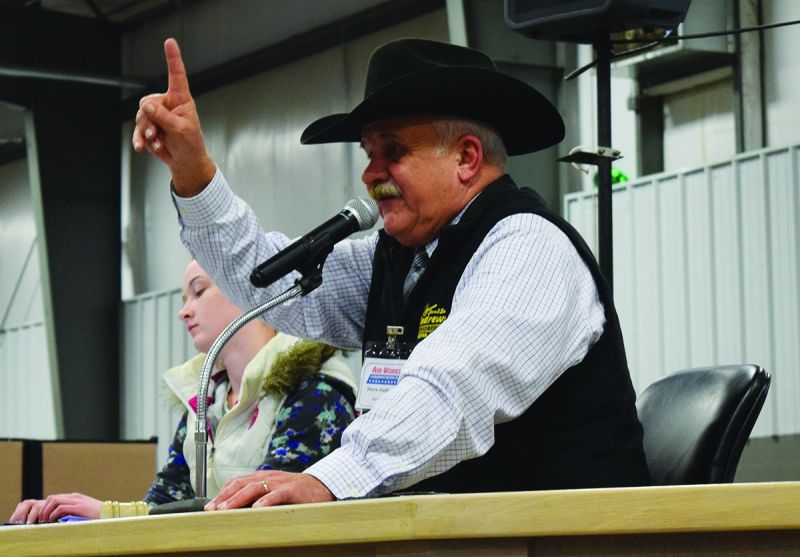 Celebrating three decades of conducting auctions, Air Works Consignment Auctions will host its 30th annual auction on Thursday, Feb. 14 through Saturday, Feb. 16.
"We established the auction during the time when the community was moving from agricultural to manufacturing and there was a big need for used equipment," said Reuben Troyer, who, along with his three sons, Marty, Eli and Dan, owns the auction company. "It started as a way for our company to sell our rental tools from our construction and wood manufacturing supply house, and it has evolved ever since. After thirty years, the need to provide a platform to connect buyers and sellers with good new and used equipment continues."
"We anticipate one of our largest sales to date and expect up to 15,000 attendees to come to the three-day auction and equipment expo from all over the country," Troyer said.
With something for everyone, Thursday's auction will feature small tools and three to four rings of antiques. On Friday, 15 crews will be selling logging, sawmill, woodworking and metalworking equipment, as well as three rings of antiques. Then on Saturday, there will be more equipment and antiques, along with heavy equipment and rolling stock that includes lifts and power units, plus a collectible toy auction.
"New this year, in conjunction with the tool and equipment auction, we will be auctioning an outstanding gun collection all day on Friday, featuring over 350 long guns from one collector," Troyer said.
One of the fastest growing arenas is our antique tools, collectibles and primitive auctions. Highlights will feature a private blacksmith auction with more than 350 blacksmith hardies, over 100 anvils and hammers, and more than 100 cone mandrels and swage blocks.
"We will have a nice line-up of clean-user tools and collectibles including rare salesman samples," Troyer said. "In addition to used equipment and tools, we will have nine semis loaded with brand-new and name brand tools, including vise-grips, rulers, levels, clamps and much more offered at auction all three days."
More than 1,000 consigners representing seven divisions, including everything related to the logging, sawmill and pallet industry, planers, mizers, etchers, notchers, saws and pallets. There also is an excellent line-up of woodworking equipment, featuring more than 1,000 pieces of woodworking machinery, along with construction tools, heavy equipment, power units and compressors, building materials, and numerous liquidations and dispersals.
"The auction will also feature the largest and cleanest line-up of heavy equipment, to date" Troyer said.
During the three-day auction, for select sales, there will be online bidding. Visit AirWorksAuction.com for more details.
New Equipment and Tool Expo
In addition to all of the used equipment auctioned off, there will be the Mount Hope Showcase with over 200 booths offering new tools, equipment and services.
"The 60,000-square-foot event center building will be packed with vendors showcasing heavy equipment and rolling stock; sawmill, logging and pallet shop equipment; woodworking and construction equipment; and so much more," Troyer said.
The showcase is free to attend and will be open Thursday, Feb. 14 from noon to 6 p.m.; Friday, Feb. 15 from 8 a.m. to 6 p.m.; and Saturday, Feb. 16 from 7 a.m. to 1 p.m.
Special Events and Entertainment
To celebrate its 30th anniversary, there is a lineup of special events, starting Thursday evening from 7:30-8:30 p.m., featuring Ryan Baumgardner, a ventriloquist who is nationally known for his spunky and hilarious show.
On Thursday, there will be a roundtable from 6:30-7:30 p.m. featuring Steve Andrews of RES Auction, Dave Kaufman of Kaufman Realty and Steve Mullet of Mt. Hope Auction, who will share their memories of past auctions.
Plus, there will be showcase seminars on Friday and Saturday with topics including "Basic Financial Management," "People Centered Leadership" and "The 7-step Sales Process."
And for anyone who loves the chant of an auctioneer's rhythmic repetition of numbers, there will be an Auctioneer's Showcase on Friday from 4-6 p.m. "It will be full air ahead, as every auctioneer will go all out," Troyer said, noting that auctioneers go through schooling and hold a license. "It will feature some of the best auctioneers throughout the country. We are very thankful to have one of the best line-ups the industry has to offer. These auctioneers have truly become an extension of who we are."
All weekend long, food will be available in the event center as well as at food trucks, with specialties including Calf Roy's veal sandwich, and plenty of homemade ice cream.
The Air Works Auction will be held at Mt. Hope Auction Grounds on 8076 SR 241 in the village of Mount Hope (for GPS directions: Millersburg). For more information, call Air Works Consignment Auction Ltd. at 330-749-4362 or visit AirWorksAuction.com.