Whitaker-Myers Group observes 150 years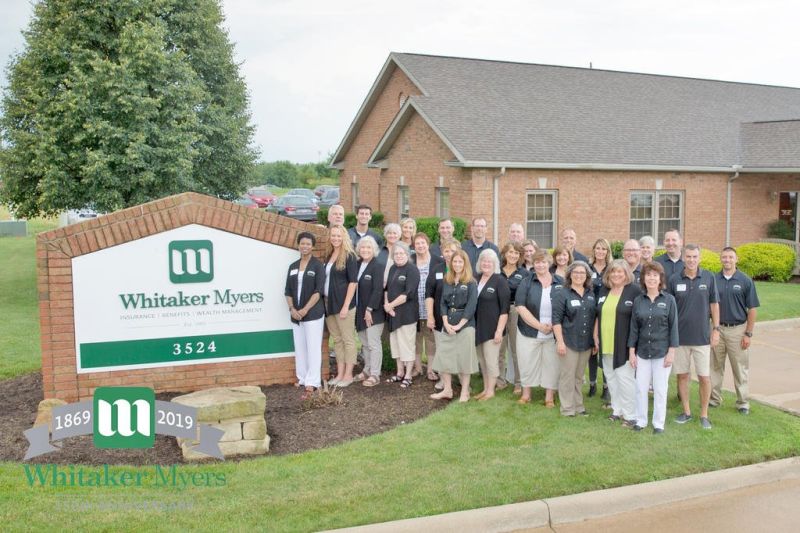 This year one of Wooster's oldest businesses, the Whitaker-Myers Group, observes its 150th anniversary.
Established in 1869, Whitaker-Myers today specializes in property and casualty insurance, employee-benefits plans, and wealth-management services. Its tenure as a continually operating and locally owned business in Wooster is very likely second only to The Wooster Brush Company.
Whitaker-Myers represents several insurance companies including familiar local carriers like The Wayne Insurance Group, The Western Reserve Group and Westfield Insurance Group, the latter since 1869. In addition the firm has contracts with 14 other carriers including The Hartford, Chubb, Motorists/Encova, Grange Mutual, State Auto, and Travelers insurance.
Whitaker-Myers' insurance practice offers commercial insurance as well as home and auto lines. Being an expert in handling many kinds and sizes of commercial risks has become a staple of the Whitaker-Myers Group.
"Being an independent agency and representing so many insurance carriers, we can remain objective; we aren't in the business of pushing any one company or product," chairman and CEO Scott Allen said. "We have the flexibility to tailor coverage that's just right for our clients' needs."
Through its benefits practice, the firm provides employee benefits, group and individual health and life plans, Medicare supplements, disability income, and long-term care products.
Its wealth-management practice offers financial planning and investing for families and for business 401(k) plans. Whitaker-Myers Wealth Managers Ltd. is a registered investment advisory firm.
"Our clients are serious about their investments and are looking for an advisor who can help them grow their nest egg safely and answer their questions," Allen said. "I think that you could say that, with three distinct practices and three offices, our operation is comprehensive, truly full service. But at the end of the day, you'd have to say we are solutions providers for our clients."
This philosophy is one reason Whitaker-Myers Group has been able to maintain its long-standing relationships with its insurance carriers and many clients.
"We treat everyone as though they are part of our family," Allen said. "We're a personal service business. And make no mistake: We are only as good as our professional staff."
Allen said the staff has very little turnover and has enjoyed great operational stability through years of many changes and significant growth.
The Wooster home office has a staff of 19 while its Ashland branch employs 10. The agency just added a branch in Mansfield, employing two.
"Over the years our staff has been dedicated not just to the office, but to the community as well. We have many employees who regularly contribute to community causes," Allen said.
The agency traces its roots back to 1869 and 1870 when two firms were founded in Wooster: the W.G. Whitaker Agency (the Fullerton Agency, operated by two brothers until 1891) and the W.C. Myers Agency.
Over the years Walter Whitaker, W.C. Myers, George Quimby, Francis Whitaker, Ivan Steiner, Dick Sheller, Robert Anderson and Richard Jones all played significant roles and were responsible for the agency's growth and reputation.
"We've kept the same guiding principles today, and that's what's earned the agency the trust and respect of the community over these generations," Allen said.
After years of changes and growth, the two venerable firms merged in 1970 to form what is known today as Whitaker-Myers Group.
Allen came from the Worthington area in the mid-'80s and purchased the agency in 1990 with partner Scott K. Young. Allen's father-in-law had been a senior officer with Westfield, and Young had been a bank examiner and comptroller at the Wayne County National Bank.
A merger with the Insurance Showcase Agency in Wooster ensued in 1998. Showcase principal John McCord became a third Whitaker-Myers owner prior to retiring in 2014.
Ashland's lngmand Agency was purchased in 2002. The firm was long regarded by Ashland County residents as the pre-eminent source for insurance and risk-management guidance, as well as community leadership.
"We recognized their impressive heritage and record of success. One way to honor this was to keep the name of the agency on its building in Ashland," Allen said.
Whitaker-Myers established its employee-benefits practice in 2006. Whitaker-Myers Benefit Plans LLC is led by President and co-owner Chris Vanderzyden. WMBP has grown steadily every year since its establishment, even in the face of a continually volatile health-insurance market.
In 2013 Whitaker-Myers added its third area of expertise, an investment and financial-planning practice, Whitaker-Myers Wealth Managers Ltd. Principal advisors John-Mark Young (Wooster and Mansfield) and Matthew Harris (Ashland) have provided leadership and record growth for the wealth-management firm.
On its 150th anniversary with the group's three operations prospering, Whitaker-Myers Group is dedicated to continuing to help its clients achieve their financial goals.
"Throughout the years the one thing that's been most consistent about our business is that we've remained dedicated to being independent and providing high-quality professional service for our clients," Allen said.