Your gorgeous maintenance-free home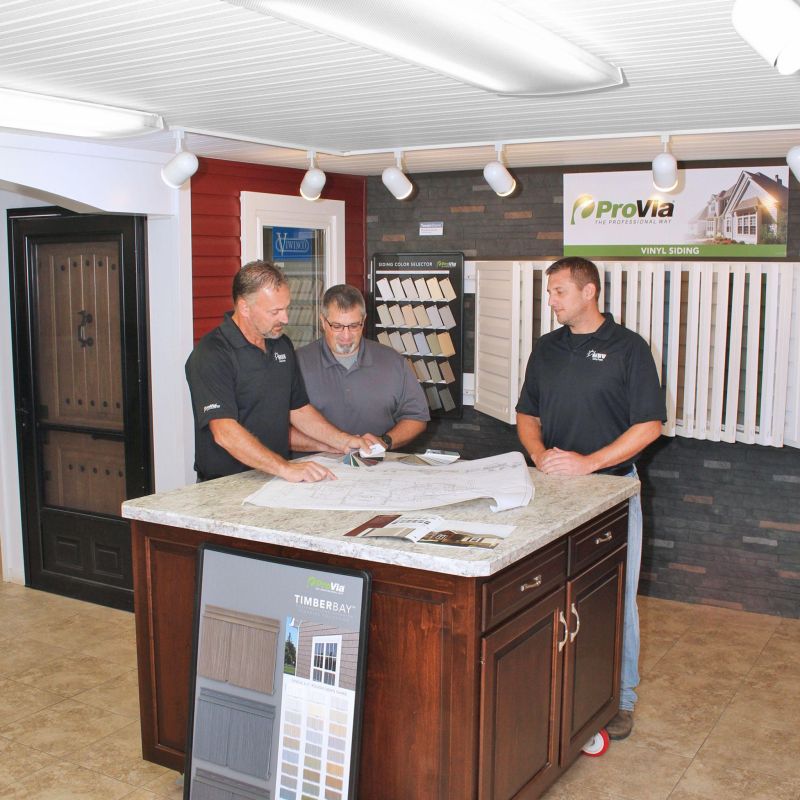 A builder will tell you the most reliable shape is the triangle — the form found in the truss that lends strength to the integrity of the structure.
The same could be said about three men who set out down the road to start a company on a firm foundation. As that business took shape, it, too, would come to have three sides: Holmes Siding Contractors, MRV Siding Supply and Holmes Manufacturing.
Holmes Siding Contractors
In 1984 three men got their company, Holmes Siding Contractors, on the road. It was the start of a business that would come to have three divisions and three locations.
"As the business grew, there were more crews and more truckloads of material," co-owner Todd Kandel said. "In 1990 a material, wholesale and retail distributor, MRV Siding Supply, was started, and we sell to builders, lumber yards, contractors and do-it-yourselfers."
MRV Siding Supply
In the company's 35 years of existence, it has stood the test of time by building long-term relationships with suppliers. MRV Siding Supply only promotes products with a reputation and a record for value. As a result, those relationships not only succeed, but are also strengthened over time, deepening the reservoir of trust MRV customers have for the distributor.
MRV has relationships with manufacturers across the country and deals in the full line of ProVia products — the complete range vinyl siding, doors and windows, and stone.
"We have a 25-year history with Viwinco out of Pennsylvania," Kandel said. "They manufacture strong, proven-performance windows."
MRV also deals in Holmes Manufacturing products. That division of the company works closely with ProVia to custom match every color ProVia offers, producing prefabricated and custom-made aluminum roofing and siding accessories.
Holmes Manufacturing
Aluminum is durable and maintenance-free.
"ProVia has over 30 colors of vinyl siding, and we make aluminum products, window trim, soffits and fascias, downspouts and gutters, and other accessories in colors that match what ProVia offers, down to their stone," Kandel said.
Aluminum is a fitting frame — the color is bolder and holds long after the paint on the neighbor's trim fades.
"'You draw it; we'll bend it.' That's our motto, be it a specialty piece, a beam or window trim that you want to get maintenance-free on your exterior," Kandel said. "We have many different colors and textures."
The three men who set out down the road, Mark Schlabaugh, Marvin Mast and Dan Mast, found success and retired with the knowledge that there are capable hands behind the wheel.
Today, along with Kandel, the leadership consists of owner Ed Yoder, senior partner, and his two sons, Owners Doran and Jeremy Yoder.
Before jumping on board in 2000, Kandel was a customer and a builder by trade.
"I was a customer of the company all the way back to '89. MRV supplied all my siding, gutters and downs," Kandel said. "These were men of integrity, very good to their word, and if they said they were going to do something, they would. If they said they were going to show up, they did."
As a builder, that counted for a lot. As a co-owner of the company, he's driven to continue the company's legacy of integrity.
Formed from three sides, Holmes Siding Contractors, MRV Siding Supply and Holmes Manufacturing, the company stretched its reach by forging long-term relationships with both its business partners and clients. The company has forged ahead with offices in Newark and Pittsburgh, and its reputation travels far and wide.
"So many of the trades come out of Holmes County. The people who make a home here take whatever their task is in the contracting world and do it in a 60- to 100-mile radius," Kandel said. "We've got framers, siding guys and roofers who will drive to Wooster tomorrow and Mansfield the next day. Other guys drive to Columbus every day."
The company builds relationships because, just as it was in the beginning, the business still and always will come down to a few guys in a truck.
MRV Siding Supply is headquartered in Millersburg at 6767 County Road 624. Reach out at 800-524-7436 or MRVSiding.com.