Bolivar United Methodist Church celebrates 200th anniversary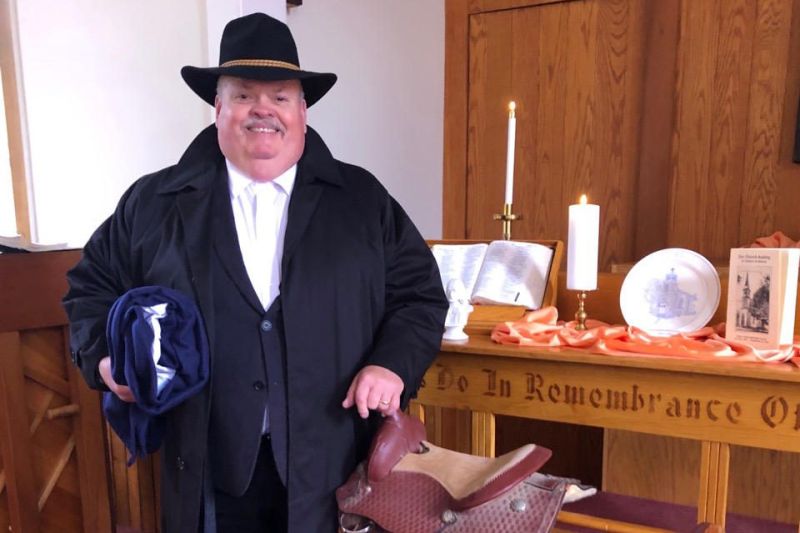 On Sunday, Oct. 31, Pastor Bill Eckert of the Bolivar United Methodist Church strode to the pulpit dressed as an 18th-century circuit rider. The entrance and attire were both apropos for the day the congregation gathered to celebrate the church's 200th anniversary and Eckert's graduation from the Methodist Theological School of Ohio.
Bolivar UMC traces its roots to 1820 when circuit rider Rev. Andrew Stewart preached at the home of Peter Hartline in Lawrenceville, a small community located on what is the site of the Wilkshire Golf Course. Hartline organized the Methodist Society, and Stewart's preaching took place in homes and in a school house until 1842 when a log church was built.
A new church was built in 1854 on the site of the current white-frame church, which was built in 1927. Of course, a church is much more than a building. It is the people who give a church growth, activity and life, and the Bolivar UMC is an active church.
"Just a month or so before we came here, the church was struck by lightning," Eckert said. "Within a year or so of that, we were able to get a state-of-the-art organ, put in a new sound system, upgrade the electronics, replaced an air-conditioning unit, pave and seal parking lots, and put a new roof on the church. And were were able to pay cash for all of it."
To help raise funds for the new roof, Rebecca Sommers constructed a replica of the church. She created small blue "shingles" out of paper, and every time a church member donated to the fund, she added a shingle, until the entire roof was covered.
The generosity of its congregation, however, extends far beyond the walls of the church. According to Eckert, Bolivar UMC feeds approximately 30 families a month from its food pantry, sends money to Salvation Army every Christmas and works with the HOPE team, a peer-based suicide-prevention program at Tusky Valley High School.
In November Bolivar UMC will join with other area churches to provide between 500-600 meals for shut-ins and people who otherwise wouldn't have a Thanksgiving. The church works with Tusky Valley on its Affordable Christmas program.
Each year church members support the Samaritan's Purse Operation Christmas Child program, filling shoe boxes with items ranging from basic human necessities to small toys.
The goal this year was to send 300 boxes to children in need around the world. They are sending 319.
Not bad for a church with 112 members and a weekly attendance of about 45.
"This church is so giving and so caring," Eckert's wife Tammy said. "They don't think of themselves. They always think of others first."
One such member is Carol Hartline Sliffe, a descendent of Rev. Peter Hartline, in whose home the early church services were held. She and her husband Gary have been coming to Bolivar UMC since 2007.
"It's a wonderful church. The people are friendly, and we're a very active church," Sliffe said.
Another member, Diana Culler, keeps tabs on the church's history. Her collection contributed greatly to this article.
A man of the cloth
To graduate from seminary, Eckert traveled to Delaware, Ohio to complete 20 courses in six years, all while working full-time as chaplain at Community Hospice.
The Sugarcreek native, now in his eighth year at Bolivar UMC, said Bolivar is not much different from his hometown. "It's a small town where people care about other people," he said. "Coming here has been a blessing, and it continues to be."
He then summed up the goal he set when he came to Bolivar. "I want this church to be the church that if it was not here, people would say, 'Man, I really miss that church,' and I think we've accomplished that."
Information on church services, Sunday School and events can be found at www.bolivarumc.org.