Dover church uncovers ceiling hidden for decades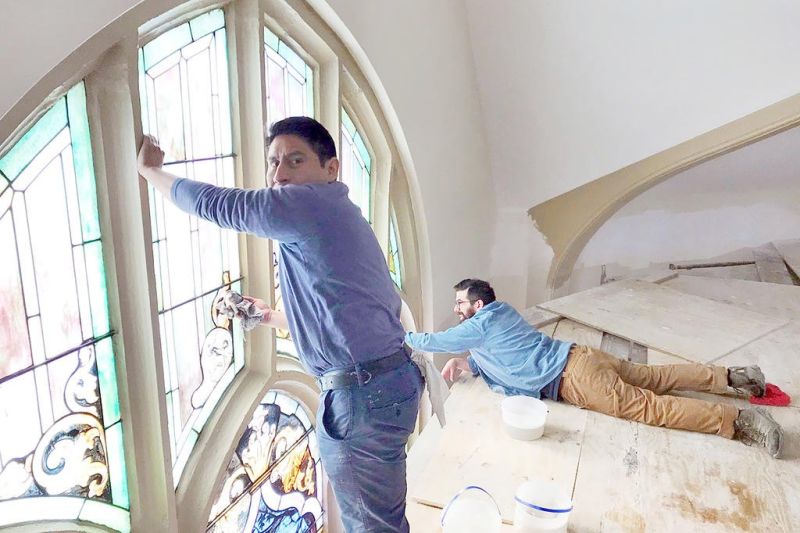 It began as a big renovation for an aging church building, broken up into manageable, smaller projects; prioritized into a neat list of phase one, phase two, phase three; and ending somewhere around phase five or six.
So it was for planners at Lifebridge Community Church on the square in Dover. But the best laid plans can sometimes get shuffled, to everyone's benefit. Stage five of the program was moved up due to some fortunate funding. It is nearing completion and will see an elaborate beamed ceiling that was hidden for decades revealed for the first time in March.
"We suspected it was up there," said Brian Ice, project manager. "The church building was constructed in about 1901 as a Methodist church and had gone on to become Salvation Army headquarters years later. Sometime in the '60s or '70s, it was decided to install a thin drop ceiling in the sanctuary, which covered much of the stained glass and all of the old vaulted ceiling. We planned to remove the drop ceiling and started raising money some months ago."
A generous donation of over $50,000 made the project possible sooner than anyone thought, and church members have done much of the work themselves through marathon weekend sessions perched atop scaffolding erected to reach the high ceiling.
"You often hear of the Amish accomplishing something like this through a big push, but what we've been able to do is pretty amazing," Ice said.
Once the ceiling was removed, there was damage assessment to be done. Moisture damage over the years had to be addressed, plaster restored or replaced, and plenty of painting done.
What few expected was the discovery of just how the church had been constructed more than 100 years ago, using little more than pulleys and horse-powered cranes. Vaulted beams, beginning at ground level, form the structure of the visible walls to the top, but the beams continue into an attic space above, where they meet at the center below the roof.
There, the enormous, heavy beams meet, teepee style, and are locked together with steel plates. Still other heavy beams make up the actual roof structure.
Also hidden for decades is a full-sized wall, which could be raised and lowered from the attic as needed to partition spaces below.
The church recently added a multi-floor addition, parts of which are finished inside while others remain bare space waiting for a new purpose as part of other phases in the overall renovation.
"I have a lot of great helpers who have donated considerable skills," Ice said. "The congregation has come together in a remarkable way to get all this done."
Ice said he expects the congregation, which has been worshipping in the basement of the old building, will be able to begin active services in the restored space by the beginning of March, after scaffolding has been removed, painting completed and a lot of cleanup accomplished.
Lifebridge Community Church has seen growth in attendance and activity at a time when many churches are battling empty pews and monthly deficits, something Ice credits to a welcoming, nonjudging attitude.
"Every Sunday after our service, we gather for a potluck and have a meal together," he said, adding that some of the new spaces made available by construction will aid such gatherings greatly, along with allowing more space for a thriving thrift store currently housed in the lower floor.
"It has been a lot of work getting this far," Ice said. "But we've had a lot of help from so many people. We've been very blessed."