Series of small fundraisers planned to defray costs of organ repair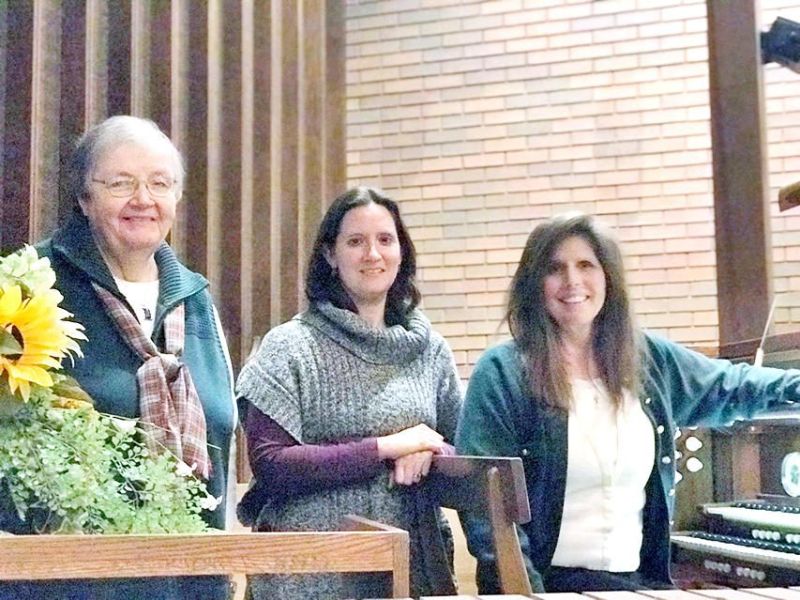 Emmanuel Lutheran Church in New Philadelphia has an asset that reflects both the traditional Lutheran love for hymn singing and a love of music in the congregation: the church's pipe organ, which was installed in 1972 when the current building was constructed after a fire.
The organ, now approaching 50 years old, is in need of maintenance and eventually a full restoration. A series of small fundraisers are planned to defray costs, and a holiday organ concert is set for Sunday, Nov. 24 at 3 p.m. at the church, where a freewill offering will be taken to begin seeding the fund to help pay for the repairs.
"That's where we are right now," said Mary Nellis, leader of contemporary music at the church and wife of Emmanuel Pastor Scott Nellis. "To do the whole restoration now will cost somewhere around a quarter-million dollars."
Faced with such an expenditure, the church is looking at repairs in terms of smaller, more manageable projects. "Right now the organ doesn't really need anything," said Ruth Patrick, the church's worship coordinator and choir director. "But it is starting to experience small problems, which can be remedied as they come."
Patrick offered an example. "There are 2,000 pipes in this organ, and each one of those pipes has a little piece of leather on the bottom which lets the air in and out of the pipe, and they will need to be replaced, but that is something we can have done one at a time as it happens," she said.
Patrick said the need for such repairs would become evident when a note failed to play.
"But the future of the organ, looking ahead eight to 10 years, yes, it's going to need restoration," Patrick said. "And when I say restoration, we're talking about taking the whole thing apart piece by piece and redoing each piece. It would be about $250,000 to do that, and then the console and all of it would be repaired or replaced as needed."
Even that would be accomplished in stages with each half of the pipes removed for restoration before replacing, then the console. "The console, of course, is the keyboard itself, so we would have no organ until that was finished," Patrick said.
Schantz Organ Company of Orrville has been consulted to start planning the repairs.
Lauren Berlingeri, organist and pianist at Emmanuel, suggested "out of the box" thinking for further funding. "There must be those in the community," she said, "who would be interested in, or could benefit from, seeing this restoration in process, perhaps college students or music classes. Perhaps there are grants available for something like that."
As churches outside mainline protestant denominations move toward contemporary music and away from traditional hymns, the three women said they were concerned something may be lost in the way people are exposed to music. For many children, their first experience with written music and interpreting notes on a page has come from following along in a hymnal.
In talking about kids who aren't exposed to music or especially to the music of an organ, Mary Nellis said, "When we had our music camp, we took the children behind the organ to show them how it worked and to see the pipes, and they were pretty wide eyed and fascinated with seeing all that and hearing what kind of sounds it could make. They had no idea the instrument was that large."
"It's something we have to think about," Scott Nellis said. "Will we have the kind of funds needed to take on a major restoration of this wonderful instrument? And do younger people, who would have the benefit of its music in the years to come, have an appreciation for this kind of music? Then again you just never know what is in store or what kind of endowment we may receive."
For now a restoration fund has been set up to receive donations.
Berlingeri, who has been playing the organ since childhood, said the instrument still holds secrets to be discovered. "I find out more about this organ all the time. Every day when I'm in here practicing, I find some new combination or a new sound, and it always amazes me," she said.
Though the future full organ restoration may carry a hefty price tag, it pales in comparison to the cost of an entire replacement. Patrick said quotes for a full replacement have ranged from nearly $500,000 to more than $700,000. "So it really is much cheaper to do the restoration," she said.
The Nov. 24 concert also will feature a flutist, five organists and other musicians. The artists will play classical and holiday music, rather than a roster of hymns.
Emmanuel Lutheran Church is at 202 E. High Ave. in New Philadelphia.