A rare white-throated thrush spotted in Arizona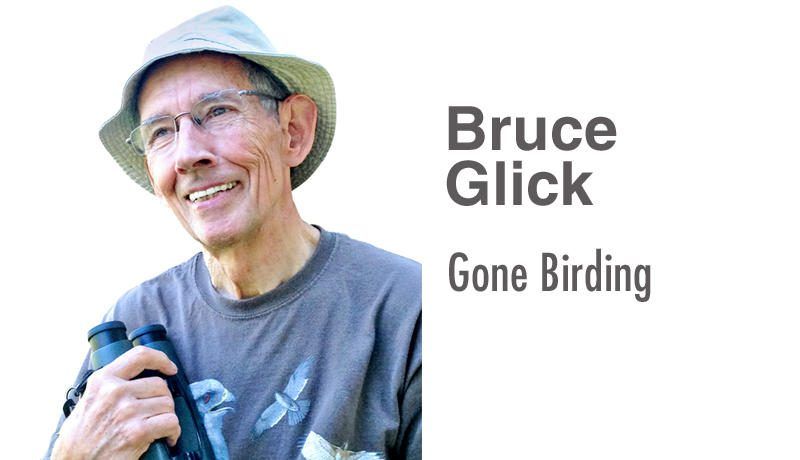 After a good week at a campground near Tucson, we headed for Madera Canyon, hoping to find a spot in the small forest service campground. When we arrived, our favorite site was occupied, but we soon learned the campers were leaving in an hour or so. By mid-afternoon we were situated in site 12 with birds already coming to the feeders that I quickly put out.
At 5,000 feet, it gets cold at night this time of year, but the day was sunny and nice. The first birds at our feeders were Mexican jays and acorn woodpeckers, soon followed by bridled titmice and white-breasted nuthatches.
A magnificent hummingbird (now officially called Rivoli's hummingbird) showed up at the hummingbird feeder. It was the only hummer that came to our feeder in the four days we stayed in the campground.
We saw lots of juncos and chipping sparrows, plus a beautiful painted redstart that stayed up in the junipers. Red-naped sapsucker, Hutton's vireo, ruby-crowned kinglet and western bluebirds also were at or near our camp.
The second day we packed a lunch and walked down the trail along the stream. Between the Whitehouse and Proctor picnic areas, we joined a number of other birders looking for the white-throated thrush that has taken up winter residence in the area.
Because this is the first record for Arizona, lots of people have been to Madera over the last two weeks. Some birders get lucky while others look for several days without seeing the thrush. We soon learned that hermit thrushes are common in this area, along with some robins and several Townsend's solitaires. The robins tend to chase all the other thrushes away from the hackberry trees that still have berries.
We didn't find the thrush that morning and finally walked back up the trail to a pyracantha bush that had lots of bright red berries. While I was watching this bush, an elegant trogon flew in and stayed for five minutes or so.
The nearby robin didn't chase the trogon, but as soon as a hermit thrush attempted to grab a berry, the robin immediately chased it. I did get good looks at a Townsend's solitaire at the same bush.
After lunch we headed back down the trail and soon met a birder who told us the white-throated thrush was being seen a few minutes away. We hurried down the trail and found two birders standing by a large juniper.
The rare thrush was resting on a branch about 25 feet up in the tree. It paid no attention as we took photos and showed the bird to other folks who came down the trail. I was delighted to have seen both the trogon and the rare thrush. We then had to walk up the trails to our camper, a trek of several miles.
Over the next two days we hiked several other trails and spent an hour or more watching the birds at Santa Rita Lodge. The highlight there was a blue-throated hummingbird that came regularly to the feeders. There also were lots of pine siskins, several Arizona woodpeckers, Bewick's and house wrens, and one yellow-eyed junco.
On the last morning we packed up the camper and drove down to Proctor picnic area. There were only two other vehicles there because it was still early. I walked five minutes down the trail to the area where there are a number of hackberry bushes.
One other birder was watching a tree where a robin was perched. Just then the white-throated thrush flew in and perched not far from us. It was only there for a minute or two, but that was enough time to take a better photo than I had been able to get earlier.
With that as a high point for the week, we drove on down to Green Valley to do some shopping and head to Patagonia Lake State Park.
Good birding.
Email Bruce Glick at bglick2@gmail.com.