Golden rain tree beautiful even after leaves fall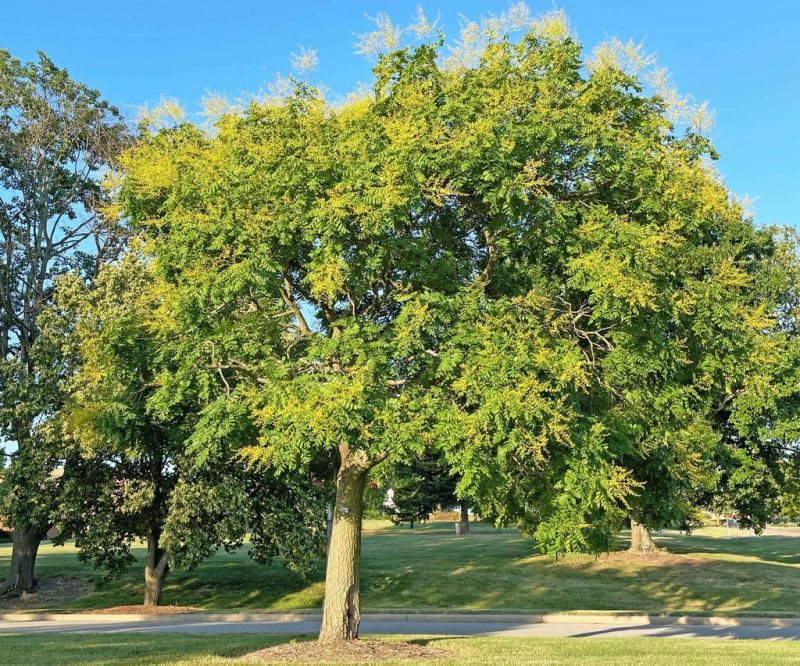 Last month this column featured a plant with the ominous name of poison hemlock. This month we emphasize the positive by spotlighting a plant with a very upbeat name — the golden rain tree (Koelreuteria paniculata). It is a medium-sized shade tree with blue-green foliage and loose branching clusters of flowers called panicles. The flowers are followed by attractive, papery, lantern-like seed pods later in the season.
The leaves of the golden rain tree begin as a pinkish bronze to purplish in spring; they then become bright green in summer and turn yellow in fall. The plant also has bright-yellow flowers about a half-inch wide that appear in early summer.
When the blossoms eventually fall from the tree, they can form an attractive golden carpet under the tree — perhaps the inspiration for the name golden rain tree.
The seed pods that eventually form resemble Chinese lanterns. In China this tree was commonly planted to mark the graves of important officials, and it's often found on temple grounds throughout Eastern Asia and Japan.
The tree is an Asian native but was introduced in the United States over 250 years ago. It was a familiar sight even before the American Revolution.
The tree is very versatile for landscape usage because it can tolerate a wide range of conditions and can handle a variety of soil types. Once established, it tolerates drought well. The plant prefers a sunny spot but supposedly will bloom with only six hours of direct sun each day.
There are several examples of golden rain trees on the OARDC campus in Wooster. One of the easiest to spot is located at the northeast corner of the Agricultural Technical Institute parking lot located on Route 250.
Secrest Arboretum
Speaking of the OARDC campus, have you been to Secrest Arboretum recently? The arboretum had included an extensive rose garden for many years. Currently, the garden is focusing research on coneflowers (Echinacea). There are more than 100 varieties of this attractive summer-blooming perennial on display.
According to the arboretum website, "Over 300 individual plants grace the north end of the former rose garden as part of a three-year evaluation to determine the best coneflowers for our area. Horticultural traits such as winter survival, growth habit, flower quality, disease resistance and pollinator visitation will be recorded and published as a service to our visitors, students and industry collaborators."
The coneflower trial plots provide a wonderful opportunity to see many varieties of this attractive plant up close. You then can choose which types might work best in your home garden.
But the arboretum is much more than the coneflower garden. It is 110 acres of outdoor laboratory and landscape gardens with more than 2,500 varieties of woody and herbaceous plants.
Although the arboretum can provide an extensive array of plant specimens, it also serves as a wonderful place to walk.