A little memory of home is always nice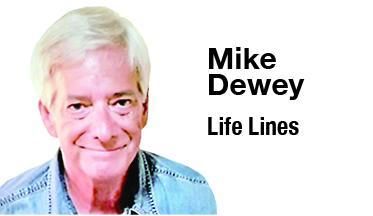 Let's start with a little quiz.
How many of these bands do you know by their initials?
BTO … ELP … MC5 … CSNY … ARS … CCR … MSB … SHF … BST … ELO.
If you got eight of 10, I salute you. That's some good guessing.
For our purposes today, though, I'd like to focus on the last entry.
The Electric Light Orchestra was unlike anything that preceded them, blending classical elements — strings, woodwinds, et cetera — with folk, rock and blues and did, under the guidance of Jeff Lynne, enjoy success from the mid-'70s through the early '80s.
Hits like "Evil Woman," "Turn to Stone," "Telephone Line," "Don't Bring Me Down," "Livin' Thing" and "Do Ya," among others, cemented their reputation as something unique, even rare.
And everyone knew them as ELO.
So when I decided to leave sports writing for a chance to be the entertainment editor in the next county over, I was utterly unprepared for all the fuss surrounding something called the OLO.
"What're you talking about?" I asked. "What's OLO? I mean does it mean you Only Live Once? Is that what it stands for?"
"No," said the estimable colleague who played a central role in convincing me that my writing life could use a little broadening.
"It's the Ohio Light Opera," he said. "Now it's part of your job."
This was the summer 1988, and my world was about to change.
Back then I didn't know Gilbert and Sullivan from Tinkers to Evers to Chance. The word "operetta" did not exist in my lexicon. If you explained what "patter" meant in the OLO context, I still would have confused it with rain on the roof or kids' little feet.
But I was willing to learn. In college I had turned out 40 pages on James Joyce using a manual typewriter with my brother sitting across the room from me, eager to drive us home for Christmas.
"Why did you wait until the last night of the semester to do this?" he asked. "Haven't you ever heard of budgeting your time?"
"I'll tell you exactly why," I said. "The professor gave me a B- on my first essay in the fall, and I haven't stopped hating him since."
So I knew a little bit about bluffing my way through tough spots.
My first assignment was to review "The Gondoliers," but before I could even begin jotting down notes, I had to come to terms with the whole OLO ethos, from the luxurious seating in Freedlander Theater — "Lots of leg room," a colleague had told me, noting my 6-feet-5 frame — to the orchestra — known as the OLO — to the traditional singing of "God Save the Queen" before the curtain rose.
It was a jolt, a real sensory overload; I mean this was serious stuff.
I knew the OLO was billed as "the resident professional repertory company" at The College of Wooster, but I wasn't prepared for how fine it was. Everything was first rate, from the singing to the sets, the music to the choreography, the lighting to the costumes.
It was like witnessing perfection on a scale I hadn't known existed, and I had been to Broadway and seen my share of musical theater, but I remember thinking, "How am I going to write about this?"
Fortunately, I flashed back to Notre Dame and a course I took in Shakespeare, how in "A Midsummer Night's Dream," identities become confused as magic infuses the forest and somehow, under the nasty pressure of a deadline, I found a witty way to blend them.
All the way home, on that 25-mile drive through Amish country on a hilly, twisting rural highway, I worried my work would elicit ridicule from those in the know, the hard-core OLO fans who would dismiss my review as pap and give it a B- … or worse.
But it was all quiet on the Gilbert and Sullivan front. No one complained, and no one called me out for being a dilettante, better suited to covering a football game in the sticks than being given the responsibility of commenting on something so richly sublime.
So began my 12-year association with the Ohio Light Opera, one I look back on with a certain amount of pride because I didn't screw it up. When your work appears in public, you just can't hide.
Your name is right there at the top, and that's simply the way it is.
I don't know how many OLO productions I reviewed from 1988-99 — maybe 60, maybe more, maybe a few less. What I'll never forget is how they marked those summers with sign posts that remain fixed in my memory: the walk up the hill from the paper to the theater on a hot July afternoon, the way I'd loosen my tie once I'd settled into the air-conditioned comfort, the way the conductor would acknowledge the applause as the overture began, the detail of the scenery and the way those not in starring roles brought the background to life with their muted interaction, like something out of a French Impressionist painting or a scene from an Altman film.
One last thought on the OLO: Every year since I left home, they always send me a season preview, and that makes me so very happy.