A trip to the library for cookbooks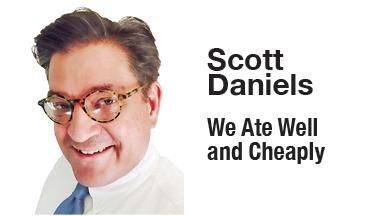 One of our very favorite things to do on Saturday mornings is to pile into the car and go cookbook hunting at Dover Public Library, coffee in hand: a quick swing through the Book Cellar to see if there's anything new and then upstairs to check the cookbook section, which gets updated frequently.
There is usually something new, and we get several books with ideas for the week's kitchen adventures.
The library is perfect for test driving books on our buying wish list, and we have been saved from laying out cash for several that turned out to be duds.
I've been eyeing up a book of recipes by mothers and grandmothers along the eastern coast of Africa. It's hard to imagine a cookbook with more interesting possibilities, but "In Bibi's Kitchen" has multiple versions of the same regional favorites, almost all of which are just beans with a vegetable.
It's still a cuisine I want to learn more about, so the search for the right cookbook goes on. Split peas with corn and potatoes doesn't sound all that appealing to me, but mukimo is a big deal in Kenya.
Another Saturday morning find, "Food Between Friends," is a winner with many delicious things to try in the next few weeks. A chicken sandwich made with crispy fried chicken skin? I am in.
"A Taste of Latin America" also was promising. I mean I love a burrito as much as the next guy, but there has to be more to it than that. There are many recipes by region but little you aren't already quite familiar with, most of it looking pretty bland. However, it had a pretty interesting black beans recipe I'll share with you today.
Perhaps the biggest winner is "The Joy of Pizza: Everything You Need to Know" by Dan Richer. The subtitle is an understatement.
Nobody at my house is a math whiz, but the detailed instructions for achieving and correcting dough hydration levels would make anyone cautious about proceeding. As my wife said, "It's 'The Joy of Pizza,' but this chapter is sucking the joy right out of pizza dough. It's like music theory classes."
We have been working on our pizza game almost since we met, so anything that guides in the right direction is welcome. If you're serious about making pizza at home and have plenty of patience and wine on hand, this could be your new favorite cookbook. There are even instructions for achieving wood-fired oven results in a home oven.
One of the best things about food and cooking is the impossibility of learning everything there is to know. A trip to the library can at least make a small dent in our lack of knowledge.
FRIJOLIS CUBANOS
1 pound dried black beans
1 ham hock
3 bay leaves
3 tablespoons olive oil
1 onion, finely diced
1 green pepper, finely diced
4 cloves garlic, smashed and chopped fine
1 teaspoon cumin
1 teaspoon oregano
1 teaspoon salt
1/2 teaspoon pepper
1 teaspoon sugar
1 teaspoon red wine vinegar
Pick over the beans for stuff that shouldn't be there, cover with water and let soak overnight in the refrigerator.
The next day, drain them of the soaking water and add fresh water to cover them. Add the ham hock and bay leaves, bring to a boil, lower to a simmer, and cook about 2 hours until the beans are tender.
Heat a sauté pan over medium heat and add the olive oil, onion and green pepper and cook until they just begin to soften. Add the garlic, cumin, oregano, salt, pepper, sugar and red wine vinegar and cook another 5-7 minutes. What you have made in this pan is a sofrito, and you add it to the simmering beans at this point. Cook 10 minutes more and the beans are ready.
Recipe: "A Taste of Latin America."