It really is a good time to make food from scratch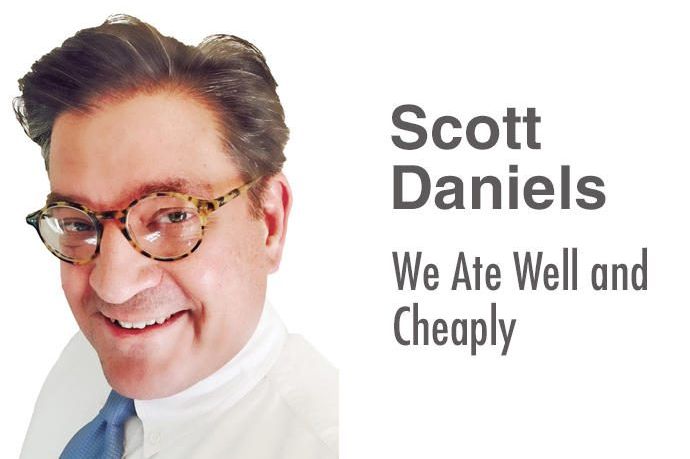 It looks like we're going to be confined to quarters for the long haul, but the good news to hang onto is that enforced social distancing seems to be working. Compared with other states which were slower to get people separated, the spread of the coronavirus in Ohio has been slower. It's cold comfort in a warmish new spring, but we cling to what we can.
While we're home, there's time to fill. Even if you are able to do actual work from home, you may be gaining bonus minutes while not commuting, and certainly in shedding the time devoted to getting into presentable clothes and makeup.
At my house, we've found more accessible homes for the 100 or so cookbooks, and have been organizing and generally rearranging. I know many are using the time to paint walls, finish up home projects, or learn new skills.
Every time I think of a good way to fill the time, my brain immediately shuts it down because it requires people. I'd like to learn to play bridge, for example, but unless we do it over a video chat, it's out. Besides the rising panic of being without income, the inability to invite friends over to commiserate in sweatpants and threadbare concert shirts may be one of the worst parts of all this.
It really is a good time to try to make some foods from scratch that you would normally buy ready-made. As restrictions continue to tighten, these are skills you may be grateful to have.
Baking bread is so ridiculously easy there's no reason to be intimidated. I've shared recipes for no-knead breads, which take very little skill or time. If crispy, artsy breads aren't your thing, I've also shared recipes for plain white loaves ready in just over an hour, which should help if you have young children who will auto-refuse breads, which look different.
From the looks of store shelves, you're still buying up breads, pastas and jarred sauces, and of course, eggs, though stores have outfoxed you with quantity limits, and I seem them being enforced.
Pasta is another thing you can make at home which is better than boxed stuff. Since you all have so many eggs taking up space in the fridge, here's a great recipe for homemade pasta dough from Thomas Keller.
This is a dough that isn't hard to make, but it does require some muscle to get the texture right. You certainly don't need any special equipment to make your own pasta noodles. If you don't have a rolling and cutting machine, roll the dough out thinly by hand, flour it well, roll it up, then cut thin slices beginning at one end. Unroll and scatter the slices and you have noodles.
Keller is quite fussy about rare grain flour and specific eggs from fancy chickens. I use all-purpose flour and plain eggs from humble, unassuming chickens struggling with student loans like everyone else.
HOMEMADE PASTA DOUGH
Serves three.
About 1 3/4 cups flour
6 eggs yolks (save the whites for scrambled eggs or fluffy pancakes tomorrow)
1 whole egg
1 tablespoon milk
1 1/2 teaspoons extra virgin olive oil
Most recipes suggest mounding the flour on the counter and adding the eggs into a well in the center of the mound. If you're new to this, I'd use the biggest round bowl you have because you're going to let eggs escape onto the floor. Into the center of the flour, add the yolks and one egg, plus the milk and oil. Using a fork or your fingers, begin mixing the eggs into the flour slowly, until you have something resembling dough. Gather this together on the counter and begin pressing and kneading, adding a little flour when necessary to prevent sticking. Be careful not to add too much flour or it will be dry and hard to roll later. Press, fold and knead for several minutes, until you have a smooth, tight, golden ball. It will feel like it's fighting you as you knead. Place this in a plastic bag and either rest on the counter for an hour or two, or place it in the fridge for several hours. It can then be rolled out and cut as desired. Cook in salted boiling water until tender, which happens very quickly.
Find all the recipes from We Ate Well and Cheaply by searching thebargainhunter.com.