It's a big number and I would rather skip it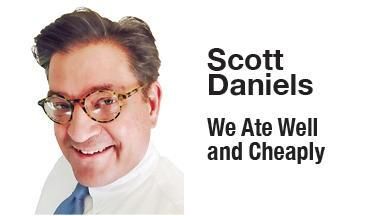 It's a big number, and I would rather skip it, ignore it. Maybe I'll take a nap and wake up to a lower number. I think back to the number as it stood 10 years ago and how outsized it seemed.
"Lord, this is it," I thought then, "the downslide, the ride to my own dotage." Here we are, a decade on, and even though dotage has stayed outside in the adjacent pines, it's still a terrifying number to see from here in the cabin — eight years short of Mom's total number, just six years short of Dad's.
Shhhhh, just let it pass and don't alert anyone to the advanced nature of this number — no parties, no presents. Just leave me in my cave. It's quiet in here, even if damp, and I think there are bats.
My family largely respected this birthday wish, tiptoeing past as the date approached. I didn't get presents, and that makes me glad. I don't need or want anything but a warm wool throw, a few books and a snack in my damp, solitary, quiet cave.
Still, birthdays aren't all about the celebrant. The people around you who love and care abut you want you to have a sweet day and to show their love and gratitude for your presence. My oblivious toddler son slobbered the usual life-giving toddler kisses onto my chin that make everything OK, just as my 3 a.m. presence fixes his scary world with a few kisses and a diaper change. We can exchange that giving of safety, he and I, on this scary day.
Amanda, my wife, the extravagantly talented chef, thought to give me a great birthday without stepping on my desire to save money or ignore the horror of being handed a scary chronological number to slowly digest. She would give me something no one else on the planet can have: a private tasting menu, just for me.
On the day, having carefully avoided any acknowledgement, we stopped at the grocery store. I stayed in the car with Mr. Kisses in the car seat, and she emerged a few minutes later with a couple of sacks of supplies.
Back home, we cleared the decks of the usual stray crumbs and not quite empty wine bottles, and she began to cook a "quick preliminary," she said, of seared scallops in a honey parsley gastrique and bleu cheese. She said she'd chided the fellow at the seafood counter. "Jumbo scallops?" she asked. "These are still in day care." Even if they were small, they were transcendent.
Next, deep-fried Boursin cheese with whipped compound butter on baguette slices and apricot bourbon preserves. Some guys are happy to get a belt sander for their birthday. I'm happy with my fried cheese.
I wasn't sure if I needed anything else to eat at my advanced age, but here it came: blackened orange roughy with mushroom and saffron risotto and an arugula salad with pickled apples, bleu cheese, red onions and candied walnuts. I made a mental note to be sure to get up and go to church the following Sunday to add extra thanks to that I moaned as I gobbled it all up.
There was a spectacular banana split planned for the aftermath, but I just hadn't the room, and the bourbon was rendering it a moot point.
Let me boorishly say it again: Food is love, and love is about the best thing one can want when staring down decrepitude and achy mornings. What better expression of love than to be loved by people who understand your need to ignore the day while also being celebrated, just a little?