It's those side dishes that are a killer in the kitchen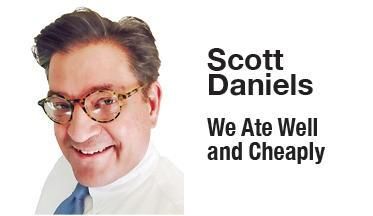 There's a kind of restaurant called a "meat and three," where the menu is a simple affair offering a protein and three sides, usually for a family-friendly price. The sides are the usual starch, vegetable and salad. You likely plan meals at home around a similar theme, and most of the dinners we eat growing up are a protein, starch, vegetable and a salad.
The person planning and cooking the dinner has to make a slew of decisions, choosing what to file into each of those slots. The protein is probably easiest, chosen with what's in the freezer in mind or what's on sale at the store that week.
Having arrived at pork chops, you have the tiresome task of choosing what to have with it, and that's where it gets boring quickly. Mashed potatoes or rice are the lazy but easy and delicious standards. The vegetable might be from a frozen mixed bag or fresh examples of whatever everyone will eat. If the people in your family only like broccoli, you're going to get sick of it in no time.
The salad course can be a mixture of greens, or you might feel extra peppy and make a
Jell-O concoction or shred some carrots.
If you're trying to learn and grow your abilities in the kitchen, it's those side dishes that are a killer. Plowing all your effort into mastering a fancy main dish, then plopping your beautiful creation on a pile of white rice and formerly frozen peas and carrots is a no-go.
There's couscous, of course, and polenta — or a whole side of pasta and sauce. Beans or lentils are a possibility and offer even more nutrition. You can turn the potatoes into latkes and add cilantro and lime juice to rice to make them less dull.
There's a trend now for baking thinly sliced potatoes in a casserole in the oven, then weighing them down as they cool in the fridge. The result is cut into rectangles and deep fried. They look like thick wedges of flaky pie dough, and you can bet we're going to try to make them.
There are so many things you can do with vegetables that steaming a bag of sprouts in the microwave only needs happen when you're absolutely strapped for time. Most leafy greens come together quickly and can be stepped up with added bacon, candied nuts or anything you like.
This is a side dish you can make easily and fits the bill when you want something a little different. Whole tomatoes are a prefect base and can be stuffed with a variety of things. Here we're using cheese. You can use breadcrumbs, bits of shrimp or anything that makes you happy.
STUFFED TOMATOES
4 large, well-shaped tomatoes
Salt and pepper
4 slices white bread
2 tablespoons olive oil
2 garlic cloves, minced
8 ounces goat cheese or feta, in small cubes
2 tablespoons chopped fresh parsley, minced
2 tablespoons minced fresh chives
2 tablespoons fresh thyme leaves
Preheat your oven to 400 F.
Slice off the top (stem) end of each tomato. Slice off a very thin bit of the bottom so the tomato can stay upright on its own. Using a spoon or melon baller, carefully scoop out the flesh and seeds of each tomato, trying not to break through the skin. Leave plenty of tomato flesh inside. Sprinkle the insides with salt and pepper and set aside.
Toast the bread, then cut a large round out of each with a big biscuit cutter. Brush the four rounds with some of the olive oil and set in a single layer into a baking dish large enough for the tomatoes.
In a small bowl, mix together the garlic, cheese cubes, parsley, chives, thyme and the remaining olive oil. Add half this mixture into the bottoms of the tomatoes. Add the cheese cubes, then the rest of the garlic and herb mixture, mounding them up.
Place each tomato on top of a bread round in the baking dish and bake for 20 minutes until the cheese is very hot and the tomatoes begin to split.