Billings, Scots make memorable grand entrance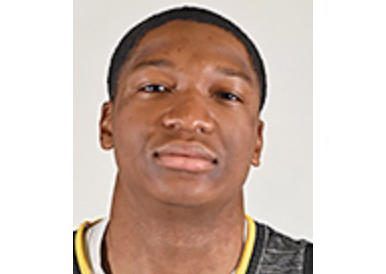 If you're going to make an entrance, why not make sure it's a grand entrance?
That seemed to be the mind-set of on-the-job trainee Jamir Billings in last week's season-opening Al Van Wie/Wooster Rotary Classic basketball special in The College of Wooster's Timken Gymnasium. While first-year players generally tend to ease into what they hope will be long, productive careers, the Fighting Scots' newest silky-smooth discovery delivered a truly impactful debut.
In helping the Scots notch gripping back-to-back victories in front of their loud, appreciative home fans, Billings, the 5-foot-11 point guard out of Lorain High School, snared Tournament Most Valuable Player kudos.
"What's crazy is that he's never played point guard before," COW head coach Doug Cline said of the impressive arrival. "Jamir honestly was not that heavily recruited because there was another really talented guard at Lorain who handled the point."
While two games obviously do not a season make, no one can deny Billings and this year's fun-to-watch amalgam offer the team's loyal following a wealth of promise. Not only did Billings' performance open eyes, senior teammates Najee Hardaway and Brandon Styers bagged Defensive Most Valuable and All-Tournament Team recognition, respectively.
The two old-timers were quick to validate Billings' accomplishment.
"Man, Jamir's a special player. He's gonna go down in Wooster history," said Hardaway, one of a handful of players on the 2021-22 roster who have been a Scot from the get-go. "What I can offer (Billings) is my wisdom and guidance, the experience I've learned from my four years here. His talent kind of speaks for itself. The next step for him would be to lead, to where he's the one telling everybody else where to go."
Styers, although always thought of as a quiet leader, is the one directing traffic right now. The Scots' best all-around regular in last spring's COVID-abbreviated schedule, Styers first got to know Billings during the summer.
"We were able to get into the gym and work out together a little," Styers said. "He's an incredible player. He's playing with absolute confidence out here. He's shining immediately. He's making all the right reads. He's very smart with the ball. He trusts his teammates that they are going to make the right play. He's not afraid to take big shots, and that's good because he's a good shooter."
In Friday's win over St. Vincent, Billings put in nine points, but more importantly, he dished out six assists and had three steals. A natural leaper, he also chipped in with four rebounds while committing just one turnover.
As for Saturday's championship triumph over Ripon — the Scots finished on a 23-3 run — Billings totaled a team-best 19 points, dealing eight assists and enacting four steals. He was 5-for-10 from 3-point range, and his missiles were a big factor in Wooster's momentum-building spurt in the second half.
Billings calmly made his big-shot proficiency sound almost ho-hum.
"It's only basketball," he said humbly.
"That's Jamir," Cline said. "That's the way he goes about his business. He glides around out there. He definitely doesn't surprise me about anything. He's just the nicest kid, a great person. And he's a really talented basketball player who's only going to get better and better. Jamir doesn't let the little things bother him."
With Styers and Hardaway in his camp, Billings already has learned quite a bit about the atmosphere that engulfs Scots basketball.
"It's a family," Billings said. "I saw it as I was being recruited here. Everybody comes out to the games and brings their support. You could see the love."
The overall depth of the team was something Cline pointed out after only a few practices. One of the unsung heroes of the Van Wie action was junior guard/forward Tayler McNeal, who grabbed 15 rebounds against St. Vincent and added six more caroms to go along with his 15 points against Ripon.
The two 6-8 transfers from Edinboro University also made their presence known. Junior Turner Kurt totaled 15 points and five rebounds in the opener, adding five boards and eight points in the finale. Sophomore Nick Everett gave solid back-up efforts. He and Kurt found themselves on the court together many times vs. St. Vincent. Cline chose to "go smaller" against Ripon, but still, Kurt and Everett helped offset the contributions of the Red Hawks' bigs.
Of note, Wooster's Elijah Meredith, a 6-5 sophomore, started Friday but suffered a sprained ankle early. He did not suit up Saturday.
Styers — 22 points/five rebounds vs. SV and 15 points/five rebounds vs. Ripon — offered his assessment of the team's reconstruction process.
"What I learned in these first two games is that we are clicking faster than I thought we were going to," the North Olmsted native said. "It's an entirely new group. There are five seniors that were playing before COVID. Last year we didn't get a whole lot of time to play together, and this year we've only had a few practices. But everybody's buying in and playing together. Things are going well for us, but there's a long way to go."
Scots fans will have to wait until Dec. 4 to see their team back on the Timken hardwood. After Billings' grand entrance and the team's Van Wie feat, the sequel can't come soon enough.