Corn chowder is a farmhouse chowder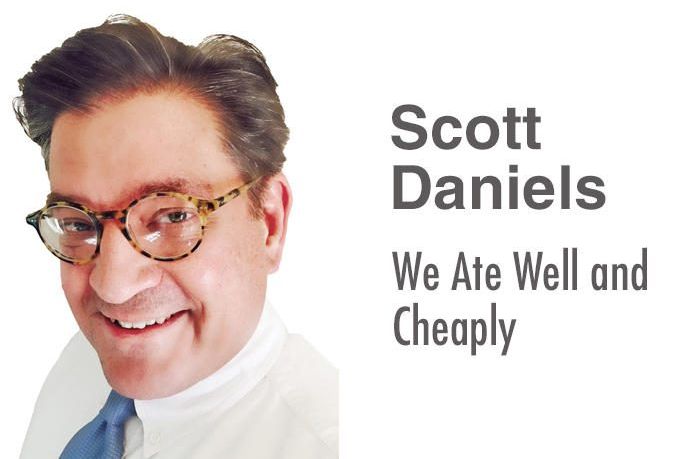 It may not yet feel like full-on autumn, but it is cooler, and we might be tempted, in the cool morning hours, to choose something to wear that will have to be at least partially peeled off by mid-day. Likely by the end of the month, we can tuck the sweaters back into our dresser drawers and let the summer shorts and sun dresses rest until spring.
And that means soup.
At our house we've already had our favorite cream and spinach soup with cheese tortellini a couple of times and, of course, chili, but I am, for the umpteenth year, craving clam chowder. I haven't made it in an age, first because no one would eat it with me and now because I live too far from a good source to risk it.
Half of the clams would expire before I ever got home, and to waste even a bivalve's life is a terrible sin. But I do live with a big fan of corn who happens to be craving soup, so corn chowder it is. Much easier to transport, you see.
Corn chowder falls into the category of farmhouse chowders, which are hearty soups without the usual seafood. Corn has always been such a readily available ingredient, at least on this continent, that I have no doubt corn chowder has been made in endless variations as long as the Americas have been inhabited.
It seems the recipe didn't get written down until 1884 when Mary Lincoln — not the president's wife — published it in a collection of recipes from the Boston Cooking School. Fannie Farmer picked it up for her books from there, and most of the variations we know stem from these. Some recipes use celery, some sweet potatoes and some cheat by adding fish, which is a whole other animal.
This version comes from Jasper White, the undisputed doyen of great chowders. This will serve six as a starter or ladle it into bigger bowls as the centerpiece of a cool-weather meal for four. In any case, provide plenty of salty crackers or crusty bread.
For Jasper White's clam chowder recipe, search The Bargain Hunter online for the recipe from September 2014.
CORN CHOWDER
3 ears fresh corn
4 ounces smokey slab
bacon, cut into 1/2-inch
dice
2 tablespoons butter
1 medium onion, 1/2-inch
dice
1/2 red bell pepper, in 1/2-
inch dice
3/4 teaspoon fresh thyme leaves
1/4 teaspoon ground cumin
1/4 teaspoon turmeric
1 pound Yukon gold
potatoes, peeled and in
1/2-inch dice
3 cups chicken stock
2 teaspoons cornstarch
dissolved in 2
tablespoons water
Kosher salt
Fresh black pepper
1 cup heavy cream
Peel the ears of corn and carefully remove the silks. Cut the kernels off the cob and reserve in a bowl. With the back of your knife, scrape down the sides of the cobs, collecting the milky substance. Add to the corn.
Over low heat in a heavy-bottomed pot, cook the bacon until it has rendered a good portion of its fat. Raise the heat to medium and continue cooking until the bacon is crisp. Pour off all but one tablespoon of the fat, leaving the bacon in the pot.
Add the butter, onion, bell pepper, thyme, cumin and turmeric, sautéing until all is softened but not browned, about 8 minutes.
Add the stock, corn kernels and potatoes and bring to a boil. Cover and boil for about 10 minutes, until the potatoes are tender. Using a wooden spoon, smash a few against the side of the pot. Lower the heat to medium.
Stir the cornstarch and water mixture and add to the pot, stirring until the mixture has thickened a bit. Remove from the heat and add the cream. Gently warm the soup to serving temperature and add salt and pepper, tasting as you do so and remembering the saltiness of the bacon. Serve with a garnish of slices of scallions or chives.