Many plants reach peak in August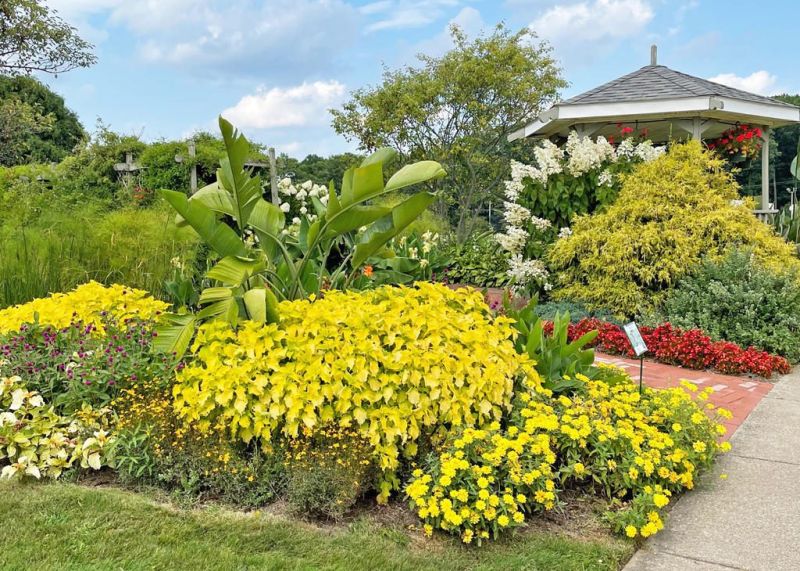 August is a unique month. We are still in the middle of summer with abundant sunshine and warm temperatures, but later in the month, a light jacket will feel good in the evening. Many plants reach their peak in August, and meadow areas are lush with plant growth.
But there also are the mosquitoes. Just like lawn mowing and lemonade, mosquitoes are very much a part of summer. In Ohio we have approximately 60 different species. In neighboring West Virginia, there are only 26 species, giving it the honor of being the state with the least number of species, while Texas has the most with 85. There are about 175 species of mosquitoes found in the United States.
To ensure a robust population, females can lay up to 300 eggs at a time. That's pretty amazing for an organism as tiny as a mosquito. The average lifespan is less than two months, with females living up to eight weeks while males live 10 days or less.
Although they are annoying to us, mosquitoes are an important food source for many critters. Bats, birds, fish, frogs, turtles and dragonflies are just a few of the animals that include mosquitoes in their diet.
When you get a mosquito bite, the culprit was probably a female. They prefer the protein found in blood, which is needed to lay their eggs. Human blood, however, is really not their first choice, with the blood of cattle, horses and birds as the preferred beverage. Males prefer flower nectar as their primary food source.
Mosquitoes are not super flyers. Most mosquitoes can fly no more than about one to three miles and often stay within several hundred feet of where they were hatched. Their top speed is about 1.5 mph, making them one of our slowest flying insects.
It's hard to believe something so small has been referred to as one of the deadliest insects on earth. They earned the distinction because they can carry dangerous diseases, and more deaths have been reported as a result of their bites than any other animal.
Mosquito season in Ohio can run from April through September but is very dependent upon temperature and rainfall. Mosquitoes thrive in temperatures above 50 F and above-average moisture.
Mosquitoes have a difficult time flying in a breeze greater than 1 mph. Breezy days are perfect mosquito repellents, but fans work well also. Keep the flow of air aimed at the lower half of your body because mosquitoes usually fly close to the ground, hoping to avoid wind.
Jonathan Day, a mosquito expert and professor of medical entomology at the University of Florida, feels products with DEET can be effective when used as directed. He emphasized DEET should not be sprayed on like a perfume; instead, he recommends putting a small amount in your hands and then rubbing it onto areas where mosquitoes usually feed.
The gardens at ATI
So often we don't realize the treasures we have locally. The gardens at the Ohio State University's Agricultural Technical Institute in Wooster are a summertime "must see" if you have an interest in gardening.
Recently, we contacted Terry Lanker, chair of the division of horticulture and coordinator of floral design and marketing at the College of Food, Agriculture and Environmental Science at ATI in Wooster. She shared how the gardens are managed and supported:
"Students are involved in many aspects of garden construction, installation and maintenance," she said. "The various hardscapes including the gazebo, pergola, arbors, brick walks and paver patios have been created in courses such as landscape construction. This fall students will be involved in phase one of a new shade garden area with a deck, arbor and water feature. We also hire student garden assistants during the summer to help plant and maintain the learning gardens and other decorative landscapes on campus.
"Each year the gardens have a different overarching theme. Individual garden areas represent creative variations of the theme and usually include a variety of coordinated color schemes. For example, this year's gardens represent what we have titled Horticultural Habitats. Plants and flowers have been used to evoke different animal habitats including the desert outback, coral reef, Himalayan mountains, Amazon, prairie and the Everglades. We sometimes add enhancements in keeping with the theme. This year's prairie garden includes a life-size buffalo covered in live brown sedge. Other animals fitting the various habitats are put out during special campus garden days.
"There are over 100 different annual species growing in this year's theme gardens. The AAS garden typically includes 30-40 flowering annuals and edible vegetables. The perennial garden includes over 50 plant species; some are impressive, mature plants more than 40 years old. Of course, the backbone of these gardens are the woody plants — trees and shrubs selected for their diverse attributes that enhance the varied garden settings."
Heather Bauder, staff floriculturist, and Shane Berner, staff horticulturist, share responsibility for the planning, installation and supervision of garden maintenance. They are excellent resources.
A recently renovated pollinator garden near the student activities building is a joint project between ATI and the Tri-County Beekeepers Association. The All-America Selections display garden showcases new flower and vegetable varieties selected as superior performers in garden trials across the U.S. Every year AAS award-winning plants from the past five years of trials are featured.
The gardens are open throughout the year from dawn to dusk.
"August and September are great months to visit as the plants are fully mature, and many of the colors intensify as the temperatures become cooler," Lanker said. "In the campus learning gardens, you might bump into a class studying plant identification, practicing turf equipment operation on the neighboring model golf hole, planting trees or building garden structures. Listen in and you may learn something new about the abundantly fascinating world of plants."