Scots men's basketball machine running on full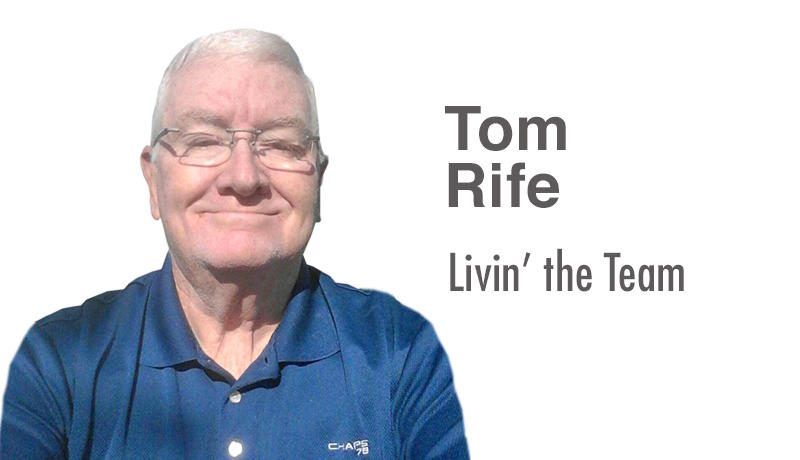 The rim still hangs 10 feet above the floor. A free throw is still an uncontested 15-foot shot. There are still 20 minutes in each half. And if a guy commits five personal fouls, he's out of the game and maybe even off the coach's Christmas card list.
But will there be any surprises when fans stroll into the College of Wooster's Timken Gymnasium to watch the Fighting Scots men's basketball team this season?
"I think they'll see us throw the ball inside more than we have the last couple of years. We have the size and depth to get back to the old Wooster basketball of a while ago. We want to run, and I think the bigs we have now can do that as well," head coach Doug Cline said.
About to begin his first full season at the helm as COW Hall of Famer Steve Moore's successor, Cline knows a thing or two about interior play. His Paul Bunyan-like stature always made him tough to defend.
For his playing career as a Fighting Scot, Cline finished with 1,396 points, placing him 17th on Wooster's all-time scoring list (No. 8 upon graduation). The three-time all-conference honoree holds the fifth-best career field-goal percentage mark (.607) and the ninth-best field-goal percentage in a season (.634). Also an outstanding rebounder, Cline led the team in that category twice, including his senior year when he averaged 8.2 boards.
What all those stats and factoids mean is two new members of the Scots basketball family will be able to soak up some proven expertise when it comes to playing in or near the paint.
Fresh on the scene are a pair of Div. II Edinboro University transfers. The 6-foot-8 Turner Kurt is listed as a junior and has two years of eligibility remaining. The 6-8 Nick Everett comes in as a sophomore, but because of COVID's effect on the 2020 season, he still has four years of eligibility left.
Salivating over the potential the two offer, Cline said the rotation will be such that both of the redwoods could be on the court at the same time.
Of course, Cline will be counting on several returning stalwarts. At the top of that list is quiet leader Brandon Styers, a 6-3 senior guard. Styers was a first-team D3hoops.com All-Great Lakes Region selection a season ago, and he ranked sixth nationally and third among Div. III guards in field-goal percentage (67.2%, 41-of-61).
Najee Hardaway, a two-year starter, gives the Scots another senior presence. Thanks to the abundance of depth, especially down low, the 6-2 Hardaway looks to move back to a more natural position on the wing after playing a lot out of position at the "four" due to need.
Looking for more depth? Junior Tayler McNeal came in as a transfer last year and led the team in scoring at 16.7 points per game. The 6-3 all-around standout proved he could match up anywhere on the court and was one of Div. III's best when it came to drawing charges.
A host of other offensive workhorses notwithstanding, Cline said one thing will never change as long as he's in charge of the North Coast Athletic Conference steamroller: Defense will remain the primary focus.
"If you're gonna play, I think you've gotta play defense," the always-accommodating skipper reflected. "I think that's what separates basketball from all the other sports. You gotta play at both ends. Let's say you're a really good defender and you're not a great offensive player. The coach is more likely to play you over a guy who's a better offensive player."
Simply put, Cline said hard-nosed defense is a big part of "what Wooster basketball is."
"I guarantee you we really emphasize defense. We work on it every day, talk about it every day. There can't be many teams that work on defense more than us," he said.
The Scots' 2021-22 schedule has some interesting wrinkles. Play began Thursday with an exhibition loss at Chattanooga, where former COW standout Lamont Paris is the head coach.
In mid-December, right after Wooster plays NCAC foes Oberlin, DePauw, Allegheny and Hiram, it's off to California for games against UC Santa Cruz and Lewis & Clark. Both contests (Dec. 18-19) will be played at Kaiser Permanente Arena, home of the Golden State Warriors' NBA G League affiliate. The arena is in downtown Santa Cruz.
Playing sound basketball is only one objective of such a trip.
"It's about bonding as a team," Cline said. "Finals are over, and it starts a month where nobody else is on campus besides men's and women's basketball. It gives us a chance to really come together and become a team. We're traveling together. We're staying together and doing things together other than basketball."
Even though the time zone will require some getting used to, no doubt the Scots will find the rim still hangs 10 feet above the floor.