Garaway students go 'by the numbers' for Math Carnival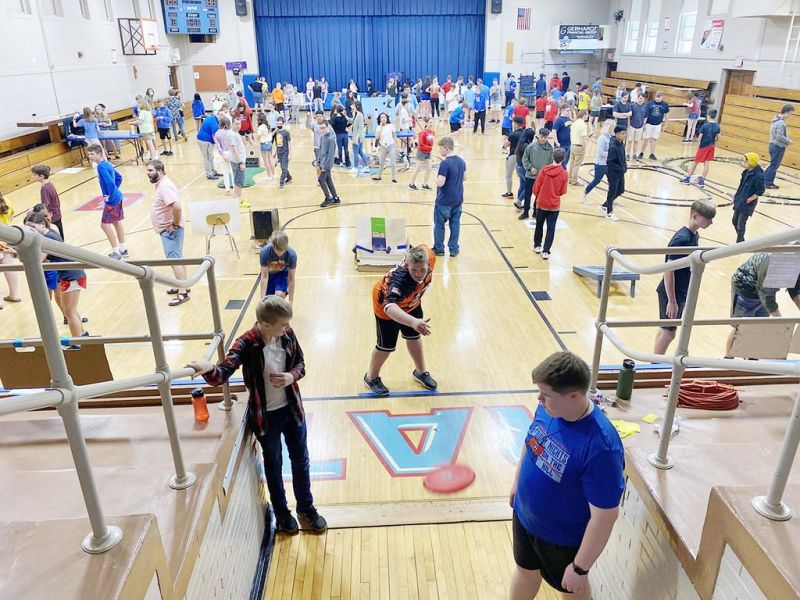 At 10 a.m. the Garaway Middle School seventh-grade Math Carnival was supposed to kick off Wednesday, May 11 in the old gym at Garaway High and Middle School.
By 9:15 a.m. many high school students were gathering, ready to take on the challenges presented to them by the group of seventh-grade students who had designed a series of carnival games.
"We wanted to have an hour for the seventh-graders to get through by themselves so they could then run their games and sent out an email that it was open to the high school students at 10 o'clock," said math teacher Katie Elmore, who helps run the event. "At 9:15 I had high school teachers coming down with their classes, saying they couldn't contain their kids because they were eager to get going."
Such is the excitement that Math Carnival created in its second year.
Elmore, who spearheads the event with fellow teacher Megan Mast, said it is inspiring to see students interacting and watching the seventh-graders develop a sense of responsibility for creating and running their games.
"The kids loved it last year, and again this year, the kids were a bit surprised because they thought it was going to be a lot of work," Elmore said. "But once they got started on it, they realized it was actually a lot of fun."
Elmore said the day is built around the criteria that the students must use math to create their game. She said witnessing the creativity and ingenuity of the students is one of her favorite parts of the event.
"I think they realize they use math more than they think," Elmore said, pointing out the use of angles, circumference, volume and area as the math that was put to use in developing their games.
Each team of students is asked to develop an idea, create a blueprint, and design and create their own math game. Games included throwing, accuracy, attention to detail, shooting skills and more than a little luck.
Elmore said having the event this late in the year serves more than one purpose. First, it breaks the monotony of the long school year, and second, it allows the students to implement math skills they have learned the entire year.
In addition, the event gives them a taste of how they can use math in everyday life.
"It motivates the students when they realize that there is a purpose to what we study all year," Elmore said. "And something like this might spur some kids to pursue math."
In addition to the numbers, Elmore said some of the students put other skills to good use. One girl bent metal pipes with her dad, something Elmore said she wasn't looking forward to until she realized it was kind of fun.
Seventh-grader Wiley Numbers opted to build a cornhole game that consisted of various sizes of holes worth varying points. He said getting to work with wood to develop his game was fun.
"My dad (Ian Numbers) got me into woodworking, so it was fun to make a design that included woodworking," Numbers said. "I drew up a blueprint and went to work and had a good time making it."
Four groups took advantage of a new addition to this year's event, the utilization of a 3-D printer.
Teacher Jess Schwartz said introducing the younger students to the printer, which is used in high school classes, was a way of getting them excited about learning more in the future.
"Our high school class uses the 3-D printers extensively, so I felt this might be a good opportunity for the younger students to gain some valuable insight into the process of 3-D printing," Schwartz said. "I like that we were able to introduce the 3-D concept to kids. Hopefully, it gets them interested in exploring it more when they get older."
Natalie Fisher enjoys painting, and although the middle school doesn't have an art class, she put her skills to use in painting several animals on her game.
"I love to paint. I enjoy art, so I went right to trying to create a game that included art," Fisher said. "I like to be creative, and being able to do my own thing was fun."
Abby Steiner's game included several components including blowing a ship along a waterway. Once it crossed the line, the gamer had to pick up a Nerf gun and shoot down little plastic figurines.
"It's a blast," Steiner said.
"I love that this builds school unity and brings kids together," Elmore said. "It brings in a new dynamic."
Elmore said as the event continues to grow, she hopes it will eventually spread out into the entire middle and high school, where everyone can get involved with building games.