Killbuck students get a first-hand lesson in illustrating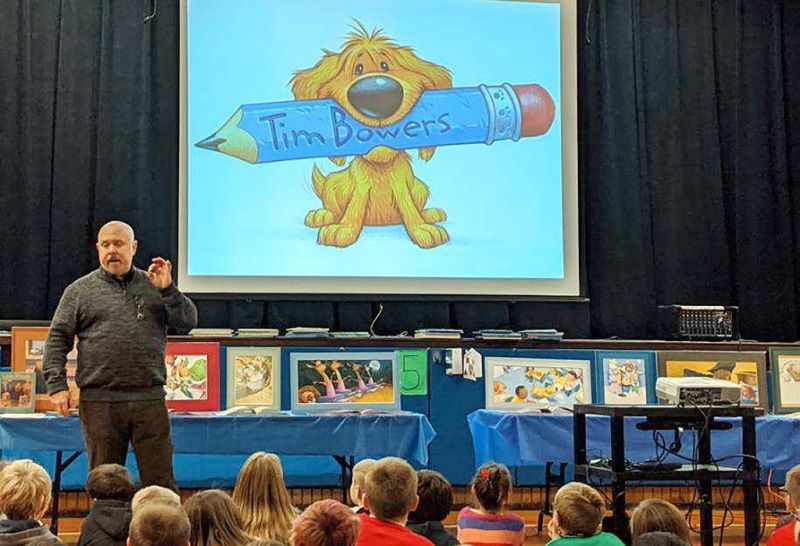 Birds and bears, guinea pigs and fish, cats and dogs, and many other creations from the mind of a nationally renowned illustrator graced the gymnasium at Killbuck Elementary recently.
Illustrator Tim Bowers visited Killbuck Elementary in December and brought some of his creative animal drawings to life for the students.
Bowers has illustrated over 30 children's books including New York Times bestsellers, "Dream Big, Little Pig!" by Kristi Yamaguchi and "Dinosaur Pet" by Neil and Marc Sedaka. His artwork has received much recognition including the Children's Choice Award and Junior Library Guild selections.
Bowers talked to the students about what it takes to become an illustrator and gave them some hands-on tips, which they were then invited to try out on their own during the session.
The demonstration proved to be an exploration into what many of the students found to be a fascinating topic.
"He was a sensational speaker and was really fun for the kids because he brought a lot of energy, and what he does really connected with the kids," said Molly Aylsworth, Killbuck Elementary title reading teacher.
Not only did Bowers demonstrate his talent by drawing a number of his characters, he also went into some of the thought process that goes into developing any character that an illustrator designs.
"He showed some of the ways he came up with the characters and how an illustrator starts to develop a character," Aylsworth said.
One of his characters is a guinea pig, and Bowers actually designed a guinea pig out of clay to show that the starting point for an idea that is drawn isn't always born from pen or pencil on paper. He talked about how by creating a clay model, an artist has the ability to envision the creature from every angle as they create it on paper. He also brought along a number of book dummies that had the book illustrations without all of the words.
At the end of the presentation, Bowers provided a time for questions and answers before inviting the kids to join him in creating some unique characters.
"He had the students draw some characters along with him, so the kids left with some really neat Tim Bowers-inspired characters that they could take home with them," Aylsworth said. "It was really cool, and the kids were extremely thrilled to be able to participate with him."
Bowers also left his mark on the school in a physical way, signing four of his illustrated books before donating them to the school library. A number of students already had books illustrated by Bowers, who gladly signed for the students.
Aylsworth said they have seen Bowers at work at the Buckeye Book Fair several times, and she knows he is an illustrator who is very willing to go to schools and connect with kids through presentations.
The former Hallmark greeting card designer took a leap of faith in becoming a full-time illustrator for children's books several years ago.
Aylsworth said years ago they used to bring in authors frequently but hadn't done that for some time. She said they had extra funds and decided to bring that back. With the responses they received from the students, she said this is something the school will try to do annually should funding be available.
"It's a tremendous learning opportunity for the kids that is educational and inspiring because it is so much fun for them to actually get some hands-on experience," Aylsworth said. "This is the kind of thing we are always looking for when we try to come up with ideas on how we can provide interesting yet meaningful presentations for our students."