Opening of new school off to a great start so far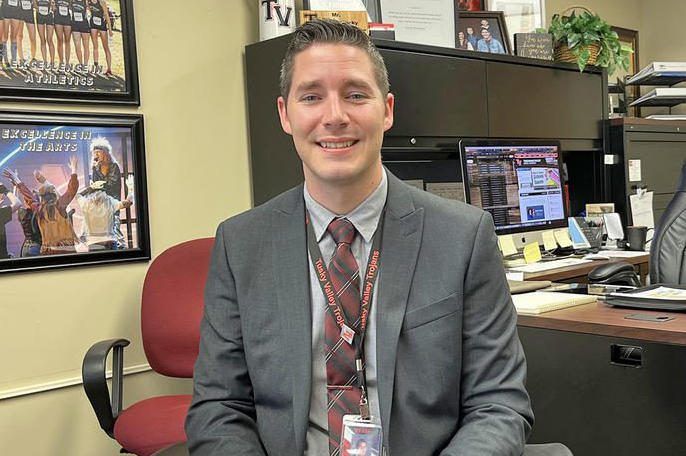 Superintendent Derek Varansky said during the Sept. 11 board meeting, the opening of school got off to a great start. He gave a preliminary report on the state report card, which will be available soon. The district received five stars for gap closing and five stars for its graduation rate. The district received 4.5 stars rating overall.
Varansky said the district received the Ohio Safety Grant. Individuals will be monitored when coming into the school and kiosks are in place where all visitors will be processed prior to picking up students.
According to Andrea Clements, elementary principal, each student's backpack will have a sticker that matches a car sticker given to the person picking up the student. The sticker must always be shown. Also, students who leave the district early or return will be monitored before entering the building. Adults will need to show their driver's license, which will scanned. These are safety measures put into place since moving to the new campus.
"In today's world we need to create a safe environment for the students", said Dick Gooding, board president.
The board also did the following:
-Held moment of silence prior to the meeting to honor those who died in the 911 terrorist attack 22 years ago Sept. 11, 2001.
- Approved foreign exchange students for the 2023-24 school year; Diego Fernandez Galinda of Spain, Daniel Friedenchain of Brazil, Niklas Moritz, of Germany, Leonardo Nunes, of Brazil.
-Introduced new certified staff members and the mentoring program introduced by Marina Colombo, curriculum coordinator. They were Katie Spinell, first grade, Carmen Heller, primary counselor, Allie Harris, elementary counselor, Carmie Johnson, third grade, Kaylene Hoy, elementary intervention, Brenton Franks, middle/high school intervention specialist, Kiersten Heckert, middle/high English language arts.
-Approved the 2024 permanent appropriations for$26 million in all funds.
-Approved a contract with East Central Ohio Service Center for a Stronger Conncections Consultant for up to five days, at $600 per day, paid by Stronger Conncections grant.
-Amended the shared services agreement with Stark County Educational Service Center for Stacey Bettis, food services coordinator, at an estimated cost of $47,500 previously approved at the June board meeting.
-Approved the non-routine use of a school bus for shuttling purposes at the request of the Canal Lands Development Committee for the annual Canal Tavern of Zoar 5K race, Oct 15. All expenses will be paid by Canal Lands Development Committee.
-Accepted donations/grants from $2,500 middle/high from Bellstores for Tip of the Spear Café, $1,906 Conservancy for Cuyahoga Valley National Park, fourth grade field trip transportation, Tuscarawas County Health Department, 200 Cooling Towels.
-Approved the transportation contract with Mustang Transportation, effective Aug. 23 for the 2023-24 school year at $150 per day when transportation services are being used.
-Entered into a service agreement with Envision Academy for educational fees of $200 per day.
-Granted one-year supplemental contracts to the following certified employees Kelly Gulling, Jamie Horger, Chris Houze, Diane Richardson, Local Professional Development Committee and Jason Phillips, administrator of the LPDC.
-Issued a supplemental volunteer assistant volleyball contract to Samantha Quillin.
Other information:
Three of the four schools in the district have been designated as a Purple Star school, which supports students with parents or veterans of the military.
The Trojan Foundation is planning an Alumni Night at the new middle school/high school Oct. 21. The time will be announced later.
Superintendent Derek Varansky said there are 189 students in grades seven through 12 participating in sports and 207 students in fine arts. He said 66 percent of the students participate in extra curriculars. There are 602 students in grades seven through 12.
On Oct. 30 "Boo at the School" will be held at the elementary geared toward literacy and math.
The next board meeting will be held Oct. 9 a 6 p.m. in the Elementary Trojan Center 2629 Tusky Valley Road, Zoarville.