Veterans Day earned new meaning to Millersburg students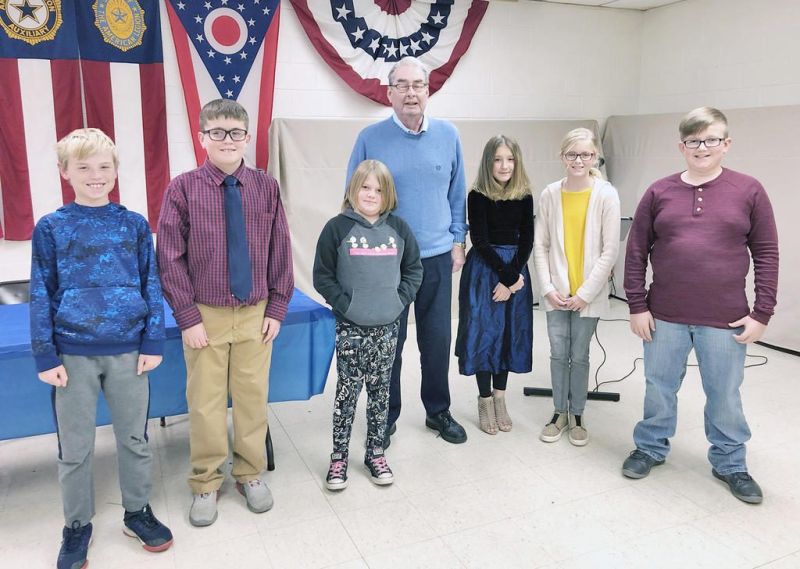 Writing essays is a time-honored tradition in school, but it is one that many students could easily do without, at least in their opinions.
However, a recent essay contest focusing on the importance of a specific group of people may have been an eye-opening experience for the fifth-grade students of Millersburg Elementary, who took the time to learn about and then write essays honoring area veterans, explaining what every veteran's sacrifice and dedication meant to them during a Veterans Day essay contest held earlier this fall.
Each year the fifth-grade students receive an essay prompt from the members of the Millersburg American Legion Post 192. Each student is then asked to submit an essay based on that prompt about what Veterans Day and what veterans giving to their nation means to them.
"For many of the students, it is the first time they are being asked to sit down and really think about what Veterans Day means to them personally," fifth-grade teacher Hannah Frank said.
Frank and fellow fifth-grade teachers Jon Gilley and Beth Starr spend a lot of time talking to the students about what veterans have done for their country and then encourage them to write from the heart. The essays can be as long or as short as the students want to make them, but the hope is that what students have learned about the sacrifices made by veterans will shine through in their essays.
Frank said while many of students aren't excited about having to write an essay, things change when they begin to get an understanding as to the significance of the topic.
"After they learn about everything that our veterans have done for us, they actually get pretty interested in writing the essays," Frank said. "They begin to realize what the veterans have done for them and the rights that they have because of the sacrifice that our veterans have made for their country. It is a wonderful learning opportunity for the kids because they begin to realize all of the things they wouldn't have if these freedoms didn't exist. At first it is just writing, but in the end it takes a much greater meaning to most of the kids."
Once all of the essays were completed, they were delivered to the Legion members, who went through them to determine which ones were worthy of being honored as the top essays.
The top-two winners were chosen from each of Gilley, Starr and Frank's classes with the winning essay writer receiving $100 and the runner-up in each class receiving $50.
"The kids get pretty excited about that part," Frank said.
The authors of the winning essays were Braxton Blake, Sophia Cortez, Breslyn Brown, Boden Macaulay, Katie Kieffaber and Jordan Long.