West Holmes student wins state conservation contest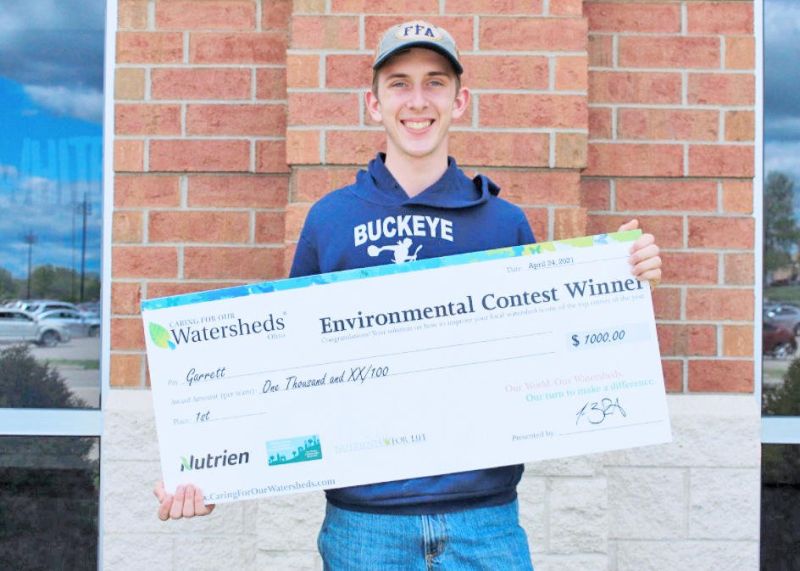 This past year West Holmes student Garrett Houin won the "Caring for our Watershed" competition for Ohio.
"Caring for our Watershed" is a state competition where students come up with ideas and projects that help improve the environment. The top-10 winners earn money they can use to implement their project. The school also benefits from participation in "Caring for our Watershed."
Houin's proposal involved working with Ashland Soil and Water Conservation District's Erica White to implement precision conservation practices in the Mohican River Watershed. He won first place and received $1,000 for his project. West Holmes also received $1,000 for its environmental science program.
Houin is giving money to farmers so they can use soil testing and precision technology-fueled forecasting tools to detect and tell them the right amount of nitrogen to use on the soil in their fields. Too much nitrogen can lead to eutrophication in a pond, lake or larger body of water.
Houin said he loves learning about science and has always found it interesting. "I have become even more interested in it now that I've seen how different sciences can be used to help people in my community," he said.
When asked about winning the competition, Houin said, "I was really nervous. But as I was the last one left, it was then that I realized that I was the winner. I was extremely excited."
Houin also thanked the Ashland SWCD, "Caring for our Watershed" and Kelly Dye, intervention specialist at West Holmes who helps teach environmental science, for their help with his project.
Dye said she is looking forward to Houin having another project idea he can implement next year.