Bennington back home, happy playing with Scots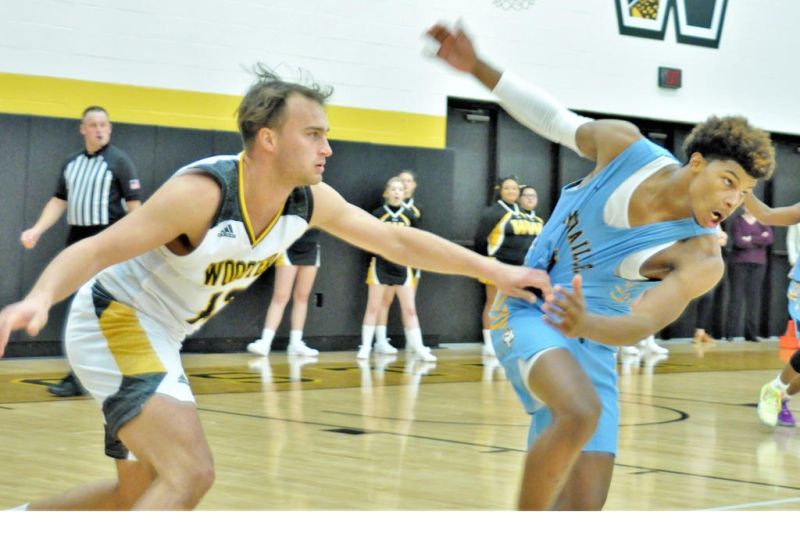 It's often been said, "Home is where the heart is." If so, Peyton Bennington's heart is in the right place.
Shifting from Ashland University back to Wayne County, the former Wooster High football and basketball warrior already has made an impact on the College of Wooster Fighting Scots' hardwood. Though the 6-foot-4, 195-pound Bennington has yet to start a game for head coach Steve Moore, he's come off the bench in every contest to provide physicality, grit and energy and to display his rebounding, ball handling and general hustle.
"He plays hard a hundred percent of the time," said Doug Cline, the current associate head coach and heir to the Scots' throne upon Moore's retirement after the 2019-20 academic year. "He's so active. He's really good at rebounding for his size. He's always around the ball, getting tips or getting steals. He hustles. He plays his butt off and never gives up. That's what Peyton brings to the team right now."
Through the first four games that led up to Thanksgiving, the Scots won three of the four and climbed from 21st to 16th in the D3hoops.com national rankings. Bennington has averaged six rebounds and five points per outing. He's been on the court an average of 16.6 minutes per game.
As this year's action moves forward, Bennington's role is likely to change. By the time he enters his senior season, he hopes to be consistently scoring in double figures.
Of course Bennington grew up well aware of the College of Wooster's winning reputation. Early in the recruiting process, he had conversations with Cline and even worked out in the Scots' gym. But he said he started getting some Div. II looks and decided that might be his best path.
Every player at every level constantly strives to add to the "tool box" of skills that can make them more complete. As a freshman at AU (he did not red-shirt), Bennington actually got more playing time than he did as a sophomore, when the Eagles landed a pair of Div. I transfers.
"I think that mentally at Ashland it helped me out a lot. I understand the game a lot more now, especially at the college level. I learned how to be a better teammate and a better leader. With two years of experience, I feel like physically I got a lot stronger," Bennington said.
As an AU Eagle, Bennington may have been playing a bit out of position as a guard who was involved in considerable ball handling. His height didn't match up well inside with opponents in the 6-5 to 6-6 range. As a Scot, his size is more suited to an interior game, yet his ability to take care of the rock also comes in handy.
Wearing the Black and Gold, there's little time — if any — for looking back.
"I loved my time [at Ashland]. I met great people and made friends I'll cherish the rest of my life. The coaching staff over there was amazing. I had no complaints. I just felt like this is what was best for me at the time. With two years of eligibility left, I felt like transferring was the right decision, and I'm very grateful for this opportunity the coaches here gave me," Bennington said. "We have three transfers, and they accepted all of us the day we came in. They made us feel like family. The atmosphere and coming back home and playing in Wooster, it's a feeling like no other."
At Wooster High, Bennington was a standout quarterback and played a physical forward on the basketball team coached by Michael Snowbarger. The Generals' "helter-skelter" style of hard-nosed defensive basketball was just the prep Bennington needed to play in college, especially at the College of Wooster.
As Bennington advanced through his high school days, he ultimately had to decide the sport on which to focus.
"I love football, and I made a lot of great friends playing football in high school," Bennington said. "But when I started playing basketball at a higher level in the [Amateur Athletic Union], I just fell in love with the game. I loved the traveling, the team camaraderie, the chemistry and just meeting people. It's just amazing what basketball can do for you and how far it can take you. I've seen a lot of cool places I never thought I'd see in my lifetime."