Importance of stretching focus of Orr Safety Council meeting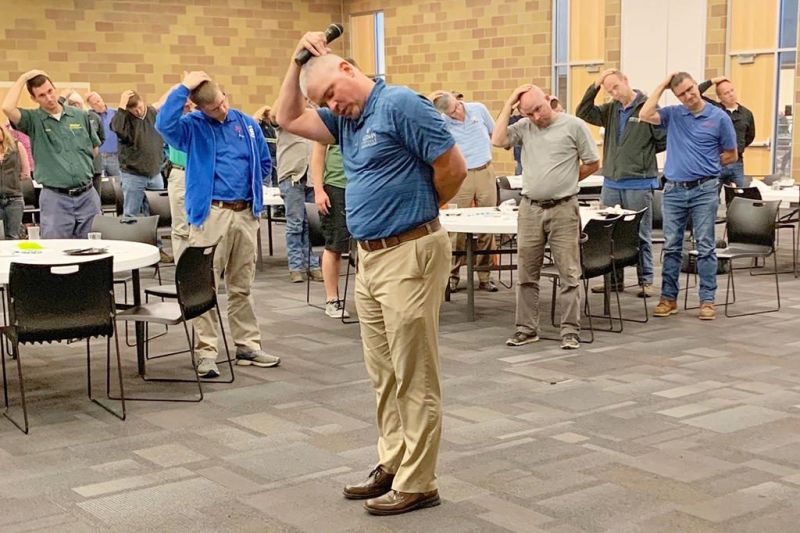 The Orrville Area Safety Council held its monthly meeting on Oct. 9 with a presentation on movement and stretching in the workplace by Dave Speicher, sports and wellness weight-management supervisor at Aultman Orrville Hospital.
Speicher led an interactive presentation that allowed attendees to participate in demonstrations of stretches, upper-body exercises and chair yoga.
"As technology increases in our workforce and workers become more stationary, the need to increase opportunities for moving and stretching throughout the day is critical to the health of our employees," Speicher said.
Studies show both repetitive use or overuse and excessive sitting or standing contribute to workplace injury and sick leave.
"Increasing moving and stretching in daily life is important at both work and home to reduce prolonged static postures such as sitting and chronic health issues," Speicher said.
Next month's meeting will be on Nov. 13 at the University of Akron Wayne College Student Life Building from 11:30 a.m. to 1 p.m. It will be the council's annual Health and Safety Fair, featuring 20 local organizations and businesses that promote health and safety resources to others.
The Orrville Area Safety Council is a partnership between Ohio Bureau of Workers' Compensation and the Orrville Area Chamber of Commerce. One does not need to be enrolled in the safety council to attend meetings. If a topic is of interest, visit www.orrvillesafety.com to register or email safety@orrvillechamber.com.