Ohio Crippled Children's Fund Benefit Auction meets a need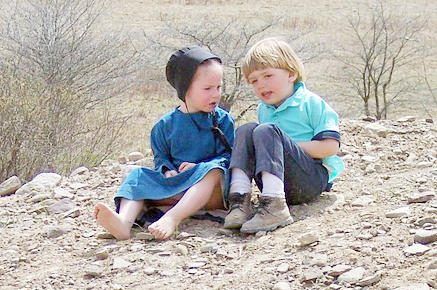 In order to allow parents to focus on the task of caring for their newborn, the Ohio Crippled Children's Fund is working to help Amish families cope with newborns facing conditions such as cerebral palsy, cystic fibrosis, and a host of other diseases and genetic conditions.
Financial relief for families going through these emotional times is available thanks to the upcoming Ohio Crippled Children's Fund Benefit Auction at Mt. Hope Auction on Friday, June 28 and Saturday, June 29.
OCCF is unique from other children's funds because it offers money for the ongoing care of a child born with a disability or birth defect. The OCCF is a $3 million a year fund that is supported through collections within the community, as well as the fund's annual benefit auction. The auction is critical and usually helps raise about $350,000 for children with medical conditions.
This is just a portion of what is raised for area families facing medical expenses. According to Uriah Hostetler, treasurer of OCCF, area churches donate to the fund regularly, but this event certainly goes a long way in meeting needs.
"Our benefit auction is a pretty basic auction, and we don't have a lot of bells and whistles because we want the focus to simply be on supporting the families and children who are going through some struggles," Hostetler said. "We never know exactly what kind of expenses families might face, but we do know that this community is so giving and selfless that they will support the cause."
On Friday, June 28 there will be a full meal that starts at 4 p.m. and an antique auction that follows at 5 p.m. The auction events will begin Saturday, June 29 with a full pancake and sausage breakfast available from 6:30-9 a.m. Those with big appetites can have their breakfast and follow it up with lunch and vendor food that will be available throughout the day.
"There are many ways people can support the fund and these children," Hostetler said. "They can come out and purchase items, but they can also simply come out and eat dinner or breakfast. Every little bit that comes in will help families facing hardships."
This auction has long been well known for its sheer number of quilts that pour in from across the area. That number usually soars well above 100 large quilts as well as a variety of blankets and wall hangings. The auction also features furniture, horses, buggies, crafts, collectibles, lawn furniture and more with a silent auction on various items.
The sale of small items will begin at 9 a.m. while the quilts and wall hangings will hit the auction block beginning at 10 a.m. At 11:30 a.m. a 40-by-64-foot building will be up for auction. Larger furniture and some more small items will be sold at a second location at the auction facility beginning at 9:30 a.m. while another site will host the sale of a wagon load of small tools at 10 a.m.
A fourth site will see the sale of lawn furniture, small buildings and wind mills at 10:30 a.m. while driving horses, buggies, carts, harnesses and other farm-related equipment will sell at noon. The silent auction will end promptly at 1 p.m.
"We have some incredibly beautiful handmade quilts and a number of really nice larger items, but there is something for everyone," Hostetler said. "Everything we have is donated, and everyone involved donates their time, so all of the proceeds go directly into the fund."
Hostetler urged anyone who knows of a family facing circumstances that pertain to a child with a birth defect, genetic disease or other medical issue to contact the OCCF to pursue financial aid.
"One of the nice things about the support we provide is that it isn't just a one-time thing," Hostetler said. "Many times these medical issues go on for a lifetime, and we want to be there when families need us."
For more information on the fund and benefit auction or if someone knows about a family that could benefit from the fund, call Paul Klein at 330-893-1324 to request an application form.
Mt. Hope Auction is located at 8076 state Route 241 in Millersburg.