Two inducted into Knights wrestling Wall of Fame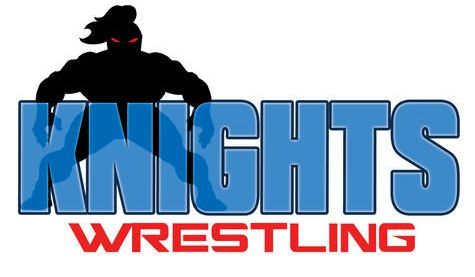 The West Holmes wrestling Wall of Fame has grown by two as former Knights wrestler Tyler Hawkins and his head coach Jeff Woods are now the 26th and 27th members of the Wall of Fame. Both were inducted Wednesday, March 22 during the annual Knights wrestling awards ceremony at West Holmes High School.
Hawkins, a 2008 graduate, didn't crack the varsity lineup until his sophomore campaign. Once his junior and senior seasons rolled around, "T-Hawk" became a legitimate threat at heavyweight around Ohio, becoming a state placer (eighth) as a junior in 2007 and stepping it up even more during his senior season, culminating in a state championship.
Hawkins joined Colt Sponseller as the only state wrestling champions, to this date, in West Holmes history. Hawkins ended his career with a 105-20 record (three varsity seasons) and was a two-time sectional and Ohio Cardinal Conference champion. Hawkins, a physical therapist, could not attend the ceremony due to work commitments.
After a stellar high school wrestling career (two-time All-Ohio) at rival Triway and wrestling collegiately at Ashland University, Woods came to West Holmes as the head wrestling coach for the 1991-92 season after one year as head coach at Fostoria. For the next 26 seasons, Woods built the West Holmes wrestling program into one of the most respected high school programs in the state.
His list of accomplishments is a long one:
Boys — two national championships, four state championships, 28 state placers and 67 state qualifiers.
Girls — four national placers, two state championships, seven state placers and six state qualifiers.
Team — three state tournament top 10 team finishes, two state team duals appearances, three district team runner-ups, eight sectional team championships, six sectional team runner-ups, seven conference team championships and a career dual meet record of 145-57-1 (.714%).
Woods was also inducted into the Ohio Wrestling Coaches Association Hall of Fame in 2017.
Woods, who hung up his coaching whistle after the 2017 season, was his usual self, deflecting the accolades he so much earned.
"Lindy (Rogers, head coach from 1981-1991) and Todd (Day, assistant coach with both Rogers and Woods) had built the foundation," Woods said during his acceptance speech. "It takes everyone to have a successful program — coaches, parents, administration, the community and the kids. I'm just proud of what this whole program has accomplished this year and the previous years and the direction it's going."
Currently the West Holmes Middle School principal, Woods hasn't entirely stepped away from wrestling as he's been a wrestling official the past few seasons.
Awards aplenty handed out at wrestling ceremony
The West Holmes wrestling program gathered Wednesday, March 22 at West Holmes High School with a huge crowd on hand to watch several wrestlers lauded for their accomplishments this past wrestling season.
High school head coach Scott Vaughn along with middle school head coach Justin Wilcox and elementary volunteer head coach Jarret Mathie shared with the crowd each team's season, the growth all three coaches saw in their wrestlers throughout the season and gave out thanks to their coaching staffs, their families, wrestling parents and the West Holmes wrestling community.
Quite a few one-liners and good-natured ribbing took place throughout the evening before the wrestlers were honored for the 2022-23 wrestling season.
High school
—Academic Team Award: Academic All-Ohio (sixth consecutive year, team 3.3 GPA or higher)
—Academic Individual Award: Academic All-Ohio Award winners (state qualifier with 3.5 GPA or higher): Mason Taylor (Sr., third year in a row), Grady Toye (Jr.), Blake Norman (Sr., 4.0 GPA)
—State Placer Award: Taylor (runner-up at 113), Elisha Baldridge (Sr., third at Hwt.)
—State Qualifier Award: Taylor, Norman, Baldridge, Toye, Hunter McCluggage (Soph.), Louden Dixon (Fr.)
—State alternate recognition: Cylie Couch (Sr., girls), Peyton Martin (Fr.), Cole Porter (Soph.)
—Freshman state placer recognition: Dylan Sours (sixth place)
—Four-year letter winner: Taylor
—Three-year letter winner: Dakota Patterson (Sr.), Baldridge, Toye, Grant Miller (Jr.)
—Two-year letter winner: Couch, Norman, Gabe Averbukh (Jr.), AJ Roberts (Soph.), Hunter McCluggage, Morgan Smith (Soph.), Porter
—One-year letter winner: Blake Strouse (Jr.), Macin Miller (Soph.), Martin, Dixon, Sours
—Most Takedowns Award: Taylor 94
—Most Nearfall Points Award: Taylor 150
—Most Tech Falls Award: Taylor 9
—Most Falls Award: Baldridge 35
—Coaches Award: Dixon
—Co-Most Valuable Wrestler Award: Taylor, Baldridge
—Junior Varsity Awards: Cam McCluggage (Fr.), Royce Milam (Fr.), Charlie Cooper (Fr.), Logan Van Dalen (Fr.), Grady Hawkins (Fr.), Wesley Yoder (Fr.)
—Junior Varsity Wrestler of the Year Award: Cam McCluggage
—Unsung Heroes Award: Brooklyn Lydic, Joslynn Giague, Madison Pierce-Lafferty, Taelor Patterson, Jenna Sheldon (stat girls/videographers)
Middle school
—State Placer Award: Cohen Wilson (eighth grade, seventh place at 176)
—State Qualifier Award: Jordan Gerber (eighth), Colton Leyda (eighth), Maddax Graham (eighth), Wilson
—State alternate recognition: Christopher Williams (eighth)
—Eighth-grade recognition: Chet Cooper, Ian Daugherty, Wyatt Garens, Gerber, Lincoln Goans, Graham, Leyda, Bronson Myers, Williams, Wilson
—Seventh-grade recognition: Liam Angle, Andrew Crabb, Noah Grassbaugh, Oliver Hiller, Grady Jones, Brady Milam, Wade Miller, Oliver Roberts, Easton Ross
—Most Improved Award: Gerber
—Team Hammer Award: Goans
—Co-Coaches Award: Naveah Mast, Delani Vaughn (stat girls/videographers)
—Most Valuable Wrestler Award: Wilson
Elementary
—OYWA State Placer Award: Rowand Mathie (fifth grade, fifth place), Silas Baker (sixth, fifth)
—OYWA State Qualifier Award: Baker, Logan Leyda (sixth), Finn McClintock (fifth), Rowand Mathie
—OYWA state alternate recognition: Dylan Ferrebee (sixth), Carter Kick (fifth), Jackson Vaughn (fourth)
—OAC state qualifier recognition: Graham Mathie (first), Jordan Vaughn (first), Jackson Vaughn, Rowand Mathie
—OAC state alternate recognition: Briggs Patterson (fourth), Dawson Miller (third)
—Sixth-grade recognition: Baker, Lane Burgett, Ferrebee, Colt Garver, Logan Leyda, McClintock, Ed Al-Sultan
—Fifth-grade recognition: Clint Burgett, Brycen Hall, Greyson Hart, Kick, Grantham Lovell, Rowand Mathie, Weston Rogers, Holdyn Shamp
—Fourth-grade recognition: Tristen Hall, Mason Gray, Briggs Patterson, Hudson Ross, Ryker Stokovich, Darek Vaughn, Jackson Vaughn, Kolston Wagers, Sterling Weaver
—Third-grade recognition: Chansen Hart, Fletcher Hawkins, Jaxson Kinsey, Silas Larimore, Clay Leyda, Dawson Miller, Everett Tuitama, Wyatt Yerian
—Second-grade recognition: Kingston Gardner, Tavien Kosier, Jack Lloyd, Sawyer Miller, Cole Reusser, Brody Shriver, Luke Willard, Jaxon Yerian
—First-grade recognition: Graham Mathie, Jordan Vaughn
—Kindergarten recognition: Mack Vansickle
—Most Falls Award: Rowand Mathie 21
—Most Improved Award: Lloyd
—Co-Rookie of the Year Award: Baker, Kosier
—Co-Leadership Award: Baker, McClintock
—Coaches Award: Logan Leyda