85 seconds of fast-paced fun at Rodhe's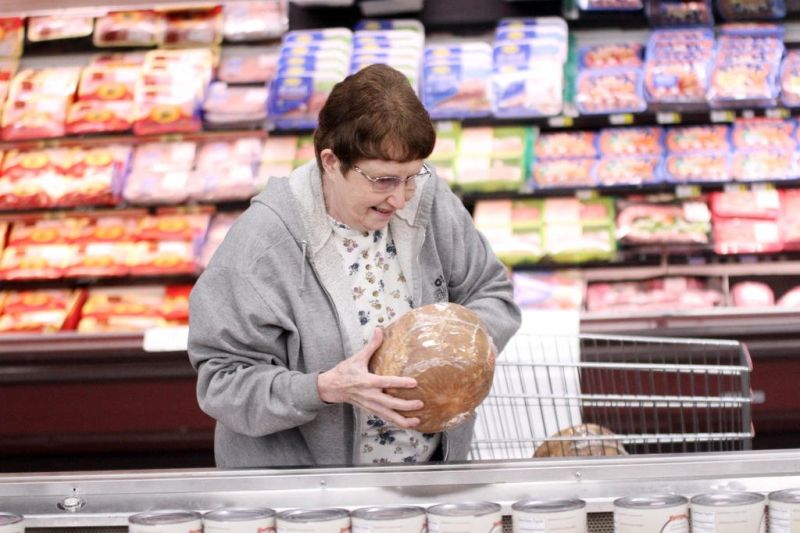 Paula Troyer of Killbuck grabbed her cart and headed out for her Rodhe's IGA shopping experience on Tuesday, Oct. 9, heading toward the meat department.
It might have been any number of her monthly treks to Rodhe's to do her shopping, except on this particular shopping trip she had just 85 seconds to make her purchases.
Troyer's name was drawn from myriad entrants in the Rodhe's IGA 85th anniversary celebration shopping spree, which provided the winner a chance to race through the market and procure all the grocery items of their choice as long as they made it back to the front of the store in 85 seconds.
An all-too-quick 85 seconds later, Troyer was putting the finishing touches on her grocery cart, full of all meat and one bottle of detergent. A trip through the checkout revealed she had racked up a total of $256 worth of purchases.
"That was exciting," Troyer said after her rush through Rodhe's IGA. "They told me I could have chosen someone to do this for me, but I really wanted to do it myself. I had a blast."
Eli and Paula Troyer have been married nearly five decades, and she said they have been shopping at Rodhe's that entire time.
"I put my entries in, but I never really gave any thought to the idea that I might win," Troyer said. "I was laying down with my little grandson, and my daughter told me that Rodhe's called, and it never dawned on me as to why. I stopped in at Rodhe's, and they didn't know anything about it at the front desk, and Keri wasn't there that day. I thought maybe I had won the Mr. Bargain Hunter contest, but then Keri called me back and told me I'd won. It's something you just never expect."
Troyer came in a few days before the contest on a reconnaissance mission to scope out a game plan as to where she wanted to go. The meat department was going to be a must, and she made good on that thought process.
The contest rules limited her to no more than four of any particular items, so she divvied her time up snagging four hams, steaks, chicken and other assorted meat.
While someone can accomplish much in 85 seconds, when time is working against you, it can go pretty fast.
"That was really quick," Troyer said following the contest.
While Troyer said she didn't expect to win, maybe she should have. After winning the Rodhe's contest, she did actually win the Mr. Brian Hunter contest too. In fact she once won $60,000 on the lottery a decade ago.
For someone who had just three entries in the drawing, Troyer was ecstatic about receiving the opportunity, and the Rodhe family was thrilled that one of their loyal local shoppers had been rewarded.
"Everyone here knew who she was, so that made this even more special," said Keri Haley, a member of the Rodhe family. "Everyone was cheering as she went by each section and as the time ticked down. They were all rooting for her. I guess this is not your typical shopping experience for her and for the people who were there shopping and got to experience it."
Just to add to the excitement, owner Kurt Rodhe was on the loudspeaker counting down the time.
Haley said the Rodhe family had been talking about doing something special beyond the norm for their 85th anniversary year and felt the 85-second race through the store for one lucky shopper sounded like a fun way to celebrate.
"We had a great response from the community about even just signing up for it," Haley said. "When I called Paula, she was so genuinely excited."
Rodhe's IGA has already had its biggest celebration during its customer-appreciation week, and Haley said they will have an employee-appreciation week in January.
Also in honor of their anniversary, they will introduce reusable recycled shopping bags to customers in the near future.