Wayne County 9-1-1 emergency dispatchers recognized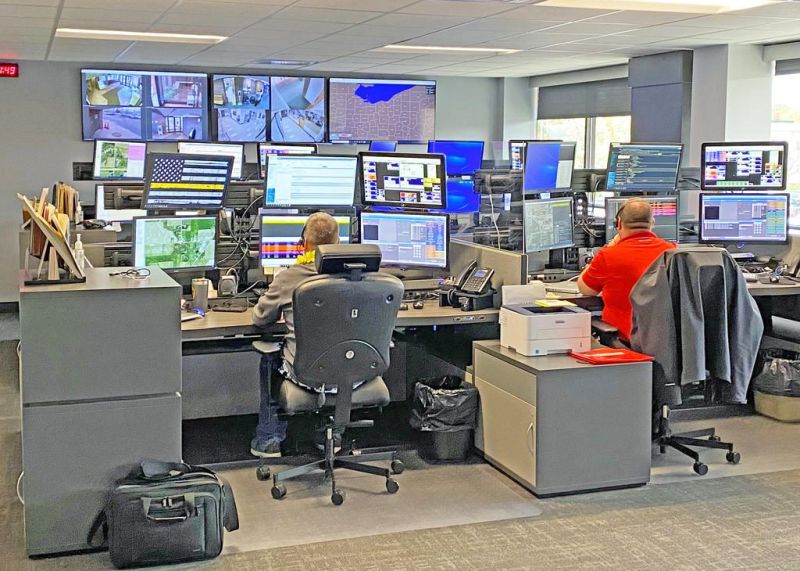 Imagine being in an emergency and having no one to call. Thankfully, since 1968 when the American Telephone and Telegraph Company established the digits 9-1-1 as emergency code, that isn't an issue.
For more than 50 years, 911 emergency dispatchers have been connecting those in need with help.
"911, where is your emergency" is the phrase Josh Glessner has been saying for more than 10 years as a communications officer at Wayne County Communications – 911 Emergency (dispatch) services each time he responds to a call.
That phrase lets people know that in their time of need, someone is there to help.
"The very first thing we need to know is where the emergency is located," Glessner said. "That is important to identify because it may not be where the caller is physically located. And we need to know where to send responders."
Glessner said callers are generally more connected to the situation than the phone call. He must find out where the situation is happening and what is going on as quickly as possible.
Once Glessner determines what is happening, he dispatches the appropriate department such as fire, medical or law enforcement. In many cases calls require multiple agencies to respond.
Dispatch is staffed 24 hours per day, seven days per week, 365 days per year by three officers. When a call comes in, one officer responds to the caller. The others have access to the communications console and, if available, may offer assistance to get help to the scene as quickly as possible.
Glessner also brings an added benefit to dispatch. When not taking 911 calls, he is responding to them. As chief of the Sterling Fire District, Glessner has first-hand knowledge of each aspect of an emergency call.
"I have a very good understanding, especially on the fire and emergency medical services side, of what people are telling me over the radio when I respond to a scene," Glessner said. "I live in both worlds."
Between his two worlds, Glessner is accustomed to providing help in stressful situations. Millions of calls are made to 911 dispatch centers each year, and officers spend the bulk of their day on the phone with people facing dire circumstances.
Stress from the calls can impact the dispatch team. While dispatch officers seem to thrive in high-adrenaline situations, the job can take an emotional toll at times.
"We are always here for each other," Glessner said. "We are like one big family. We get to know what each other excels at, and we know when they might need some assistance, and we are here for each other."
With more than 35 years of experience in safety services, director Ron McCollum understands the importance of his team being able to rely on each other.
"That is the best part of my position," McCollum said. "I see how well everyone works together in emergencies and day-to-day operations."
The Wayne County commissioners recently issued a proclamation — coinciding with National Public Safety Telecommunications Week — to McCollum and the dispatch team for their critical function when emergencies occur.
While the nature of each call dispatch receives is different, one thing people in need can depend on is service. According to McCollum, customer service is vital. Each call is treated professionally with integrity and compassion to dispatch first responders as efficiently as possible.
Dan Starcher is a public communications specialist for the Wayne County government.