AAUW/Kiwanis Used Book Sale Sept. 28-Oct. 2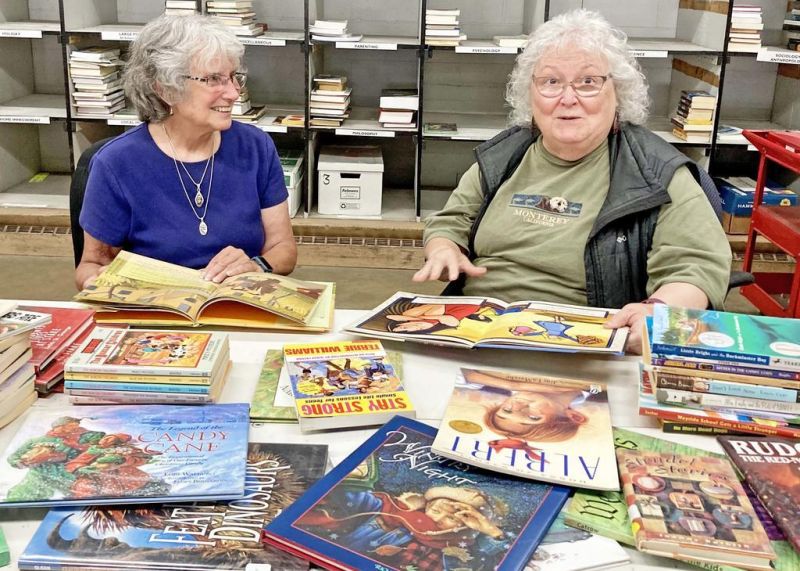 The annual AAUW/Kiwanis Used Book Sale is in its 64th year and will take place the last week of September at the Wayne County Fairgrounds. It is considered one of the largest in Ohio with over 45,000 books going on sale.
The leadership of the AAUW/Kiwanis Used Book Sale reported receiving over 6,000 children and teen books and a variety of teaching materials from a single donor who wishes to remain anonymous.
"This donation is surely the largest we have ever received from a private donor," said Walt Kearney, co-chair of this year's event. "We are overjoyed to add these books and teaching materials to this year's sale. It presents a great opportunity for parents and teachers at the elementary level to purchase very high-quality books and materials at bargain prices."
The event is a collaborative effort of the Wooster branch of the American Association of University Women and the Kiwanis Club of Wooster. The sale was started in 1957 by two AAUW members, and in 2008 the AAUW and Kiwanis formed a partnership to share the work in collecting and processing the donated books.
The donor of the children's books is a retired educator who collected books and teaching materials over a lifetime of teaching primary grades at a public elementary school system in Ohio. She loved collecting children's books, which cover a variety of topics her students found interesting. Most of the books in the collection are in like new or lightly used condition. Recently, the donor and her husband relocated to Wayne County.
Kearney said the huge supply of children's books was only one highlight of this year's sale. "We are loaded with fiction of all kinds, especially mysteries and romance and nonfiction, especially history and military," he said.
"We are also very excited to announce a new preview event from 4-8 p.m. on Tuesday, Sept. 28, which will allow customers to look over and purchase books before the regular sale opens the following day," said Kris Evans, co-president of the local AAUW chapter. "Admission to the preview session will be $10 and is open to all."
Evans said the regular sale will begin the following day, Wednesday, Sept. 29. Entry to all other sale days is free, as it has been in the past.
Evans also said prices have been changed, with a reduction in price of recently published fiction and nonfiction books from $7 to $5.
"Our price range is now 50 cents to $5 for fiction and nonfiction works, (and) children's books are priced at $1-$3," Evans said. "Vintage works are priced at 20% of the online price for a comparable book. And, as in the past sales, we are keeping our bargain price days. Friday is half-priced day, and Saturday is $5 per shopping bag day."
All proceeds from the sale are split between the organizations. The funds going to the AAUW are used for scholarships for women whose education has been interrupted, and funds going to the Kiwanis Club are used for scholarships and for projects such as the annual SafetyTown for children entering kindergarten, the Wooster High School and Career Center food pantries, and various playground projects.
More information for sale categories, dates and times is at www.woosterkiwanis.org/booksale. Interested parties also can call or text 330-439-2093 or email woosterkiwanis@gmail.com.
The sale is in the Home Economics Building (Buss Hall) at the Wayne County Fairgrounds, located on Vanover Street in Wooster.
The schedule is Sept. 28, Preview Day, 4-8 p.m., $10; Sept. 29-30, sale from 9 a.m. to 8 p.m.; Oct. 1, half-price sale, 9 a.m. to 8 p.m.; and Oct. 2, $5 per bag, 9 a.m. to 2 p.m.