ACE sees multiple positives with library box project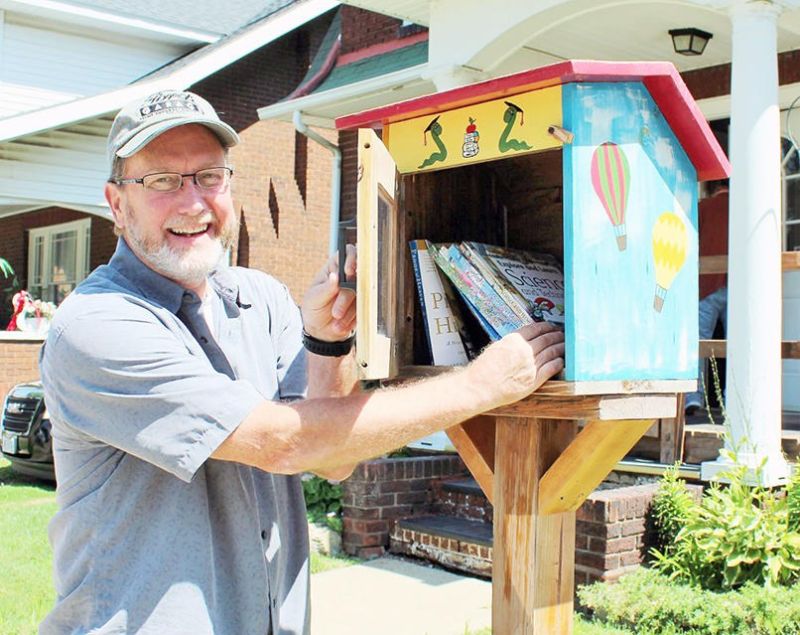 There are many reasons Advocacy, Choices, and Empowerment Inc., an organization that helps people who experience mental-health issues stay well, has started a new mini library box project to benefit the community. The boxes will be placed in locations in the community when completed.
"I feel our little mini library project will become an opportunity for us to make new friends, raise awareness about ACE and the services we provide, and promote goodwill," said Todd Little, executive director of ACE. "I see the libraries as a gift that we can give the community. Each one will be unique, each one will show the creativity and heart of our members, and each one will help us to fight stigma by showing that we are all the same — giving, caring, creative, seeking knowledge and part of this community — whether we live with mental-health challenges or not."
Leading the project is Debbie Swaldo, creative director for ACE. "They are learning to cut wood, sand it and put things together," she said. "Our members seem to like hands-on projects, and I personally feel they learn so many skills this way, which helps their mental health."
Just like anyone else, the satisfaction of finishing a project they took part in is important.
"The libraries are set up as a take and replace a book concept. You take one to read and replace it with one you have already read," Swaldo said.
Swaldo said the libraries could be an important tool for mental health. "If I am having a difficult day, I can sit down and read a book. It takes the focus off of what is happening at that moment. I am always in a better frame of mind. The problem still may need addressed, but I can handle it differently after I have calmed down a little."
Swaldo has been working as creative director for only one year, but she feels ACE is where God wants her to be. "That is all I need to know. I love working here," she said. "The people here are so important to me. It's a whole other family, watching them grow and learn how to help themselves."
For the staff at ACE, it's extremely fulfilling to witness others doing better with things they struggle with.
"We have been working on a lot of wood projects lately to teach them how to cut and sand things," Swaldo said.
Some of the projects they have finished are checker boards, pallet wood and stone projects, yard stakes, drawings, paintings, cards and more. ACE set up a booth at the New Philadelphia Sidewalk Sales in July, and their products are available at Charmed: Gifts with Meaning in downtown New Philadelphia. In Dover, their cards are available at New Life Counseling.
"Our art program is quickly becoming a favorite with many of our members who want to do a meaningful activity, something creative and calming that allows them to let go of their troubled thoughts and bring a little more beauty into the world," Little said.
ACE works closely with and is extremely supportive of the efforts of the local Survivors of Suicide support group. "They bring awareness to suicide and provide support for families and friends who have lost someone to suicide," Little said. "We help with planning, are a sponsor and participant in the annual prevention and awareness walk, Walk into the Light, which this year is at Tuscora Park."
Walk into the Light will be from 2-4 p.m. at the park on Sept. 14. A new event to raise funds for suicide prevention in the community, Rock into the Light will be held at the New Philadelphia VFW Post 1445 from 4-9 p.m. later that day.
"These funds are already making a difference in our community, as this year grants from the monies raised in past years have been awarded to Tusky Valley Schools, Newcomerstown and Dover for some outstanding suicide prevention and education programs," Little said. "Among these programs is the [Question, Persuade and Refer] method of talking about suicide with someone you suspect is in distress and may be contemplating suicide."
ACE also participates in the local Crisis Intervention Team training through the combined efforts of the Tuscarawas County Sheriff Department and the ADAMHS Board.
"Officers from all of the local law-enforcement agencies are represented in the training and learn techniques to handle situations in which a person with a mental illness may be involved," Little said. "This training helps officers to be better able to handle a person who may not be threatening but would otherwise be treated as such."
Little has many plans for the future of ACE. "We would like to expand our membership, and we hope to expand our Peer Recovery outreach. We hope to continue to strengthen our NAMI group and would love to expand our membership and the services and programs NAMI has to offer," he said. "We need members. We need family members who care for someone with a mental-health challenge to share their wisdom and get trained to present NAMI education programs and lead support groups."
Helping people with mental-health challenges is something Little loves doing. "I enjoy their personalities, their smiles. I enjoy traveling with them. I enjoy the challenges they present. Because when we overcome them together, their lives are better," he said. "When you see someone's life change, even a little bit because they shared it with you, there's nothing better."