Act II comes to a close for Pim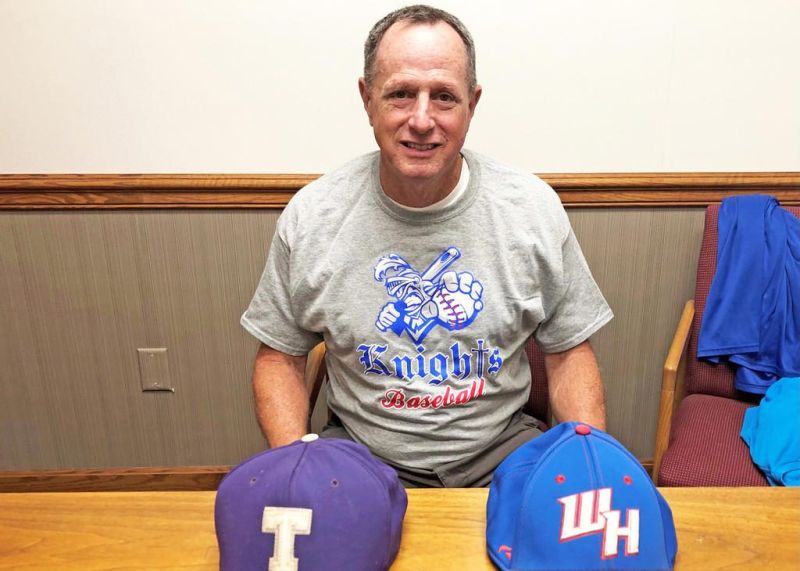 Whoever said "there are no second chances in life" never met Bill Pim.
Pim recently closed the book on one of the most remarkable second acts in area sports coaching history.
Twenty eight years after completing an outstanding run as the varsity baseball coach at Triway, Pim was coaxed out of retirement to take the West Holmes job in 2015.
The final numbers show impressive symmetry between coaching jobs, but Pim, now 66, will cherish the relationships he made in act two with the West Holmes community above any wins or coaching awards.
"It was an honor to have been selected to coach," said Pim, who suddenly had free time after retiring as a Triway teacher in 2015. "When I first took the West Holmes job, my wife, Lisa, and I had all purple clothes in our closet. We didn't have anything red and blue. It was just really weird, but the community really accepted us, and it's been a great experience."
Pim led Triway to a 129-61 record in eight seasons from 1980-87. He won six sectional titles, as well as a district runner-up finish in 1986 and district title in 1985.
At West Holmes Pim compiled an 88-63 record from 2015-21, losing the 2020 season to the COVID-19 pandemic. His teams won four sectional titles in the six seasons they got to play including a district runner-up finish during a 2019 campaign in which they won the Ohio Cardinal Conference title, were ranked second in the final regular-season state coaches poll and wound up with a 23-3 record.
The 2021 Knights finished 19-8 and were second in the OCC.
Wyatt Mellor, 24, who was a senior on Pim's first team and helped him coach the last four seasons, has been named as West Holmes' new baseball coach.
"As I get older, I think time is the most valuable asset we have," Pim said. "How much time do we really have? I really value my family, friends, faith and time. I don't think anyone realizes it unless they've been a head coach, the amount of time that it takes. As a high school baseball coach, your life stops from the middle of February until the beginning of June."
Pim said the only way he could coach was by going "all-in."
One of the reasons coaching took such a toll on Pim is he scripted some of the most detailed practice schedules imaginable. And he valued every kid in his program, from the top varsity player to the last kid off the freshmen team's bench.
"Coach Pim's game knowledge and management really stands out," said Mellor, who's a timber buyer for Tricor Enterprises. "There's probably nobody as good as he is at knowing what to do and finding the best role for every kid to help the team be successful. Obviously, I'm very excited to get this opportunity. I hope to be able to continue the success of the program. I learned a great deal from (Pim) and will continue a lot of the things he put in place."
Pim could never bring himself to throw away his Triway baseball coaching folders, which included detailed practice schedules and drills. He dusted those off and jumped full steam ahead at West Holmes, where he made big changes.
"When we practiced in The Pit at Triway, we'd rotate one kid hitting in a cage while the rest of the team did drills," Pim said. "At West Holmes we could have up to 15 kids hitting at one time and do it safely."
West Holmes has eight different kinds of pitching machines, ranging from those that throw fastballs, curve balls, mini balls and Wiffle balls. There are 30 total protective screens and 12 ball bins.
"I'm a big believer that kids need to practice hitting pitches that will be the actual speed they'll see in games," Pim said. "So unless we could find someone who could consistently throw strikes at 85 mph every seven seconds, we were going to have several machines firing fastballs to the kids.
"We were really fortunate to have the equipment we did. A lot of the credit goes to the school administrators, booster club and the community businesses for the support. I also really want to thank the many great assistant coaches I had."
Pim made sure to thank his wife, Lisa, above everyone.
When he found out he could only take about 12-13 varsity players to an away game on a school bus they'd share with the softball team, the Pims came up with a plan for Lisa to drive the players' equipment bags separately so they could bring extra boys.
"Lisa drove behind the bus with the equipment to every game," Pim said. "That's pretty awesome. She also made chocolate-chip cookies and would put three in a bag for every player."
When Pim taught at Triway, he tried to interact in some way every day with every student in every class.
"I'd tried to either call on them, talk to them or just say hi," Pim said. "If I ever got a name wrong, I'd give them a Dum Dums sucker. It was kind of the same thing when I coached at West Holmes. Whether it was our best player or 43rd best kid in the program, they got the same amount of attention. I worked hard to make every kid feel special and wanted every kid to play as much as possible."
When Pim occasionally mixed up the names of Brody Allen and Brady Smith this past spring, he kept tabs. He promised to eventually give them the Dum Dums they're owed.
Pim coached three players who were picked for the Mizuno All-Ohio game at Triway (Ed Grenert, Scott Wharton and Sean Carmichael) and three at West Holmes (Levi Jones, Trevor Kiner and Shane Jones).
And he sees a bright future for the Knights under Mellor.
"I'm happy for Wyatt to get this opportunity," Pim said. "He's really loyal and enthusiastic. He just soaks things up like a sponge and wants to learn."
Pim doesn't think the players changed too much in the nearly three decades he was away but admitted there are a lot more so-called "experts."
"The kids still want to be coached and given direction," said Pim, who compiled a 217-124 overall record. "Back in the 1980s, there was only one Major League Baseball game of the week on TV. Now with all these games and talk shows on, everybody thinks they're an expert. There's a lot more scrutiny, even at the high school level. I'm happy to say I had a great experience, though, from the administrators to the kids and parents."
So will there be a third act somewhere down the road?
"Never say never, but I think this is it," Pim said.
Aaron Dorksen can be emailed at aarondorksen24@gmail.com. Follow him on Twitter at @AaronDorksen.