Ag team builds momentum to save county farmland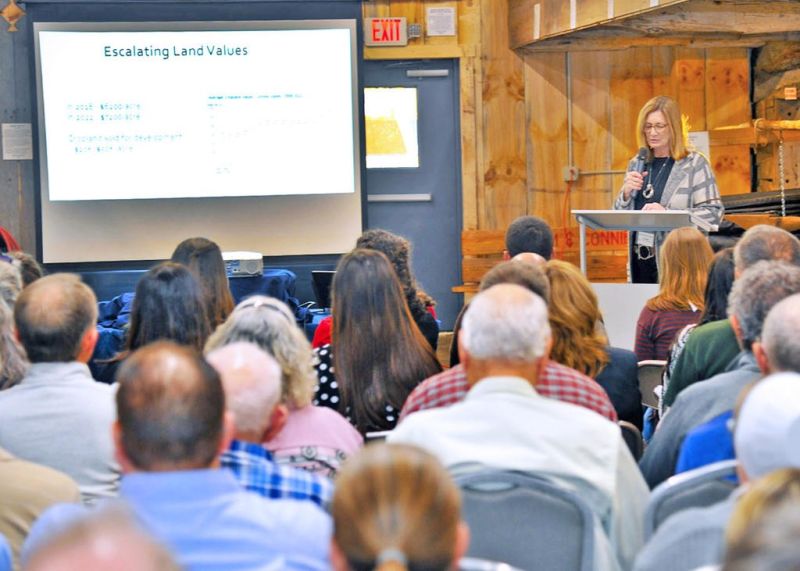 Approximately 100 people recently filled the Buckeye Agricultural Museum and Education Center in an event hosted by the Wayne County Ag Success Team and Ohio State University to see what measures they could take to secure local farmland to ensure it is not lost to development or urban sprawl.
"Our rich rural and agricultural heritage is an important county asset, along with the opportunity for small-town living," Wayne County commissioner Sue Smail said, referencing Wayne Onward. "We know we need to support farmers and protect farmland to protect our way of life."
Farmland is not replaceable. One of the reasons is topsoil requires a certain composition of subsoil, the layer underneath the topsoil, to exist.
"Once farmland is gone, it is gone for good," Smail said. "You cannot get it back, and you cannot replace it."
Wayne Onward is the county's comprehensive plan. The plan, a year in the making, included extensive community involvement and serves as a guide for the next decade by providing the framework for a community that aspires to preserve and celebrate its rural character, embraces its small-town lifestyle, and focuses on economic development and community values.
Most of the farms in Wayne County are small to mid-size family farms with less than 180 acres of land, and they are the most threatened. In a poll by OSU, 54% of English and 38% of Plain farmers indicate their children cannot afford to take over the family farm.
According to the U.S. Census, in the five-year period from 2012-17, 20,000 acres of farmland in Wayne County went out of production. According to the American Farmland Trust, 75% of that land was irreplaceable, nationally significant land that was best suited to long-term, intensive crop production.
The meeting was the first of its kind for the AST. Each attendee was given a survey, and according to event coordinator Jessica Eikleberry, one of the biggest concerns listed is how to attract a new generation of farmers.
"Everyone is having the same problem," she said. "Amish farms are having the same problems as the farm with the giant tractor."
According to Eikleberry, a lot of work is being done across many sectors. After an Ag Success meeting last November that featured AFT senior fellow Julia Freedgood, the idea was to corral all of the individual efforts being done to save local farmland and bring everyone together under one roof to see if more could be accomplished as a group.
"Everyone is doing great work, but it is happening separately," she said. "What we saw is that we need to bring these (efforts) together. We don't need to reinvent the wheel, but we need a countywide, if not regional, initiative."
Dan Starcher is the public communications coordinator for the Wayne County government.