Holmes Board of DD taking school into the home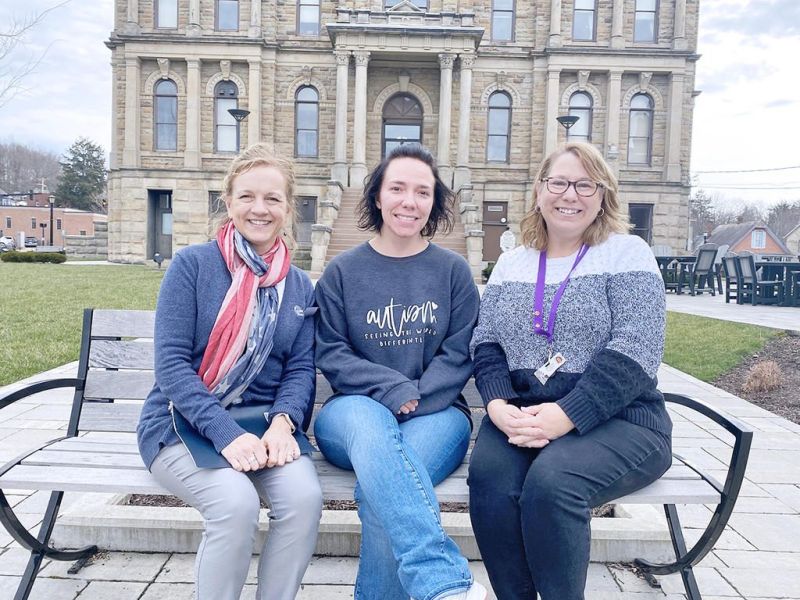 For many parents with young children with developmental disabilities, part of the challenge of putting their children in the best possible place to learn is getting them into the facility on a regular basis.
For the staff at Holmes County Board of Developmental Disabilities, the answer to that challenge was quite simple: Why not take the educational process directly into the home?
That concept inspired Learning Bridge, a service designed to allow BDD personnel to go into the home to personally connect with parents of special needs children age 3-5.
Learning Bridge serves Holmes County families who qualify for services based on developmental delays, and the program has already paid dividends, allowing staff personnel to develop a relationship with the families they serve.
The Learning Bridge program is new, implemented this year, but it was operating as a pilot program in 2022.
The Holmes BDD has experienced growth in its early intervention program, and Learning Bridge has been instrumental in that success. Marianne Mader, HCBDD superintendent, said in July the center was supporting 40 children, and this past February, that number swelled to 59 children.
"That's a pretty big jump," Mader said. "Our goal is to work with the families and to coach them to help their child — that way the child is always getting help and the parent is learning and being coached on how they can help their child all the time."
Mader said the center has a spectrum of professionals including developmental, occupational, speech and physical therapists, and they have access to specialist divisions in the state.
More importantly, these are available to families at no cost, so any time a family is concerned about their child meeting developmental milestones, they should start with their family doctor and then they can make a referral to early intervention on their own behalf.
HCBDD early childhood development specialist Sharon Allison has worked closely with mother Summer McCluggage and her son Bennett, and Allison said this program is making a huge difference in the lives of families.
"We have a real vision for this, and we are thankful for the support we've received," Allison said. "We are one of the few boards in the state that has a program like this. There is a need, and we are trying to meet that need and believe that this program is only going to grow moving forward."
Learning Bridge helps families build a strategy, assists with resources and technology, supports the family with safety concerns, provides a monthly play group for practicing skills, and helps with eating and sensory challenges in addition to helping parents and care providers step through everyday activities.
One of the many benefits of Learning Bridge is while most early intervention aid goes through age 3, there are some children who still need in-home training, and Learning Bridge bridges the effort to support children and families through age 5.
McCluggage recently shared a story about her challenges developing a better quality of life for her son Bennett at a commissioner meeting and said her work with the BDD and with Allison has been meaningful.
"When Bennett turned 3 years old, Sharon informed me that they had this new program called the Learning Bridge, and Bennett would get to be a part of that," McCluggage said. "That has been a huge blessing for our family. If it weren't for early intervention, I'm not sure when we would have been pushed in the direction of even the possibility of autism."
The diagnosis took about one year to complete and at the age of 3.
McCluggage said because of the program, the one-on-one therapy they have experienced has been life-altering. She said the Learning Bridge therapy that goes into the home and teaches parents is a lifesaver, and their instructions have been detailed but easy.
"It was a whole new world of struggles once Bennett turned 3 years old," McCluggage said. "But the Learning Bridge provided us with resources we would not have otherwise had, and they've made the transition with things like scheduling and working through everyday activities at home so much easier. It's helped us anticipate things that are coming down the road."
McCluggage said so many times children with autism fall through the cracks and don't get the attentive education they deserve, and Learning Bridge has helped them figure out numerous details.
"The earlier these children can get diagnosed and get the help they need, the better future they can have," McCluggage said. "We just want our children to meet their potential and contribute to society. Without the Learning Bridge, I see so many children falling through the cracks."
She said Learning Bridge coming into her home has played a major role in her ability to care for Bennett with more confidence and knowledge.
HCBDD early childhood manager Renee Spencer said she and Allison have worked together for many years to develop the Learning Bridge concept, and they have seen the impact it can make in the home.
"Every routine can be a challenge," Spencer said. "Bath time, mealtime, bedtime, everything can be a challenge, and it would break our hearts when we would have a visit and have to end services. We are thankful that when we proposed this program, our board saw its value."
The program is 100% local tax funding supported, and referrals may be made by calling the HCBDD at 330-675-8045.