Antique Festival ready to transport people through the years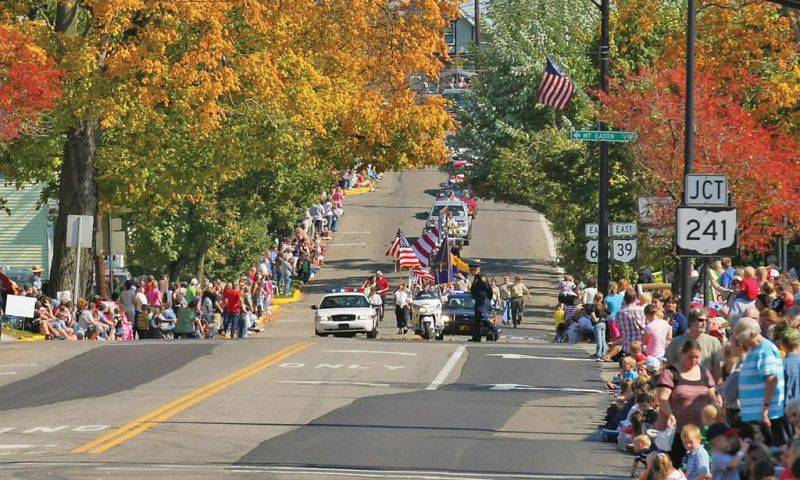 The annual Holmes County Antique Festival will take place Oct. 7-9, where Millersburg will come alive with plenty of activities, music, food and antiques, whether the type that are purchasable or the kind that roll along on four wheels.
Entering its 60th year, the Holmes County Antique Festival has defined what Holmes County represents, where hospitality unites with activities in a reunion-like atmosphere as family and friends gather together to celebrate autumn.
As in any case where a festival is a success for this long, it takes many hands and minds, and committee member Georgie Cool said teamwork wins the day when it comes to making sure everything is ready to entertain the masses.
"We have such a great group of people who take specific roles, and that means everyone does their job and it all comes together," Cool said.
The festival will start a few days early with the inauguration of the newly crowned queen, princess and court. That event will take place Oct. 2 at the Millersburg Christian Church on North Clay Street in Millersburg.
The weekend activities will start Friday, Oct. 7 from 6-8 p.m., where SB Music will provide live entertainment on the large stage on East Jackson Street, and food vendors will be open for business.
"This is the first time we've extended it to Friday night," Cool said. "We thought it might make for a relaxing evening for those who wanted to come into town and enjoy some food and listen to music at the stage."
Saturday, Oct. 8 will begin early with the antique market on South Monroe Street and Court Street and the arts and crafts show on the courthouse lawn taking place from 10 a.m. to 6 p.m.
Cool said one of the best things about the arts and crafts show and flea market show is anything and everything might show up.
"I've got a really great core group of vendors who come back year after year, so they know the routine, which makes it easier to organize," Cool said.
She said she and other committee members keep an eye on other festivals and events featuring vendors, and they try to invite those who fit the bill for the Antique Festival.
Each vendor will be set up in their own tent on Monroe Street and the south side of the courthouse lawn, so the flea market will be conveniently placed together on the south side of the courthouse.
Cool said while this portion of the festival used to feature many larger antiques, it has evolved into an event that features smaller items, many of them craft related, where people can shop and take the items with them easily.
Joining the arts and crafts section on the courthouse lawn area to the west and north will be several demonstrations.
"Those demonstrations really do encompass what we want to portray as a festival," Cool said.
The West Holmes High School Chamber Choir will perform on the large stage from 11-11:45 a.m. while the Darb Snyder Memorial Classic Car Show will usher in plenty of old automobiles from noon to 3:30 p.m. in the CSB parking lot on North Clay Street.
The Lovedays will perform live on the large stage from 1-3 p.m. while the costume contest will follow immediately after. At 4:30 p.m. the antique classic car and fireman's parade will roll through downtown on Jackson Street, and from 5:30-7:30 p.m., Tom's Kitchen Table will belt out live music on the large stage.
There will be a public service taking place at Faith Lutheran Church on Sunday from 9-10:30 a.m., with the antique market and arts and crafts show available from 10 a.m. to 4 p.m.
From 11 a.m. to noon, the Hiland jazz band will perform on the large stage, followed by fan favorite Up River from 12:30-1:30 p.m.
Then at 2 p.m. the grand parade will meander along Jackson Street, beginning from the east side of Millersburg through town and exiting out the west side.
The grand parade is a cross-section of Holmes County and Millersburg and always embodies the spirit and unity of the community, with plenty of locals lining up to participate.
"The grand parade keeps getting bigger and better, and we have really worked to make it family oriented," Cool said. "Viewing it from either side of town is amazing, and to see it roll along down the hill into town is breathtaking because of all the people."
Following the parade, which will be filled with floats, royalty, marching bands, dancers, local businesses and many other local participants, the introduction of visiting festival queens and a kids tractor pull will wind down the festival.
For updates visit the Holmes County Antique Festival on Facebook, or for the complete schedule and more, go to www.holmescountyantiquefestival.org.