April 1 marks Wooster Sports Card Show's 35th year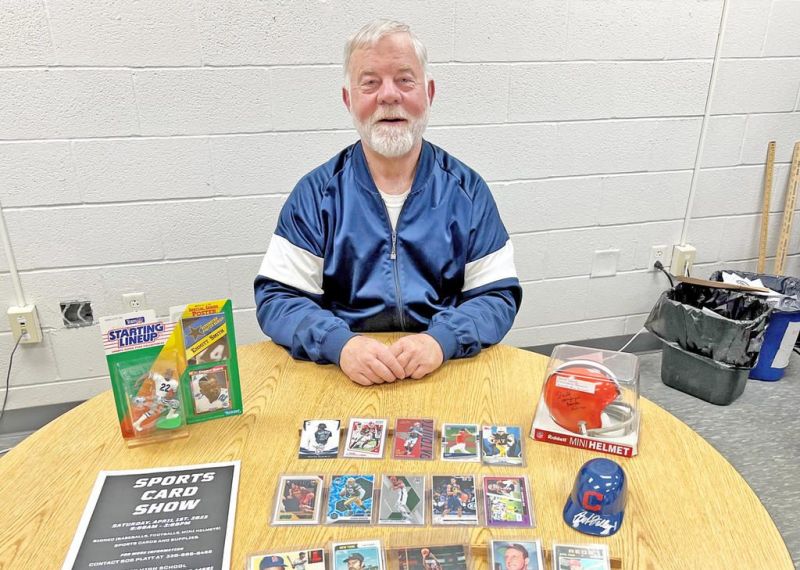 Bob Platt is well into his third decade as Wayne County's "Sports Card Guy."
The Wooster Sports Card Show will be held for the 35th year on April 1 at Wooster High School from 9 a.m. to 2 p.m., continuing its run as one of Ohio's longest running collector events.
The show also will include autographed items, mini helmets, collector supplies and more. Platt expects to have dealers set up approximately 25 tables with proceeds going to the Wooster High Sports Hall of Fame. The show will coincide with the Kiwanis Club Pancake Breakfast.
It wouldn't be fair to label Platt as just a card guy, though, because he's done a lot more for Wooster City Schools and has other interests he's passionate about.
Platt has been a substitute teacher and parks and recreation basketball employee. This fall he completed his 43rd year helping the Generals football team, having assisted with anything from athletic training to equipment manager over the decades, and he's in his 29th year as a Gault Recreation Center employee.
However, organizing sports card shows brings Platt as much enjoyment as just about anything.
"I had so many duplicates that I wanted to find a way to sell or trade some of them, so I started this down at the old high school (now Cornerstone Elementary) back in the fall of 1988," Platt said. "I've tried to do two a year ever since, but some of the years, it hasn't been as easy to do two, particularly lately here."
The shows have not only helped Platt improve his own collection, but also he's enjoyed the community feeling of getting other dealers and collectors together. Through the decades he's witnessed changes in the collectibles industry.
"(Collecting) was good and strong back in the 1980s, but then it hit some turbulent times through the 1990s," Platt said. "I feel as though 9/11 had an effect on the collecting of cards when a lot of people really realized they were more of a luxury. A lot of other things were a necessity so people put cards on the back burner there for a while."
Then a strange thing happened to sports card collecting during the COVID-19 pandemic. It regained popularity it hadn't seen since the heyday 1980s.
"Everyone was just kind of locked up during the COVID shutdown," Platt said. "A lot of people were stuck at home and wanted to do something.
"Between that and the Michael Jordan documentary on ESPN, I think that really seemed to bring collecting back to light. A lot of people got back into it, new collectors got interested and it even created an investment type of thing. I don't have any exact numbers, but collecting seems to have more interest now than anytime since back in the 1980s when we'd have close to 40 tables down there at the old high school cafeteria."
The popularity of grading services such as PSA, SGC and Beckett has people investing big-time money for high-grade cards.
Online sites such as eBay allow people to get whatever cards they want with a few clicks if they're willing to spend the money.
Platt also has witnessed a renewed interest of people wanting to simply go to card shows, talk to other collectors, and look through cases, boxes and binders in person.
Buying packs of cards in stores has changed a lot too. The packs cost a lot more money than in the past, but short-print "chase" cards featuring rare variations or autographs can be worth hundreds of dollars right out of the wrapper.
"People will send cards away to certain companies that will grade them based on their condition, and it's created a whole new market for people trying to get the highest graded cards," Platt said. "Us purists aren't quite as up on that or really interested in that, but it is what it is.
"There are young kids walking around at shows, and they have all these investing cards. I think they maybe don't even know some of the players, but they're collecting because they've seen online how high the value is."
Platt doesn't have a favorite player, team or sport to collect.
"Just a little of everything, whatever catches my interest," he said, "although I pretty much stick to baseball, football and basketball."
As for some of the players or teams in demand in 2023, Platt said, "Aaron Judge coming off setting the home run record, the up-and-coming Juan Soto and, around here, the Cleveland Guardians. For football, even though Tom Brady has retired, he'll remain very popular and the Chiefs with Patrick Mahomes and Travis Kelce. For basketball, I think people will still be looking for cards of Jordan, LeBron James and the Cavaliers. People can of course buy cards at the show, but if they want to trade or sell, I think most of the dealers will be open to that as well."
Wooster High School is located at 515 Oldman Road. Admission will be free. Call Platt to inquire about setting up a table or for more information at 330-669-9455. Follow on social media on Facebook (Sports Card Show), Twitter (whssportscards) or Instagram (sports_card_shows).
Aaron Dorksen can be emailed at aarondorksen24@gmail.com.